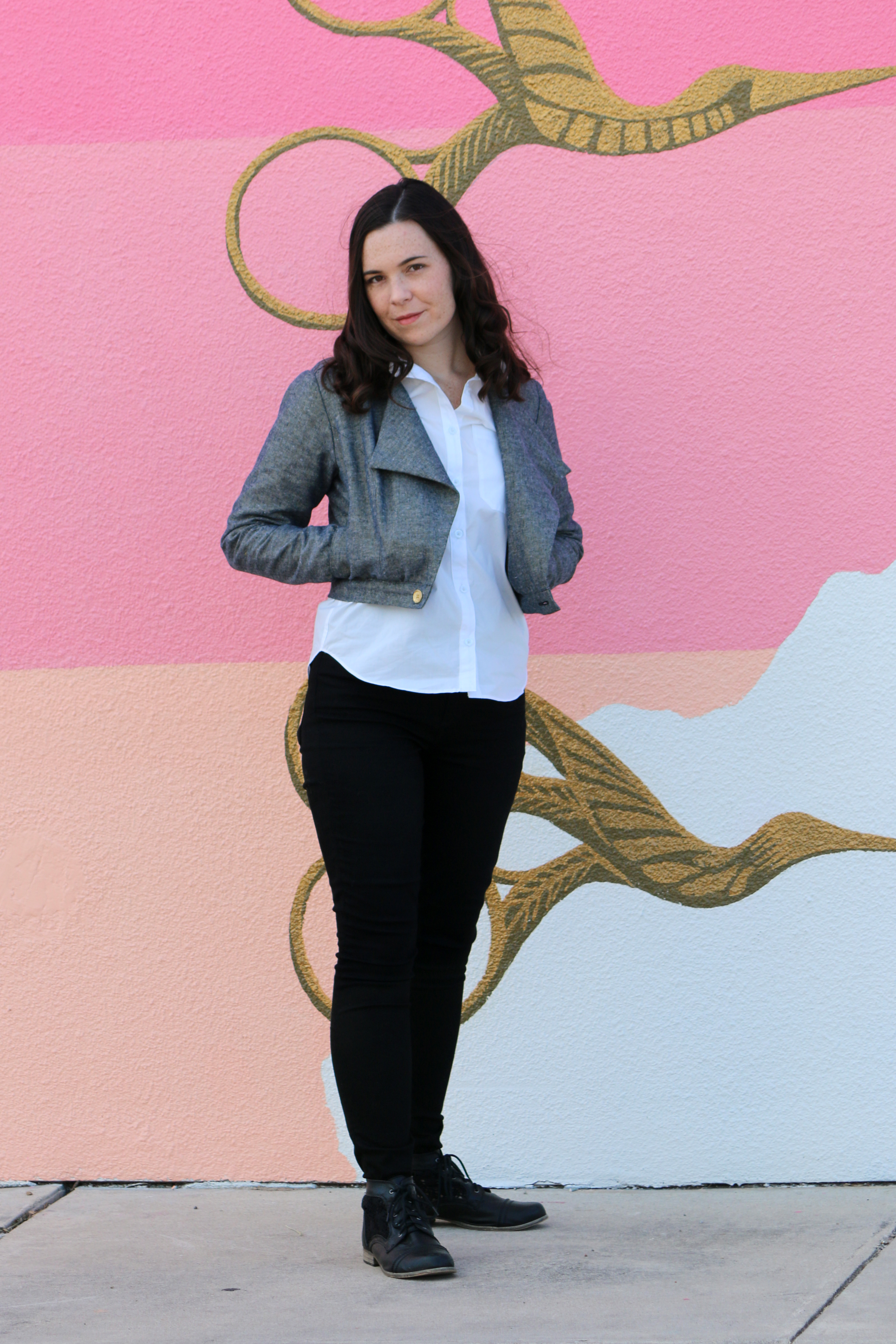 Deer and Doe Lupin Jacket
You guys — I looooooooovvvvveeee this jacket! The Lupin Jacket by French pattern company Deer and Doe is a cute cropped, fully lined jacket that is perfect for Texas' not-quite-winters.
I love the princess seams in front, the epaulettes, the light gathers at the waistline and cuffs, the floppy lapels, everything! Yes, I'm gushing but this is a great jacket for me and my climate right now. 10/10 would sew again!
(does anyone else think of Harry Potter when you hear the word Lupin? It's not a word you hear often in English.)
The shell fabric came from The Cloth Pocket (these photos were also taken at the awesome mural outside their new building!). I'd describe it as medium-lightweight. It's light enough to make the lapels hang nicely by thick enough to supply some warmth.
What's great about it is the gold sparkle comes from threads woven into the fabric rather than glitter stuck into the fibers or "glued" on top. That means the metallic can't be washed out or ironed off (which I have experienced, much to my disappointment).
The lining is some plain black cotton voile, the source of which I can't remember. Metal buttons from Joann.
Once I finally got everything cut out and organized, the jacket came together rather quickly.
I appreciate that the lining isn't simply a copy of the shell, but slightly bigger in places to allow for movement. The assembly was different than what I would have expected but I liked the method they used — similar to the bag-lining technique but you finish by sewing the waistband rather than an interior sleeve lining seam.
My only change, I added a button and buttonhole at the waistband. I've seen this done on a few other people's makes but it's not included in the pattern. I wanted the option of closing the jacket if I needed to. Plus, these buttons came with 3 on a card.
I topstitched most seams in black thread but it's only visible up close.
All in all, I'm quite pleased! As you can tell. I've sewn two other Deer and Doe patterns (and have one unfinished) but this is my first completed photoshoot. I've enjoyed using their patterns. I'm only surprised it took me this long to make them!
************
Class Update!
I'm going to be teaching a class next week at the Cloth Pocket in Austin on the Washi Dress! And the week after that is my Sewaholic Pacific Leggings Class. Click the links for more info!