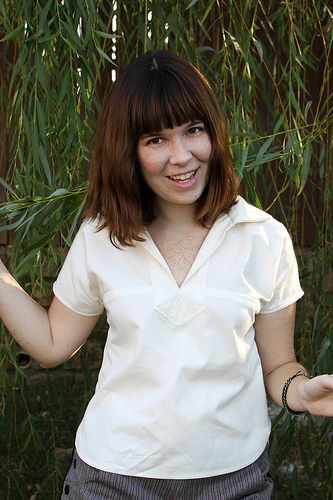 Shorts and Shirts Summer Wardrobe: Vintage 70s McCalls 5526
I just got back from visiting family. My boyfriend's sister just moved into a new house. Their neighbor has this cool weeping willow tree that extends over to their backyard.
The Goal: This is one of the shirts I panned to make (only one more shirt left!) for my Shorts and Shirts Summer Wardrobe. I had been putting it off because I couldn't find just the right fabric and I also didn't want to deal with the hassle of grading.
The Pattern: It's an old McCalls from 1977. Part of the Marlo's Corner collection. Marlo Thomas was the star of the late 60s sitcom, That Girl. And no, I've never seen it, but the theme song is pretty cute. It was sort of a more fun version of the Mary Tyler Moore show, you know, less work, more shenanigans. She sort of reminds me of a 60s Zooey Dechanel.
Marlo joined forces with McCalls in the 70s to produce something like 30 patterns. This pattern is a sportswear set with two top versions, shorts, culottes (how 70s!) and wide leg pants with side pockets. I reeeaaaaalllllllyyy liked version C of the top and was on the hunt for this pattern for months.
Unfortunately the pattern was in a size 8 and I needed a 12. I used the slash and spread method (Elegant Musings has a tutorial) because I figured that would be the easiest way to work with the yokes and I wanted to keep the center front piece unchanged. One thing I forgot, though, was to lengthen it. I only needed to lengthen the yokes because the sleeve openings are a little tight. I narrowed my seam allowances and it worked out ok.
The Fabric: Some unknown (possibly poly/rayon) twill I got in Dallas. One thing that's bad about this fabric is that it wrinkles easily but it holds its shape well.
The Changes: Other than sizing, not much. I twin needle top stitched almost ever seam. Also the front slit was a little low so I slip stitched the slit back up a couple inches.
The Results: It's cute! I got lots of compliments on it already and best of all – it's useful! It's off-white so it goes with most everything which is something I really need with shirts. And I'm almost done with my main goals in my Shorts and Shirts Summer Wardrobe – just in time for fa–more summer. It's 93 degrees today.