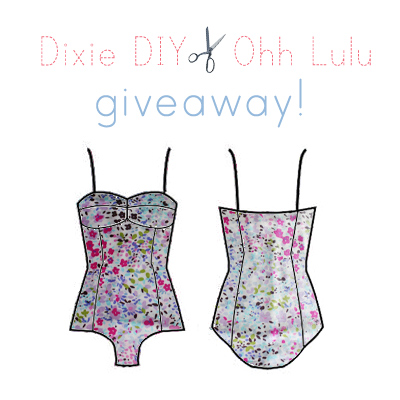 End (or beginning) of Summer Giveaway!
Summer is slowly coming to an end in Texas. In fact I think today we didn't even reach 90*F, hooray!
But if you live south of the equator you'll be breaking out the sunblock, shades and swimsuit soon.
So in honor of summer I'm having a giveaway!
The winner will receive the awesome Ginger bodysuit and separates PDF pattern from Ohhh Lulu with which you can make an awesome and flattering swimsuit along with one yard of floral swim fabric!
For most people one yard will be enough for a one piece but you could also mix it up with a solid for a color block effect.
And how freakin' cute is this pattern? You can use techniques from my Swim Suit Sew-along but even better, Ohh Lulu did a whole sew-along especially for this pattern!
If you live in the southern hemisphere this is the perfect time to make a swim suit. If you live farther north you can make an adorable lingerie set and then make a swim suit for next year.
This giveaway is open to anyone all over the world! To enter just leave a comment and tell me if you've ever sewn your own swimsuit.
If I can't easily see your email address from your profile or blog leave it in the comment so I can find you.
And be sure to check out Ohhh Lulu's lovely shop of beautiful lingerie. They have a couple other cool patterns to check out, too.
I'll pick a winner on Saturday, October 6th!