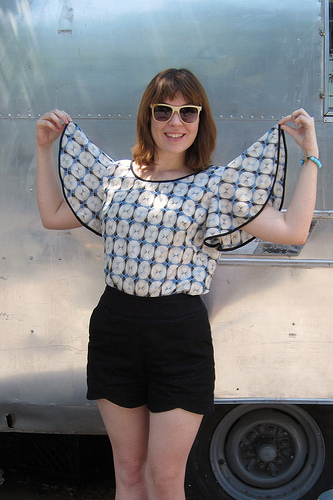 Attack of the Sleeves!, or, the Colette Taffy Blouse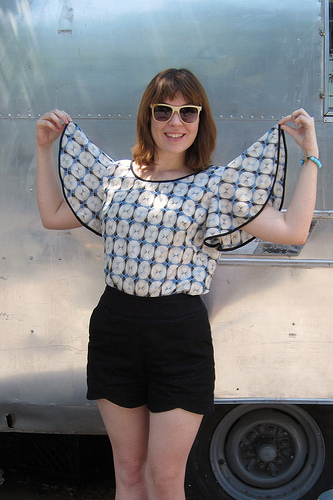 (holy moly! thems some huge sleeves!!)
Going into this project I knew that the Taffy Blouse from the Colette Sewing Handbook (this month's BiblioStyles pick) had flutter sleeves. I like flutter sleeves. They're pretty and great for summer when I don't want fabric touching my body. What I didn't realize until I looked at the pattern pieces was that the sleeves were near full circles! Completely unlike any other sleeve pattern piece I've ever seen, these sleeves are BIG! I was worried they'd be too big and while overall I am satisfied with this shirt I do have a couple minor gripes.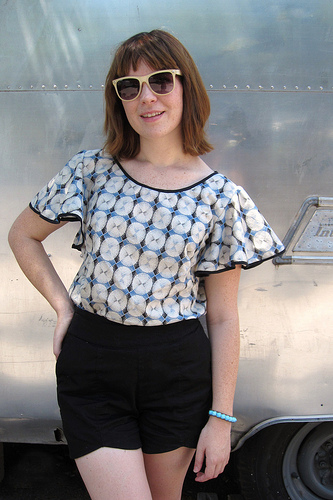 These complaints are all a little nitpicky and had I bought this shirt in a store I'd never even care.
I wish the neckline wasn't so wide because sometimes the shirt slips showing bra straps, a pet peeve of mine. It doesn't slip off my shoulders entirely, though, so that's good.
The sleeves are definitely a statement. I might have preferred slightly less bulk but they're ok and they look cool when the wind blows.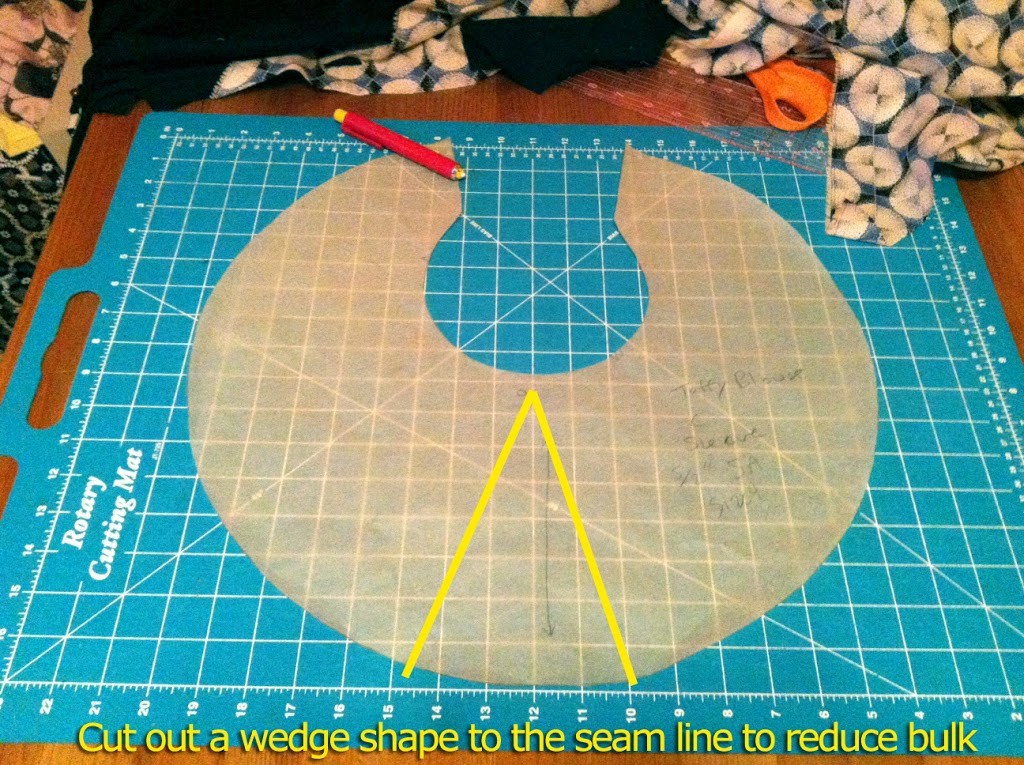 Here's a tip if you want to try this shirt but are worried about the huge sleeves. Simply cut out a wedge shape out of the center of the sleeve. Only cut to the seamline, however. This way the length of the seamline stays the same and will fit the armhole. This will make a less dramatic circle shape without messing with the underarm seam.
And finally, I bought this fabric as a remnant without having a plan for what to do with it (something I hardly ever do). I liked the graphic shape print but I noticed that the squares were not printed on grain. They slope at about 5 degrees. Not much but it makes a difference if you want a straight stripe look. Some friends suggested that the bias cut taffy blouse might work because the diagonal direction might work with this print. I can still tell that the lines aren't straight and that annoys me but I guarantee no one else would notice.
Ok, enough complaining. I really do like this shirt! On to the nitty gritty.
The Goal: I wanted to use up this fabric and at the same time I needed to do a project for BiblioStyles, my sewing book club.
The Pattern: The Taffy Blouse, the last project in the new Colette Sewing Handbook. I cut a size 4. I was nervous because the last Colette pattern I made (the also bias cut Jasmine top) I cut an 8. Maybe it's because of the bias but I think I might have gotten away with cutting a 2 except I think the armholes would have been a little tight (a frequent problem for me).
The Fabric: Cotton lawn (or voile? I can never tell the difference). For the bias binding I used my handy dandy bias tape maker (love that thing!!) and cut strips of black lawn off an old dress that I never wore (does that count as a re-style? haha!).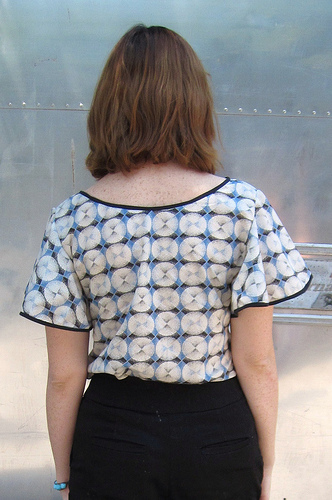 The Changes: Nothing major – I lengthened the darts by a little over an inch. I really should have moved them up a little higher, probably a factor of the size I chose more than the pattern itself.
I didn't make the waist tie because I wanted to save time and get the shirt finished before I went out to take pics (I ate crepes with some friends out at a trailer food park. These shots were taken behind an airstream trailer. I thought it would make for a super cool background until I looked at the photos and realized there was all this trash and cinder blocks and random buckets lying around! I had to do a lot of cropping and using of the stamp tool in Photoshop to clean these pics up!). But because I don't like the way this shirt looks on me un-tucked (kind of square-like) I'll add a tie made from the graphic fabric to blend in and stitch on some tie holders on the sides.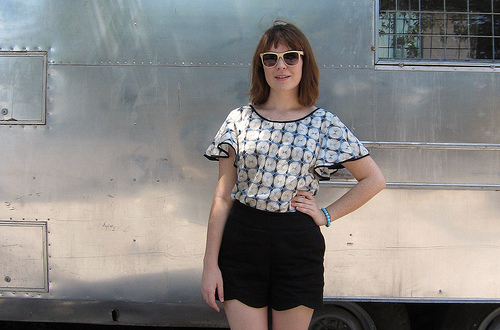 The Results: I think I'll get a lot of wear out of this top. I paired it with my Sweet Shorts and I think they work well together. This top doesn't meet my requirements for solid color tops for easy mix and matching but oh well. The sleeves work for summer and I'm glad I did some stash busting!