Shorts and Shirts Summer Wardrobe: Chambray Shorts
Shorts! With buttons! Justin called these the Sergent Pepper shorts when he first saw them. Must be all the buttons… Anyway, this marks three out of four of my shorts I'm making for my Shorts and Shirts Summer Wardrobe. I'm nearly finished with my next shirt for SSSW but I'm self drafting it so it's taking awhile.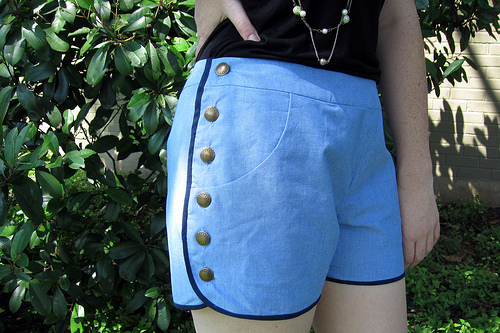 These shorts were also self drafted by combining the best bits of crotch curves from a few patterns and pants I owned to create a franken-crotch that I think works pretty well.
These shorts sit lower on the hips with a waistband and has bound edges rather than a hem. I used my handy-dandy bias tape maker (thanks Polly!) and some old navy linen blend scraps that I had to create the binding. It makes a nice contrast to the cotton chambray I think.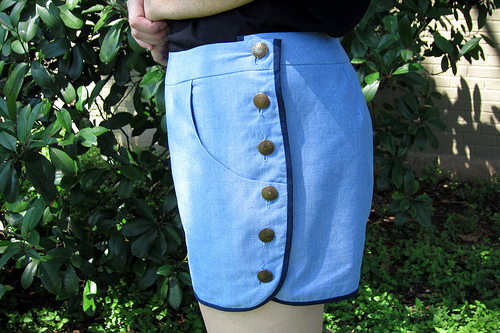 The shorts close at both sides and have a little curve at the bottom where they meet. I used twelve metal buttons total. The design on the buttons are little flowers which I like because I think it makes them look less military.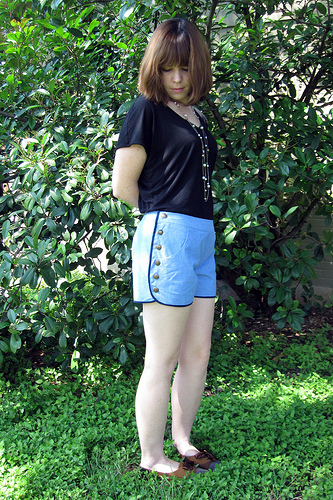 I got the idea for the buttons down the side design when I put on my other shorts for the first time this season and realized they were too big. With these shorts if I lose or gain weight I can just move the buttons over and resize the shorts easily. No having to undo hems and waist bands and re-sew side seams. The buttons are both decorative and practical!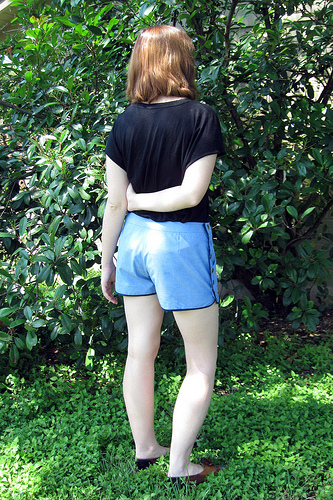 (this was the only shot of the back that was in focus which is weird because my camera ought to have been on auto focus. and this pic has that darn tucked-in-shirt line, too. ugh)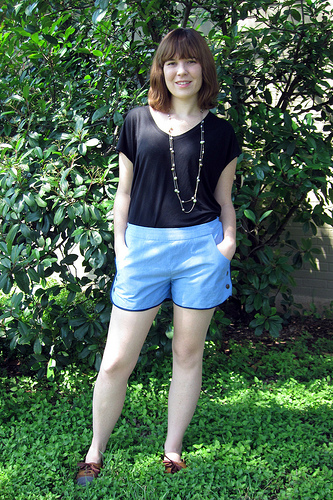 If I make these shorts again I'll use a fabric with more substantial hand and less body. That's just a personal preference. This chambray folds and wrinkles pretty bad and doesn't always like to sit flat. But on the other hand, they are very light weight for summer!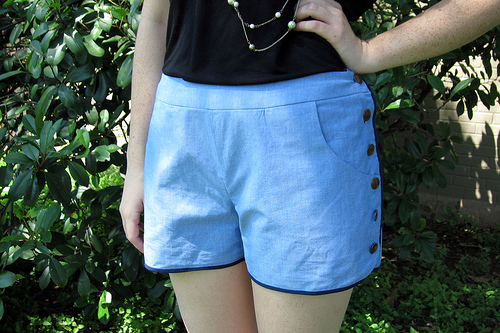 The shorts have curved pockets in front and small darts in back.
I'm planning on making a pattern for these because with the binding and button sides they're really easy to make and fit. But that's going to have to wait for a couple months because I'm going on vacation in June and I have to whip up a bunch of clothes for my trip – including swimsuits! So much sewing, not enough time!!