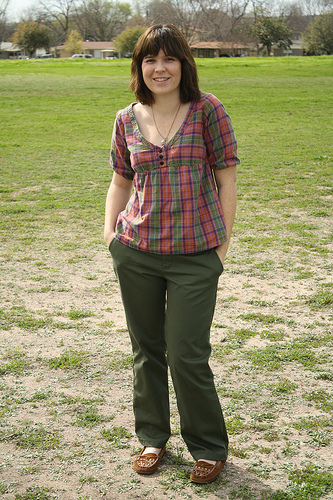 Simplicity 3850, or, a very wearable muslin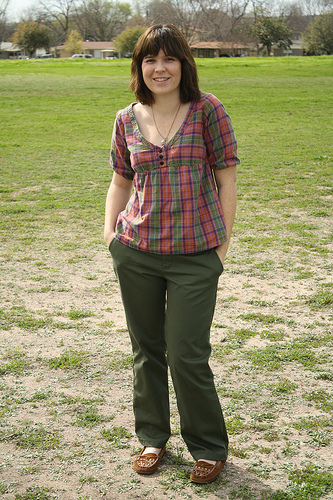 I'm thinking about organizing my posts a little differently from now on. Rather than just writing up all the details however I want I'll have little sections on the fabric and pattern and alterations and what not. What do you like reading more- a kind of pattern review style or "the facts" on sew weekly, or do you like a more leisurely few paragraphs on whatever points I want to talk about?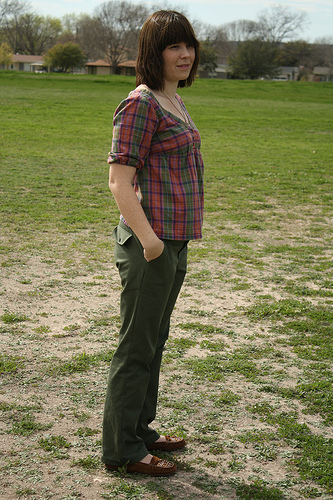 Goal: I wanted to make a good fitting pair of pants after my last jeans making fiasco. Someone in my sewing group very kindly let me borrow a Hot Patterns skinny jeans pattern to trace. I also bought the Colette Clovers recently. But looking at both of these patterns reminded me of what I learned last time I tried my hand at pants. My crotch line doesn't resemble most pants patterns at all and I needed a completely different approach! Then another sewing group person reminded me to try out this pattern I had used previously to make shorts.
Pattern: That previous pattern was Simplicity 3850, a Built by Wendy "slim pants, capris and shorts" pattern that I had made two shorts variations from with relatively no fit problems except for which size I chose to cut. The first shorts I made a year ago. I had cut the pattern and fabric out a couple years before that but I had forgotten about them. When I finally made them up they fit technically, but they were a little too tight over all. Those were a size 14.
The next shorts I made about 6 months ago and I sized the pattern up to about a 16. Those fit but were almost slightly too big. I really took for granted that I didn't have to make any changes to the fit.
This time I went back to the original size 14 and made the pants version.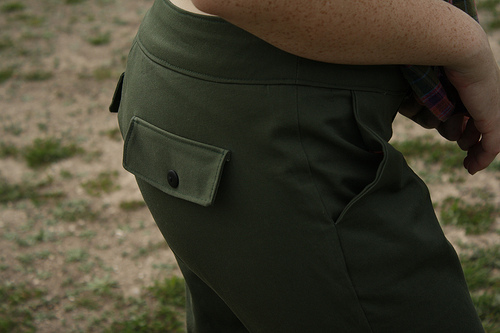 Fabric: A medium weight 100% cotton twill from Joann. I purposely bought this green color because I wasn't that enthralled with it. I thought that if I bought a good fabric in a cool color I'd be really upset if my garment didn't turn out nicely and I'd feel like I had wasted my fabric.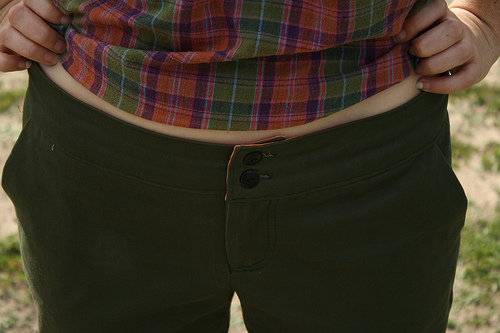 For the inside of the pockets and the waistband I used leftover orange dyed batiste from my Darling Ranges dress which is finished but I haven't taken photos of it yet.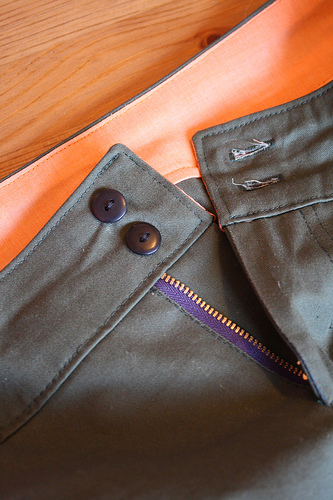 (blue jeans zipper, navy buttons and orange lining – nope, nothing matches! oh well!)
Changes: I started out trying to make a bunch of fitting changes along the way but by the end I resorted back to the original pattern and the only changes I made ware making the front center 1/2″ higher and leaving out the belt loops.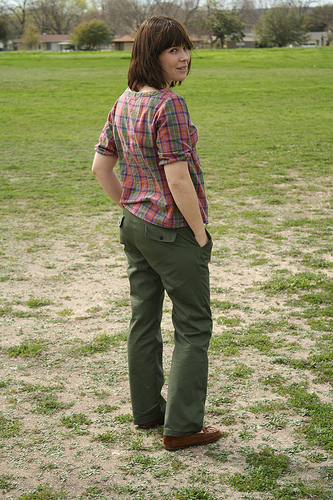 Results: They fit! Mostly. The pattern says they are "slim" fit but this design is about 4 years old, slightly older than the popularity of skinny jeans so my idea of "slim" and 2007's idea of "slim" are probably a little different. They fit well in the front but because of my idea of the "skinny jeans butt" the back is more like a straight leg pant than the curve hugging look I'd be going for. But they're not gigantically baggy and any bagginess I think comes from the stiff fabric. I'd say that for the style they fit! If there is any problem it's that, like most pants, they've stretched out even in the short time I've worn them. Maybe next time I should make a 12 knowing they'll stretch.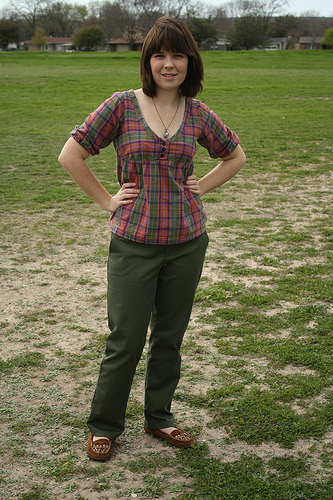 I feel like this whole pants thing is one big face palm. All that work on my other jeans and I just could have adjusted this one pattern! I'm going to make a whole separate post on why these pants fit me better than any other, because really, it blows my mind!
In the mean time I'm going to celebrate having a very wearable pants muslin. Hooray!
***So here is a question – how has popular style changed your idea of how pants should fit?