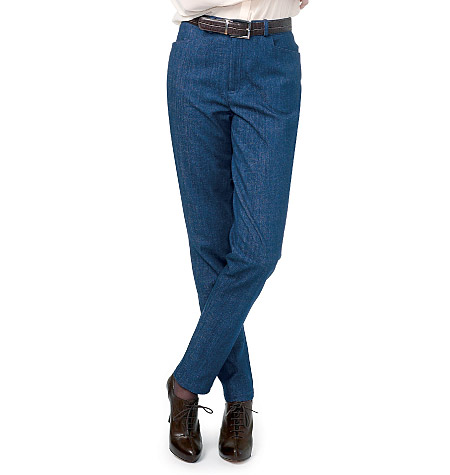 The Jeans from Hell
***Ahem, this is going to be a very long and technical description of my jeans fitting nightmare. You have been warned! If you're into that sort of thing, please read and give me advice. If fitting ain't your thing you can come back later for my finished pants. 😉
I want to take these jeans out to my back yard and beat them senseless – Office Space style.
Why you ask? Because they are evil. They are satan's jeans and they deserve punishment for all the pain they've put me through. And I'm not even finished!
Let's start at the beginning. The new McCall's catalogue features many a pair of colorful skinny jeans in their images for new Spring patterns. I though "Ooooh! Yes please!" I found that the jeans were this pattern, version C. I never would have thought to buy that pattern were it not for the colorful jeans images but I took a chance.
Big mistake. First I cut a 16 but with tissue fitting recut to a 14. Then I tissue fitted again and things looked ok. Sure, the legs were a little wide but that could easily be fixed. I went ahead and cut my denim – a 99% cotton 1% spandex blend, a little stretch like the pattern required.
Massive fail. I had loose thighs, a gross amount of excess front crotch fabric and under booty wrinkles as deep as the grand canyon. Oh, and of course the legs were wide enough for two calves.
After trying many alterations I had wound up with a hot mess of fraying seams and my seam ripper begged for mercy.
So I gave up. I reached for my trusty pair of gap skinnies that had a rip at the crotch from an unfortunate game of "crack the egg" on a trampoline over Thanksgiving with my cousins. They were my favorite jeans so I though "Hey, I could recreate them!" These jeans weren't too low rise, nor were they too tight. They had a 2% stretch in the material and were also several years worn. I cut the gap jeans' legs apart, seam ripped the legs of my in progress jeans and layered the pieces over eachother and traced. I notice the crotch line of the gap jeans was massively different than the line of the original pattern. (I know montanachic hates the look of gap pants but they tend to fit me really well. And yes, I am super jealous of her self-drafted jean masterpiece.)
But when I sewed up the new version I was still dishartened. They fit better but I still had many of the same problems. I worked one leg at a time to get a better fit. I took in the inseam on one leg, then the other. I lengthened the crotch depth. I took in the back leg piece on the side from the thigh down on one leg and all that helped. The front crotch looked better but the back still had wrinkles.
I consulted Threads, Pants for Real People and Colette's Clover Sew-a-long but I was still at a loss.
At that point I took these photos from the inside out.
After taking the pics I tried to get rid of the under booty ripples by bringing in the back inseam more and thinning the thighs. I've found that adjusting the crotch depth helps with that, too.
I have a theory about that, though. I used my cut up old gap jeans pieces as pattern pieces to trace over the existing pieces of fabric but because the crotch line was different I had to do some fenagaling to make the old gap jeans piece fit. This means that the grainline on the legs is slightly off center. This could possibly contribute to the angled wrinkles in the knee and thighs as the fabric is pulling in weird directions.
But that can't be helped. The insides of these jeans have been so trimmed and whacked up that they look like a crime scene. There's very little seam allowance to be salvaged.
So then I decided to wear my only other pair of skinnies as a comparision and snapped these pics. These are also gap jeans but they fit more snug than my old faves. They have extra stretch and the label calls them "Slouchy" skinny jeans. I think this just means that they stuck the pockets farther down on the thighs. I was getting a similar effect. Yes, they were smoother in general but the slouchy gap jeans still had a few under booty wrinkles and some knee wrinkles. Hmm… why hadn't I consulted these pants before??
After some more minor adjustments I tried on my handmade jeans again (pics above). And then magic happened. I don't know why or how but something changed… Maybe it was also looking at myself slouchy gap jeans along with pics of skinny jeans on the net but for some reason they looked better… Yes, some under booty wrinkles still existed but they weren't too bad. The front knee wrinkles lessened and while the back knee wrinkles were still aparent they looked more like normal store bought jeans… Maybe we're getting somewhere.
This motivated me to make more adjustments. I trimmed the thighs and legs of the left, non adjusted leg. I pulled in the waist a little more at the sides. I let out the knees slightly at the inseam and fiddled with the bottom of the crotch seam a little more.
Ok, so I think I may have a fit that will work. Not the perfect fit but something comparable to RTW. That's a start. Now all I have to do is trim and serge the seams. Hem and top stitch the legs; make a back yoke; make back pockets; re-do the front pockets; insert a zipper and finish the front crotch seam; make, interface, and line a waistband; make and attach belt loops and add a front button. Sweet Jesus, what have I gotten myself into??