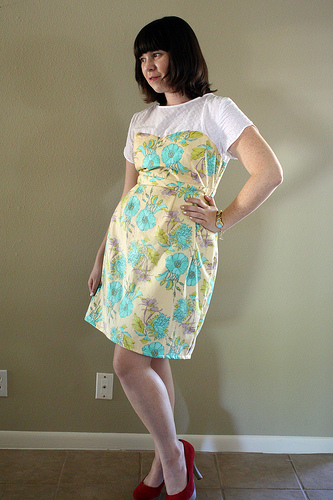 Onward to 2012!
So everyone is doing a 2011 in review blog post but I'm far to lazy to use photoshop to compile all of my finished projects from the year, ha! It was 52 (just counting clothes sewn for myself) and that's far to much image wrangling for me to do. I'd much rather jump into my plans for this year! But I am including a few of my faves made this past year.
I feel as though I learned so much from this year of sewing. It's been my most productive yet and I made some of my favorite projects. I also had a few massive fails but even those I consider a learning experience. I no longer am devastated when a project doesn't turn out the way I hoped which is an improvement I think. I learned new techniques, perfected fits, discovered new fabrics and tried to figure out my own personal style.
I also learned to work within my own nature – that being my laziness and my urge to finish projects immediately. I tried my best to put down a project in progress when I know I'm too tired or confused and am bound to make mistakes. I also forced myself to be more diligent and do things the right way the first time even if it's more tedious than I'd like.
My technical skills have improved enough that I know longer think of that as something I need to focus on so this year I want to work more on the aesthetics of sewing.
I don't always make New Years Resolutions but I do love giving myself guidelines to work within. It helps to keep things from getting out of hand. So here are my goals for 2012. I'm pretty excited!
Make a catalogue of my entire wardrobe (has anyone else ever done this?). By wardrobe I mean clothes I actually wear or would wear given the right opportunity (aka, fancy party dresses). Determine how many of my clothes are store bought or handmade. Divide the clothes in appropriate categories (dress, pants, t-shirt, etc.) including attributes (patterned, solid, black, white, long sleeves, etc).
Use that catalogue to figure out what I wear most, find gaps in my wardrobe, and figure out why I don't wear the clothes that didn't make the cut (does it not fit or does it not go with anything?).
Fill out my wardrobe with handmade pieces that fit with my personal style. Make what I NEED not just what looks pretty and make it something I'd want to wear (this is a big one!).
Find a style muse or inspiration that fits with my personal style and sew clothes that fit with the theme.
Sew more patterns from independent designers. I've got enough of the big four already to draw inspiration from. Plus I like supporting small new companies with unique designs.
Getting out of my clothing comfort zone and trying new designs I wouldn't normally wear.
Make more accessories – jewelry, scarves, belts, etc.
Make more of my own patterns. I love developing this new skill but sometimes pattern making takes so much time that it's pretty draining.
Sew something for Justin. Because I love him. And I want him to look presentable and not a bum.
On a more personal note I want to:
Learn something new, like crochet or playing the trumpet
Make new friends
Get a new job
Travel
Learn to go with the flow and stop freaking out about pointless stuff
I love reading other bloggers' goals for this year. I think resolutions are so personal. Even specific resolutions about sewing say something about the person, whether they want to learn more about themselves, make a point about their ethics, be more productive, feel more confident in their skills, take more time for themselves or face a big challenge. It's inspiring to read. What are your sewing resolutions?