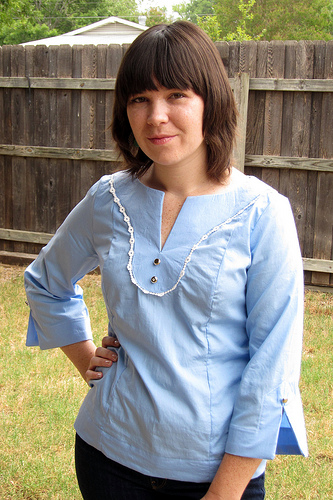 Blue Tunic – Simplicity 2191
I have this problem that I'm drawn to pattern designs that I love on paper but not when wearing them. Sometimes it is a patten that looks good on me but it's not really my style or other times I like the pattern style but maybe it looks heinous on me..
I think this top is a little of both. I love the idea of tunics like this but I don't think it's my style. On the other hand the fit is a little off.
This Simplicity 2191 pattern is sized for different bra sizes. Now, I usually just make one size smaller than it says on the package when I made a Simplicity pattern and that always works well for me. Maybe with these cup size things it's different.
Perhaps I should have made a 14 instead of 12? Or maybe my girls are bigger than I thought they were.
I'm not sure but either way I went back and re-sewed all the vertical seams at 3/8th in instead of 5/8th from the bust line down in front and from the arm hole down on the sides. The shirt was way too tight in the hips so I shortened the hem a little more than the pattern calls for.
I also need to iron out those seams. There are still little thread bits leftover from seam ripping, too! Ha!
I looked the pattern up on Pattern Review and they only had one review and that was for the pants. However that reviewer also mentioned that the pants were very tight. I wonder if the whole pattern is on the small side and it isn't just me?
I also sewed on a button and made a loop on the back. The pattern wants you to put in a zipper but I think zippers in shirts are pretty lame.
Now it fits pretty well at least but I'm still not feeling the tunic all that much.
I was going for a kind of Anthropologie vibe with the light color and incorporating mixed details like the little white trim and the silver accent buttons.
Also I put the top facing towards the outside instead of on the inside (like the sleeve cuffs) so I could stitch the trim along the edge.
Maybe if I tucked it into a skirt I'd like it more. Eh, maybe this one will just stay in the closet for awhile. What do you think?