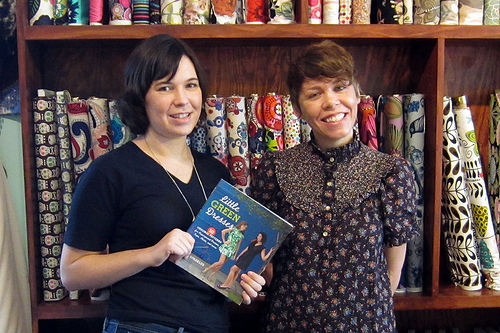 Do I Really Need to Take a Sewing Class?
Continuing with my weekly "Do I Really Need…?" series (you can read the first post, Do I Really Need a Serger? here) I'm tackling the topic of sewing classes.
Do I really need to take a sewing class? Yes!
I get asked this most often by beginner sewers although I think it is also something experienced sewers should consider.
I'm a completely self taught seamstress which means it took me much longer to learn than it probably should have and I don't always do things the right way. I could have saved myself so much time and effort if someone has shown me how to sew properly.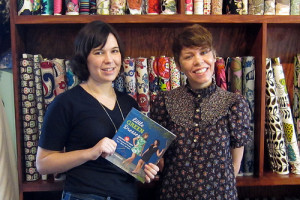 That isn't to say you cannot learn well on your own. You can by reading detailed sewing books and with careful studying. Sometimes "winging it" and learning from your mistakes is just plain fun but you can give yourself a great head start by taking a beginner's class.
Also, if you've never sewn a garment before a clothes sewing class is invaluable. Sewing is a highly complex skill and it takes months if not years of practice to do it well. If you want to seriously start making clothes (and not just pajama pants) take a class. There are so many details in sewing that are easy to miss or difficult to master without a person physically guiding you. The money paid for classes is worth it.
Yes, it will still take you months to get really good at clothes sewing but you'll cut out so much frustration. You'll avoid easy mistakes like jamming your machine, wasting time by using the wrong fabric for a pattern, poor fitting garments, lumpy darts and poorly inserted zippers.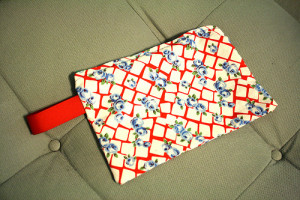 Zipped pouch I made in a zipper class
What can you do about it?
For pure beginners a class will usually teach you how to work your machine, sew a straight line and teach you good habits like clipping your extra strings and how to pin fabric so the pins won't get caught in the machine. Plus you'll usually go home with a simple finished project.
For more advanced sewers you can take a class on working with patterns, learning how to best fit a garment or you can learn a new skill altogether, like embroidery, that you can use to spice up your sewing projects.
Use your best friend, Mr. Google, to search for sewing classes in your area. Even big chain stores like Joann or Hobby Lobby offer basic classes if you can't find a local place.
My Sewing Class Story
I've taken a few classes at a local sewing store in Austin – zippers (finally learned how to do an invisible zipper the right way as well as how to do a lapped zipper), skirt sewing (made a simple a-line skirt and re-learned some basic skills I had forgotten) and pattern making (improved my methods).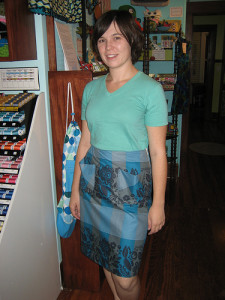 Skirt I made in a sewing class
So even if you're a great home sewer there is always more you can learn and you can get to know other sewers in your area, too!
If I could go back and change one thing about my sewing journey I would have taken classes sooner.
*****
Next week I'll be asking the question: Do I really need a dress form?