Do I Really Need a Dress Form?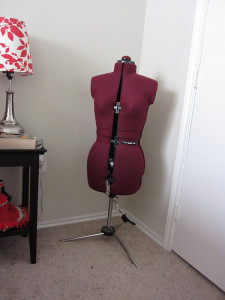 my dress form stands in the corner of my bedroom
So I missed last week's "Do You Really Need…" post. Ooops. You'll forgive me, right?
This week we're talking dress forms. I have one. I bought it because I thought I needed it. After several years of serious sewing I thought a form would transform my stitching experience into something magical and I'd feel like I was on Project Runway and all my sewing projects would look as pretty as the pictures on the Anthropologie shop website.
Since buying one I can definitely say No, you don't need a dress form. Here me out, ok! Yes, I use my form but not nearly as much as I thought I would – not because it isn't useful and great but because I'm not much of a dress form person I've discovered. I'm sure many home sewers are the same way. I am also sure that there are sewers who could not live without their form and I completely understand that.
Besides that I've also discovered that for some bodies the type of form you have can make the difference between a valuable tool and fancy decoration in the corner. I say "bodies" because some forms mimic your shape more than others. If your shape is anything other than super duper average than the type of form you get is important.
Let's first talk about the different kinds of dress forms because each have their pros and cons. I'm not going to talk about specific models or where to buy one, we'll still haven't decided if you even need one.
A professionally made form fit to your own measurements. These are the most expensive and the some require you to make a cast of your own torso. For an easier option you can buy one made to your own specific measurements (just the numbers, no cast) but you'd probably be better off with option #2. These are good if you only make clothes for yourself and your weight and body shape does not fluctuate often.
An adjustable form. I have one of these myself. I like it for a few reasons. It's cheaper than a pro form, if I fatten up a bit I can still use the thing and I can also make clothes for people who are a similar size as myself, meaning someone who is a few inches bigger or smaller here and there, but the form does have a limit to how wide and tall it will grow. These forms work best if your body resembles that of the form – consider if you have a large bust, sloped shoulders, sway back, etc – these things cannot be adjusted in an adjustable form.
Self made form. There are a few methods of doing this. One of the most popular is the duct tape form. Threads Magazine features a tutorial on how to make a duct tape dress form. This type is your exact double like the pro form but you can't stick pins in it and you need a patient helper to do wrap you up.
Now lets ask some general questions about your sewing:
Do you often make major fitting alterations to a sewing pattern?
Unless you have an exact torso double like a professional form or a duct tape form then your standard store bought form may not give you an accurate depiction of the garment as compared to your own body. If you often have to do an FBA because you're a double D but your waist is tiny then that B-cup adjustable form isn't going to be a good representation of your body.
Do you make your own patterns? Do you like to drape fabric to discover ideas?
Making garments from scratch often requires trial and error and in that case a dress form can be super helpful. For draping it is a near necessity. On the other hand, with my most recent dress I am working on, for example, the only time I've used my form is to take pictures of my progress.
Do you get frustrated while working with a garment flat? Also, are you a visual person or can you understand in your mind how a garment construction technique works without having to see it?
I use my dress form most often when I work on detailed or small parts of a garment like attaching a tricky collar. In that case having the garment in 3D on a form rather than flat on a table and moving around is convenient but it is certainly not necessary. On simpler projects I almost never use my form. Sometimes, though, imagining what the finished product will look like can be difficult without the ability to look at a garment objectively on a form.
Another consideration about dress forms:
A dress form is not a replacement for your body. You will still have to repeatedly try a garment on while you work on it. A dress form does not move. You can make that top fit great on the form it won't tell you that the armholes need to be adjusted because you can't lift your arms up. A dress form doesn't have arms, an important factor when you're working on fancy sleeves you've made from scratch (which I've learned from experience).
In the end I think that you certainly don't need a dress form, however, whether or not one would be worth the cost and/or time to make depends more on your style of sewing than anything else. I could go without my dress form and never miss it but someone else may feel that a form makes the process so much easier for her.
BUT if you do decide to buy/make a form my biggest suggestion is that if you have many body quirks such as those discusses in this post you should buy or make a form that is as close to your real torso as possible. It will save you headaches later.
Do you have a dress form? How often do you use it?