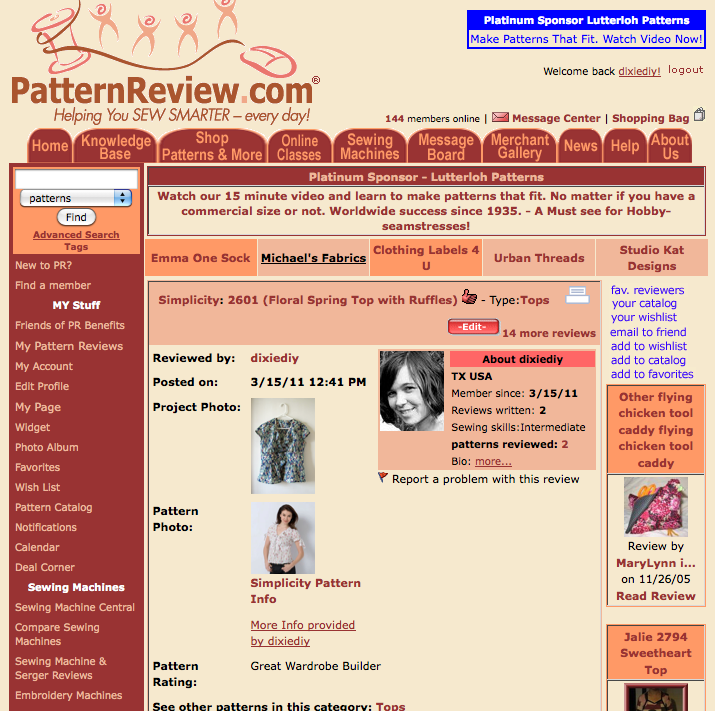 Sewing and Technology
I signed up for PatternReview.com today (check out my profile!). Like it's name implies it is a site where you can share finished projects of patterns and post reviews. Great idea, right? I like it because you can search for specific patterns which is difficult to do on BurdaStyle and you can see different versions of the same pattern in one place but already there are so many parts about this site that I dislike.
The user interface is weak (did I ever mention I work for a website? yeah, I take things like this seriously). There's way too much text crowding the pages. After I signed up I never could find a link to post a review. I had to find a link from the help page and bookmarked it. Also, anytime I try to post anything it makes me re-log in over and over again. The ads are text not photos so sometimes I think I'm going to a content page but then I figure out it is an ad. Lame.
And then there's the review itself – I can only post 1 picture. Lame. And then that picture isn't even displayed in the window with the review. Lame.
Also searching for patterns is tedius and it is not clearly marked where you actually go to read the review. What do I click on?? Lame.
Anyone else use Pattern Review and have this many complaints? I do love that it has a very vibrant and active community and there is always something new to see but the site itself needs a major overhaul. I only posted two reviews and I'm already annoyed.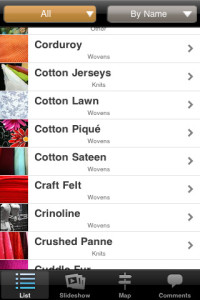 But to make up for the lameness of Pattern Review I downloaded Fabric U for my iPhone. It's a great app featuring dozens of different fabrics with descriptions and pictures.
Oh so helpful when I'm at the fabric store or I'm looking at suggested fabrics for patterns online and I want to know what jacquard is. Especially good if you're only moderately familiar with fabrics like I am and tend to stick to the same kinds over and over again and want to branch out. And it's only $1.99. Definitely worth the money in my book. Anyone else have this app?