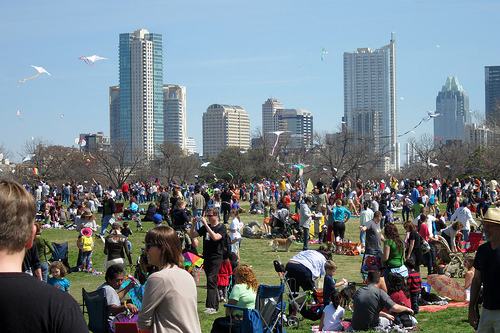 Kite Day Shirt – Simplicity 2601
Sunday Justin and I went to the 83rd annual Zilker Kite Festival here in Austin for an afternoon of fun trailer food and kite flying! Unluckily both our goals were sabotaged. Firstly there was no wind to speak of, certainly not a good start to a kite day. If you wanted to get your kite in the air you had to dash across the park at full sprint until eventually your kite would sink sadly back to earth like a day old balloon.
Also, I decided to be adventurous and bought a mango chile popcicle. Yes, I should have just stuck with traditional strawberry but food places around here are known for interesting and delicious ingredient combos and I took a risk. The popcicle tasted neither mango-y or chile-y and was pretty bland. I didn't make it halfway around the park before that one got chucked in a trash can. Oh, well. We made up for it with lemonade and tacos later for lunch and overall we had a great time strolling around downtown and enjoying the wonderful (non-windy) weather.
But on to more important matters – I finished this shirt just in time for the Kite Festival. It is Simplicity 2601 and I used some Japanese floral cotton lawn I bought recently along with some off white bias tape I had lying around and some pearl snap-looking buttons that are actually a tiny bit too small for the loops. Oops. Going to have to buy bigger ones.
I made a combo of different elements from the shirt pattern. I added the flounce collar from A and the sleeves from C (but I didn't use the piping on the sleeves).
I really liked the nipped in waist and the buttons but I made a size 14 (the recommended size based on my measurements) but I should have made a 12 like I normally do because it is a little big but not frumpy or uncomfortably big so I'm not disappointed.
I had never done these types of buttons with loops before. I had to resew a couple buttons because they weren't positioned well. But I guess that doesn't matter because I just realized you can't really see any of the buttons anyway because of the front ruffles.
The floral pattern makes it difficult to see the seams and gathers in this design. Maybe these close up shots can give you a better idea of the construction.
While this wasn't the easiest pattern I have tried, I am still glad I attempted it. It is the perfect feminine, fluttery top for spring!