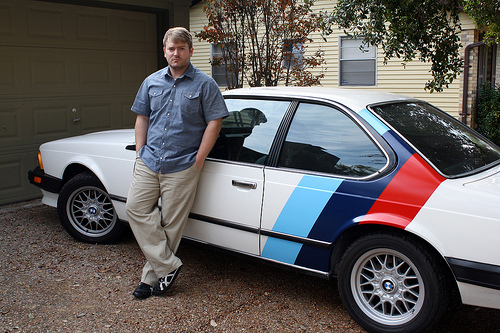 Un-Selfish Sewing, McCall's 6044
Guess who finally took project pictures? This gal! And guess who insisted the pictures be taken in front of our car? That dude. He's very proud, obviously.
This is the first thing I've ever sewn for my boyfriend, Justin, other than reluctantly hemming pants (just because I can sew doesn't mean I will sew!).
The Goal: I wanted to make my boyfriend a shirt that fits because he's so oddly shaped. Also, because we are from Austin, and like all other men from Austin, my boyfriend is in a band so, naturally, he needs a pearl snap shirt. (Seriously, go to a concert in this town and you will know this to be true.)
The Pattern: Susan was kind enough to let me borrow this pattern, McCall's 6044. I made a size L with some fit adjustments. I did a combo of a few versions.
(OMG, so, while image searching this pattern for the envelop pic I realized I made quite nearly the exact same shirt as Suzanne did. Whoa. Our men even look a wee-bit the same. Erie.)
The Fabric: Chambray from The Common Thread here in Austin. Pearl snaps from Snap Source.
The Changes: Justin aparently has a giant neck. I remember when he was a groomsman in a friend's wedding and he had to rent a tux. The shirt he got was sized by neck size so while he could tie a tie the rest of the shirt was gigantic! He looked like a deflated balloon. Obviously I had to make neck adjustments to this pattern. It fit well in the shoulders and upper chest but I had to widen the shirt in the front. He also told me that he wishes the sleeves were a little shorter but I think I'm too lazy to go back and fix it. I'll do that next time. 😉
I topstitched everything and mock-flat felled all the side and shoulder seams.
The Results: Overall I like this shirt for a first try. Next time I'll try to make it more fitted in the back, I'll shorten the sleeves a half inch or so for his taste, and I might widen the neck by another 1/2″ just to give him slightly more neck ease. Also, I think the sleeve cap on this pattern has way too much ease in the front to the point where in the back it stretches and in the front it rumples up and looks like gathers if I don't iron the heck out of it, and yes, I double checked the pattern piece, too. What's up with me and analyzing sleeve caps lately?