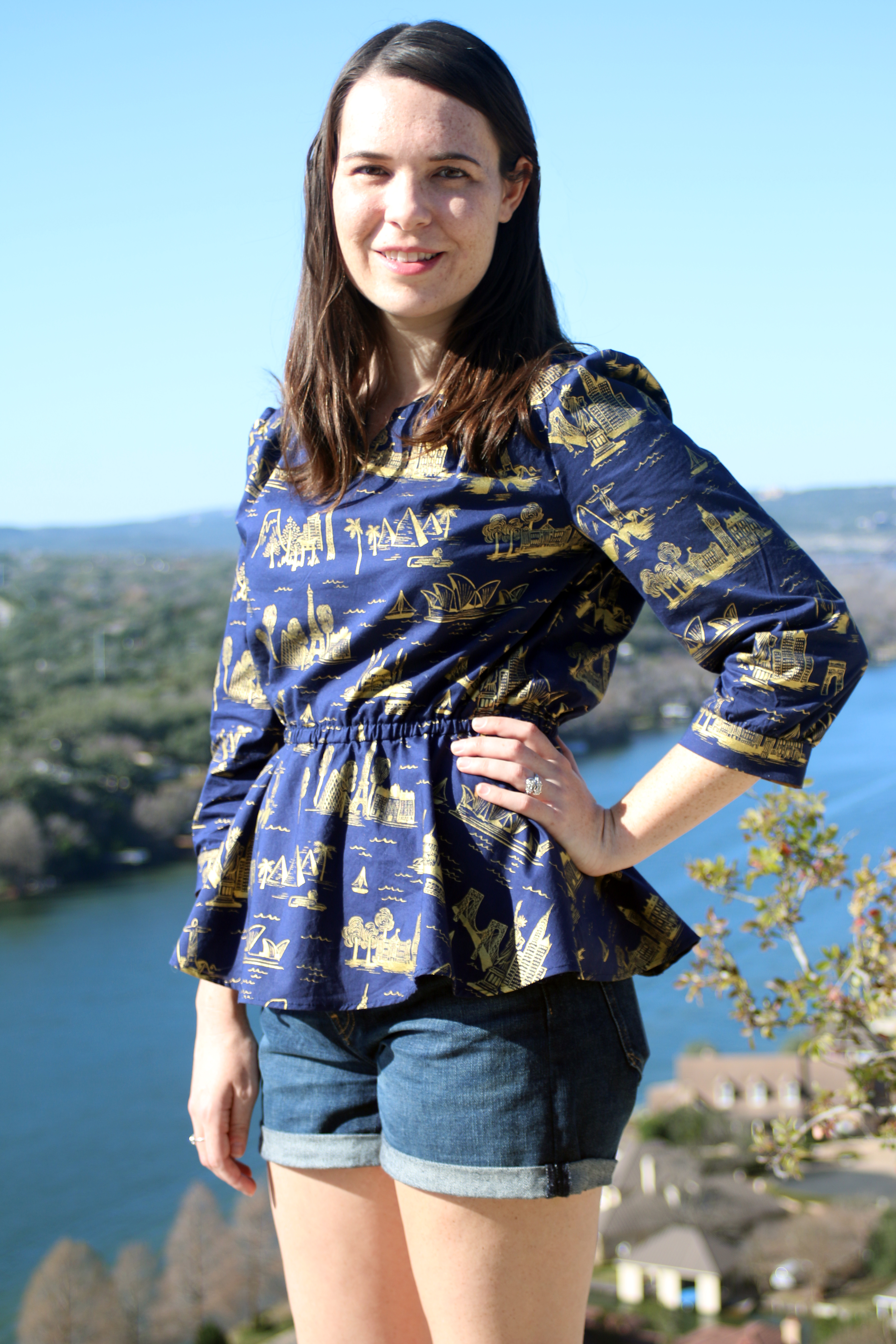 BurdaStyle Book Blouse – Travel Print

Happy New Year! This shirt was my final make of 2016 and is now my first post of 2017.
This is my third version of the blouse pattern from the BurdaStyle Sewing Handbook.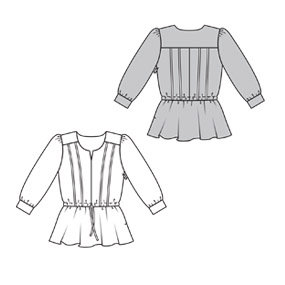 If you know me, then you know I love me some peplums. It's not everyone's favorite style but it's mine. Now you might be thinking "Geez, Dixie, isn't the peplum a little too 2011 by now?" and I would say, "You can pry my peplums out of my cold dead fingers!! #PeplumsForever #Blessed"
My first version of this pattern was made four years ago(!!!) and it's about time to be retired.
That version used the most amazing silk charmeuse print with what I can only describe as an "Asian toile" design. So when I fell in love with this awesome metallic gold-on-navy cityscape I knew I found a replacement for my old favorite shirt.
I can't tell if this is a lawn/voile or simply an exceptional quality quilting cotton but I bought it locally at Stitch Lab (which is sadly closing this year).
I made several design changes in an attempt to keep this fantastic print as intact as possible.
The pattern design features princess seams in front, and center front and back seams. I took the original pattern pieces, sliced off the seam allowance and taped them together them to make one solid back piece and front piece.
After combining the princess seamlines, I converted the "dart" space leftover into gathers at the shoulder yoke.
I turned the original neckline slit into a short "V" and adjusted the facings accordingly.
I lowered the sleeve cap a little but kept the gathers. Just a personal preference but I think the original sleeve cap is too high, making the gathers stand up awkwardly if you don't heavily press them down.
I also lengthened the sleeves a few inches and shortened the cuffs by about an inch total. In the original version the sleeves end oddly right about at the elbow but I wanted more of a true 3/4 length sleeve.
Finally, I included elastic in the waist rather than ties in the casing.
If you look closely (don't!) you'll see that one of the cuffs is upside down but to that I'll simply refer to my new sewing motto: "How much do I care? Not enough."
This fabric is so fun and shiny! It makes me happy just looking at it. There's London, Paris, Mt. Fuji, Giza, Sydney and more. It comes in a couple more colorways so if you can find it locally or online I definitely recommend picking some up!
I'll post a big year-in-review post later but until then I'll leave you with this great video from Google that really summed up well all my feelings from the past year.
Happy New Year, everyone. And may 2017 be your best year yet!