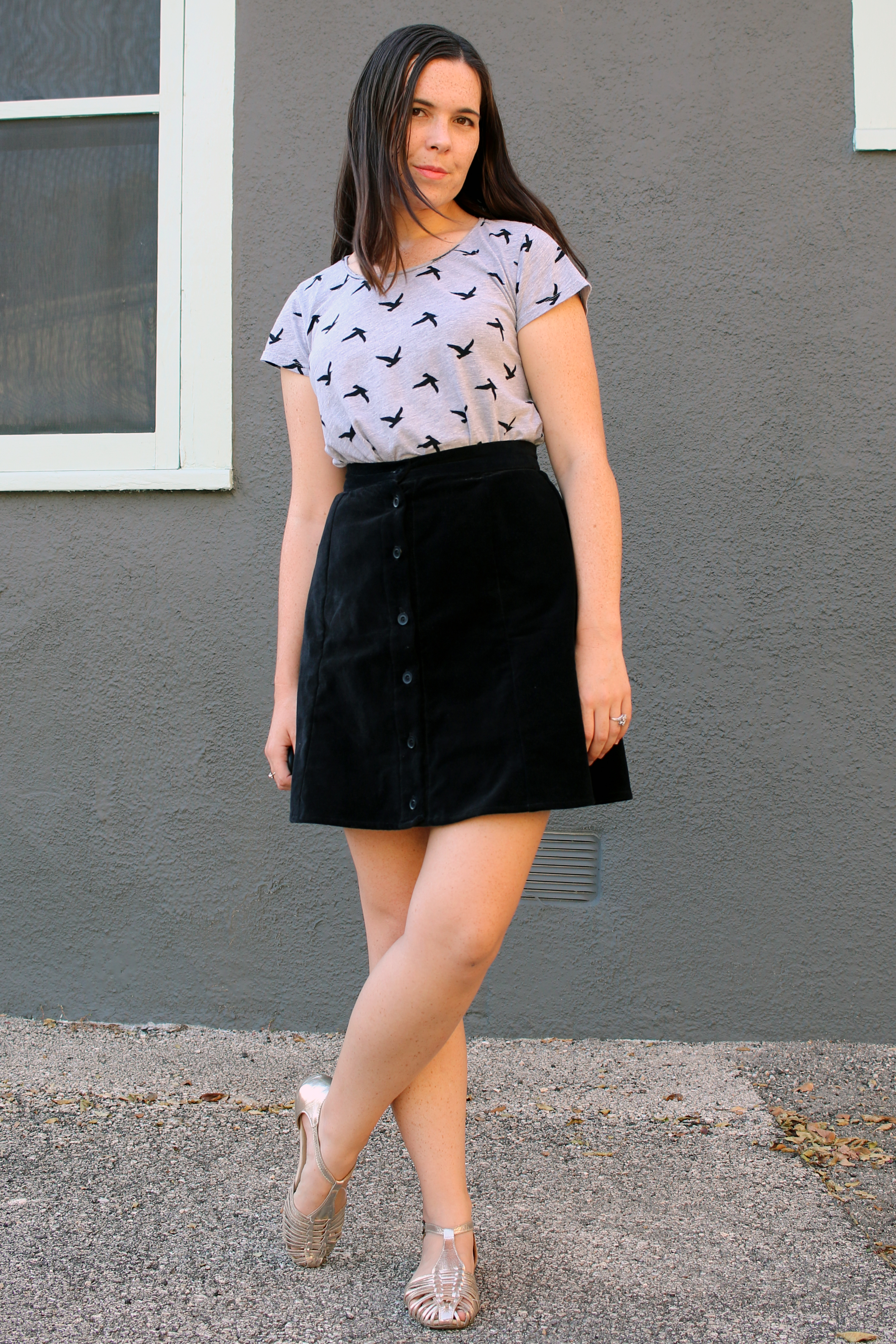 Vintage 70s Skirt – Simplicity 8019
I've seen these little button-down, a-line, mini skirts all over the place lately so when I saw Simplicity 8019, a 1970s re-print skirt pattern in four lengths, I bought it to make my own version.
This skirt is a bit of a wearable muslin, I don't love the fit but it's good enough for now.
I used a black cotton velvetteen from a now defunct local store paired with some matte black buttons from Joann.
One note about the pattern – I cut the shortest view, which on the pattern drawing comes above the knee, like I wanted, but the pattern pieces easily came to my knee (plus a 2″ deep hem). I shortened the skirt by about 3″ and sewed a narrower hem.
The fit isn't terrible. Originally the skirt pieces were too big in the waist but with so many vertical seams that problem was easy to fix. But when I went to attach the waistband it was too small. I made it work but I wonder if I made an error in cutting the waistband? Maybe I cut the wrong size or the pattern paper got folded while cutting? In the end, that made the waistband a little small.
Also my attempt at quickly fixing a sway back issue resulted in some pulling at the center back waist that I don't like. Next time I'll pay better attention to my adjustment process.
The only other aspect I don't love is due to fabric. This velveteen has so much body and combined with the a-shaped skirt panels the skirt swings out at the hem, particularly in the back. It's only noticeable at certain angles and I'm hoping in a different fabric the skirt will lay better. If not, I'll use those handy vertical seams to take some bulk out at the side bottom of the back panels.
I guess I'm just disappointed because this was such a simple pattern that I expected it to work easily and not require much alteration. Oh, well. They can't all be winners and I have worn this skirt several times so I guess that counts as a success.
I have this pattern cut out of some demin ready to be assembled and hopefully I can remedy the fit issues this time.