Red Rayon McCall's 7381
The photos of this dress were taken at the launch party for my friend Melissa's brand new sewing book, Sundressing. Check it out – the book features designs for both women and girls and shows you how to alter a simple bodice block into all sorts of fun summery dress designs.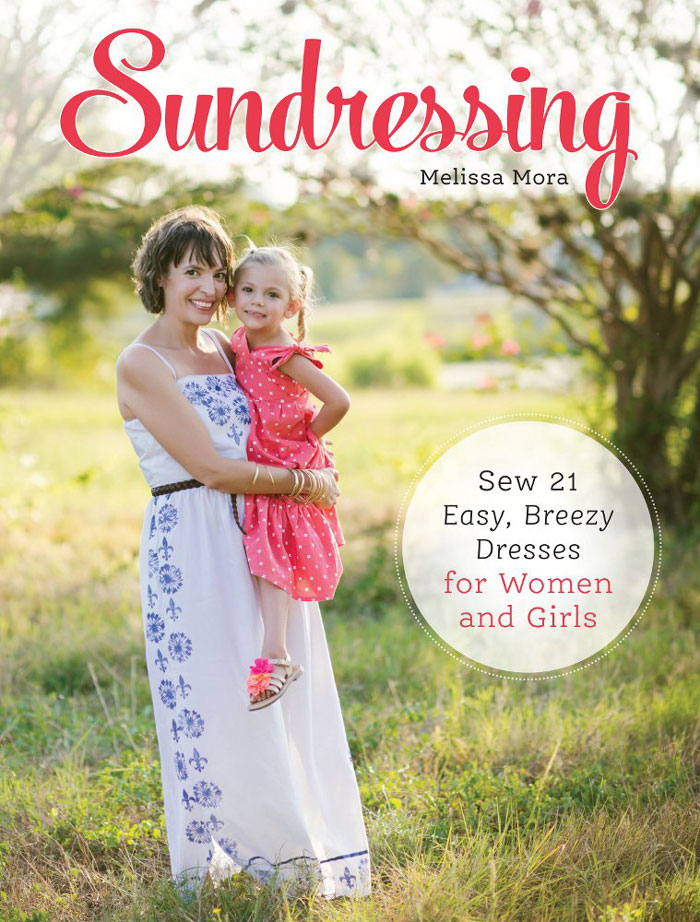 I finished this dress at the last minute, the day of the party. The details can be difficult to see with this fabrc so here's the line drawing: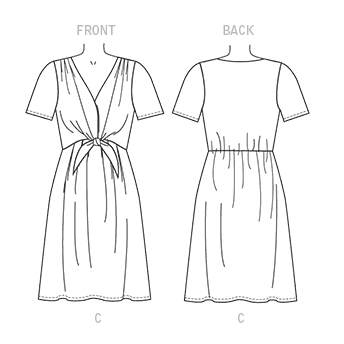 This rayon came from… I'm actually not sure where but I've had it for years. I at one time cut out some sleeves from it. I don't know where the rest of the shirt/dress those sleeves were to be attached to are now however…
The pattern is McCall's 7381 version C. I liked the front ties and back elastic waist. I sewed a size 12 but I think this pattern has too much ease. I'll go down a size next time. I helped combat the ease by tightening that elastic in back but the dress is still a tag big in the shoulders and bust.
The only bit I messed up: I gathered the sleeves. I misinterpreted the "ease-between-dots" dots as "gather-between-dots" dots. But since the cap gathered so well it makes me wonder just how much extra ease was built into that sleeve cap? Oh, well. It doesn't really affect the dress at all.
Maybe it's the rayon or the stitched down pleats at the skirt and shoulders, but this dress has a vaguely 1940s vibe.
Justin says I look like a candy cane, and I say "why you gotta hate?"
Anyway, I love this dress. It works perfectly in a drapey rayon. The method of construction seemed more sophisticated than other Big 4 patterns I've used in the past, specifically regarding the bodice. I would have expected them to pull some unnecessary hand sewing nonsense in the lining attachment but they didn't.
The way the front bodice piece attaches to the lining to create the ties is rather clever and the cross-over panel in center front closes with snaps. The slightly upcurved waistline in front is a nice detail as well.  The overlap in front is held together by 3 snaps. All in all, this is a great little frock perfect for everyday wear and for parties!