2015 Re-Cap
Happy 2016! I only barely made it home in time for New Year. Our flights were delayed coming back from Ohio for three whole days because of bad weather (thanks, climate change…).
Now is the time when most people reflect on the previous year and as sewists we usually look at what we've made: the hits and misses and the goals for next year. Keeping with that tradition, here are mine.
Most Worn:
Honestly, this was a pretty good year in terms of quality makes. Nearly everything got worn often but these are some of my favorites.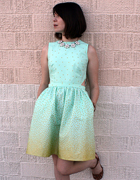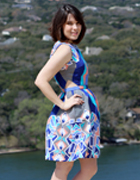 My two favorite Bonnell Dress samples have been my go-to party dresses for this year. I especially love that silk/cottom geometric print fabric.
My makes for the Blank Slate Sewing Team were pretty good this year. I've got plenty of wears out of my rose printed Tulip Top and my Favorite Purse is living up to its name – currently it is the only purse I carry (and I finally switched my strap to a cotton belting).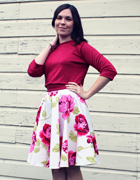 This whole outfit is just adorable. I get lots of compliments on it and I drafted both pieces myself.
When in doubt, make a Scout. Or two. Grainline's Scout Tees are always in heavy rotation.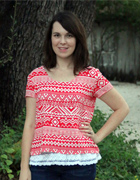 My Onyx hack is a surprise favorite. I love the fabric and the lace at the bottom makes it more than just a plain woven tee.
Well, those are some highlights. It would take too long to write about everything so here are the rest:
Least Worn: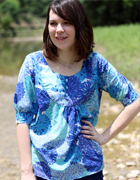 My Sew Liberated Esme Top was just too big. I liked the fabric and the look of the pattern design but the fit made me feel like I was drowning in it even after I made a tuck in the back. Other things I didn't like: The cuffs hit right at my elbow so they would get all scrunched up as I bent my arm throughout the day. Too long, but that's a relatively easy fix, but with the other issues I didn't feel it was worth making the effort to change it.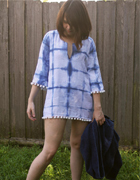 For Melly Sews' 30 Days of Sundresses, I hand dyed a beach cover-up but a sad accident meant I've never worn it since I made it. While on summer vacation that June we had a fire in the garage. It could have been a lot worse but we're ok now.
When I returned home I dyed the dress in the back yard then went to wash the fabric in the washing machine in the garage. After washing, I found the fabric covered in gray splotches everywhere that wouldn't come out no matter what.
Turns out that while the firefighters were here they must have shut the door to the washer so I thought it had been closed the entire time. It wasn't. During the fire the door was open and soot and debris coated the barrel of the washer and I hadn't noticed. It completely stained the fabric (luckily it was the only thing in the washer at the time).
Since I didn't have any more dye or fabric I just had to work with what I had so I sewed up the fabric and took pics anyway. You can't tell in the pics but I think it's very obvious in real life. I loved the dyed fabric so this was quite a disappointing turn of events.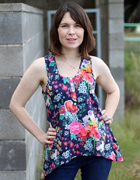 This tank was originally a sample for a class so it's currently hanging up at Me and Ewe.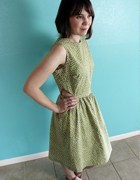 The first incarnation of my soon-to-be Bonnell Dress was just too big in the bodice. I had to go re-adjust my block for my next versions.
Costumes:
When I look at individual posts on finished projects, this year seems a bit sparse, but that's probably because so much of my time was spent on costumes and to complete a costume I often need to sew upwards of half a dozen pieces.
Here's what I've shared on the blog in the costuming category which doesn't include several other pieces in progress…
    
My Bioshock Infinite video game cosplay from January, 18th century undergarments, my completed Regency era outfit, mid-Victorian undergarments and petticoats (so many petticoats!), and my 1780s Robe en Chemise outfit.
All together those costumes contain about 19 separate garment pieces that I had made (not counting some small accessories, and not all were completed this year). That's huge! And I've already agreed to go to another costuming event in February which I'm now committed to making six more pieces! Including a hat! And a metal bustle! What have I gotten myself into!?!?
Other Accomplishments:
I had one major pattern release this year. The Bonnell Dress. It's my new favorite and I want to thank everyone who helped make it a success!
I wore my costumes (more than one!) in public, around other people, in daylight, which is pretty scary for me so I'd say that's something to be proud of.
Unrelated to sewing, I had a New Years Resolution last year to send out birthday cards to family members. I made limits for myself, I only sent them to the younger generation and only on the side of the family that was included in the big family calendar (which made it easy to track to the dates). I probably sent out over 45 cards last year. As someone who comes from a very small family, it was a bit overwhelming. People need to stop having so many dang kids! I can't keep up! Needless to say, I ain't sending no more cards this year. Just facebook posts if I remember. But at least I stuck with it for the whole year!
Goals for 2016:
Finish my in-progress costumes and find a place to store them. They take the longest to complete and they also take up the most room.
On that note, keep my sewing room cleaner in general. That place is a constant wreck.
Sell/give away some patterns and fabric I know I'm never going to use. No need to waste more space on them.
Release another pattern, or two, maybe, maybe not? I love seeing all the new pattern companies pop up these past few years. It's inspiring, but it also reminds me of the aspects I don't love about pattern designing. I generally don't like sewing sample after sample of the same thing as I tweak a pattern. I don't like that my whole time for a good few months is spent on the same long project. I don't like that because of that I have little to show on the blog until the pattern is finished. Pattern design can be fun but because I do everything myself it gets to be a burden. I'd much rather sew for fun.
So, if I manage to release another pattern or two this year I'll consider that a success, if not, that's ok, too. I've been doing the pattern thing for several years now and I think it might be time for me to get back into the working game again. I miss working with and around other people. I do teach sewing classes occasionally. Maybe I'll do more of that, or maybe I'll find a totally different job. Who knows. Anybody have any suggestions?
********************
Lastly, as a goodbye to 2015 I thought I'd share a fun photo I took for my grandmother-in-law's 80th birthday celebration (her b-day is NYE). I was given her mother's 100-year-old swimsuit from 1915(!!) and told to take a picture with it. So, of course, if I'm gonna do this I'm going to go all the way. We did a whole little photo shoot a la the 1920s – hair, makeup, accessories, everything. Then I photoshopped a background and "colorized" it like an old post card.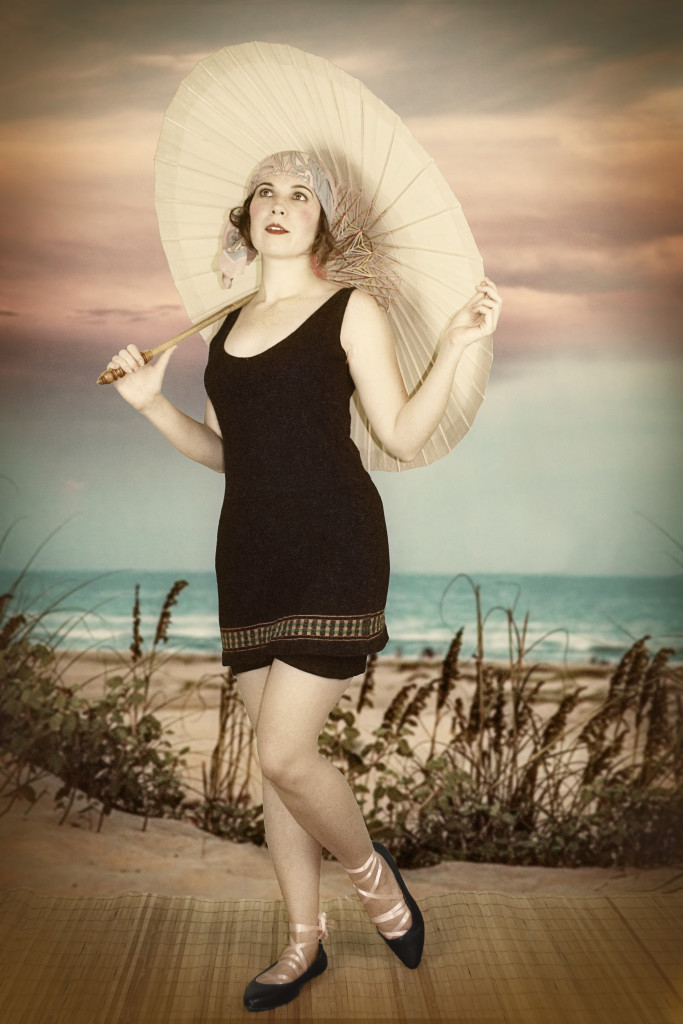 The swimsuit itself is pretty wild if you've never seen one before. It's a one-piece, all wool knit, with a button on the right shoulder. There' are shorts underneath  an attached skirt and there's absolutely no bust support at all, I can't imagine how some curvier ladies could have worn something like this but compared to swimsuits worn just 20 years earlier this thing must have felt like a string bikini. If you want to check out some authentic old swimsuit pictures I made a pinterest board.