Sewing Indie Month with True Bias: Summer Concert Tank
I have followed and loved Dixie for years now so I was super excited to be paired up with her to create a tutorial for her blog as part of Sewing Indie Month. I already loved the Summer Concert Tee by Dixie. I made it up a couple of years ago in some hand dyed shibori fabric and that top is still in regular rotation in my wardrobe. I've always wanted to make a tank top version of this swingy top, so I figured this was the perfect occasion.
To start off you just need to assemble your pattern pieces and cut them out as usual. You will not, however, need the cuff piece.
Starting on the front pattern piece, mark the width that you want for the shoulder of your tank. I decided on 2 inches, knowing that I could make it thinner later on. You will also need to add 1/4″ seam allowance to each side. So I made a mark 2 1/2″ total from the neckline.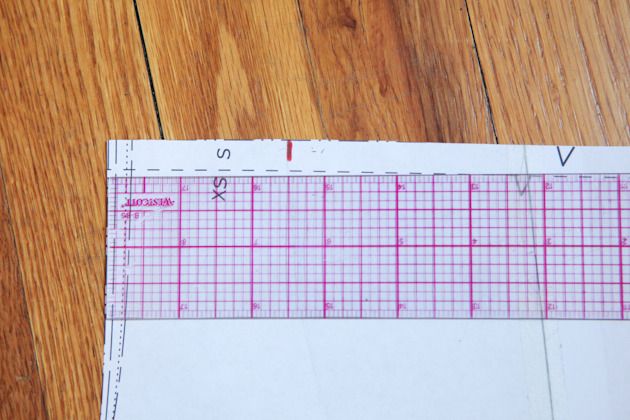 Now move down to the underarm and draw a line out from the armpit that is perpindicular to center front for about 5 inches.
Draw another line up from the flat part of the side seam (right before it curves back out for the sleeve) and continue that line up for about 5 inches. The place where the two lines connect will be the new top of your side seam.
Either by freehanding it like I did, or by comparing it to a tank from your wardrobe, curve the underarm point to meet your new shoulder point. Repeat these steps for the back pattern piece.
Here is what your two pattern pieces should look like. Don't worry too much about it being perfect. Knits are super forgiving.
Sew up your shoulder seams and side seams and try it on. You may choose to thin out the straps or take a bit more out of the side seam at the armpit. Make those changes now.
Finish your neckline and hem according to the instructions.
You are going to finish the armholes in the same manner as the neckline. Measure your front and back armholes and subtract 2-3″ from the length for your binding. Cut out two pieces of binding that are the same width as the neckhole binding but the length that you just calculated. Sew them to your armholes.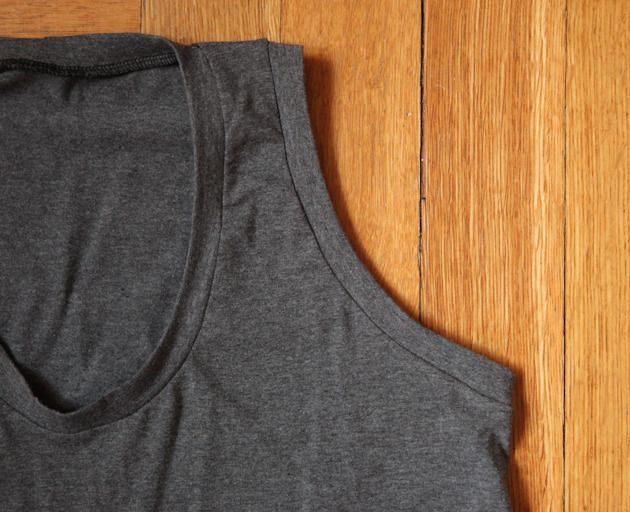 That's it! A fun, swingy tank that is ready for a summer concert or day at the park.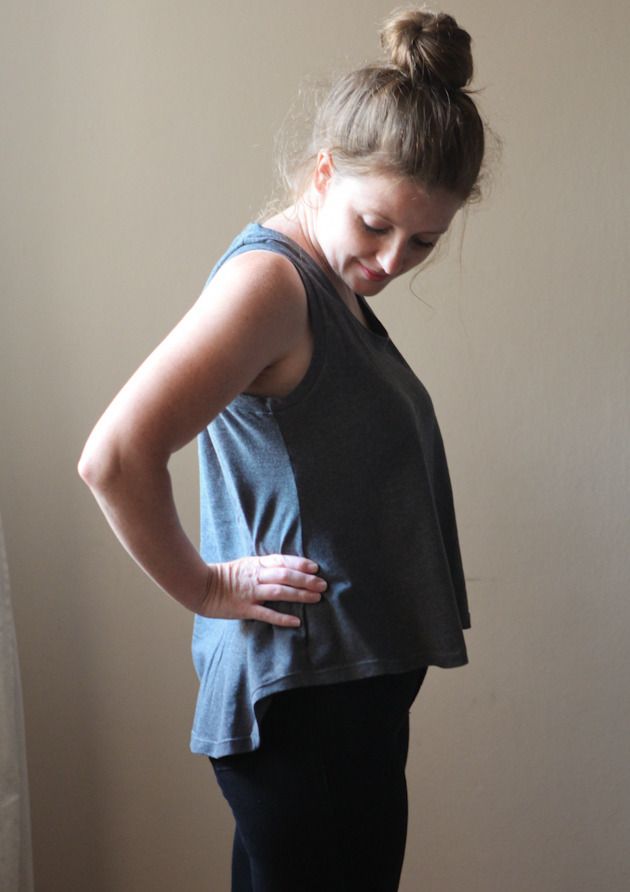 Thanks so much Dixie for having me!
*******
Big thanks to Kelli from True Bias for this tutorial! I love how Kelli seems to be able to take the simplest garment and make it look effortlessly chic. I'm always inspired by her personal style.
Follow along with Sewing Indie Month 2015 and check out more tutorials like this neat button loop hack of the True Bias Southport Dress from Lisa of Paprika Patterns.