Scout Tee Forever!

Ok, I feel I should preface this post with a bit of backstory. The week before I made these shirts I had been making a lot of sewing mistakes. Repeatedly. Dumb mistakes. And I should know better.
For example I was sewing a bag, a large tote bag with lots of pockets. I totally messed up the outside zipper pockets. I read the instructions wrong or mixed up the illustrations. In the end, I had to re-do several steps before I could continue.
Then I worked on a baby romper for a friend. In my defense, one of the pattern pieces was mislabeled so I marked the wrong spot to attach ruffles. But I can't blame a typo for mixing up my ruffles and I swear to thread I sewed that damn bodice with that super tricky elastic onto the bottom part of the romper three times! Ugh. And I have to do it again!
…with those setbacks in mind I felt I needed a "quick win" and what better pattern to use than Grainline's Scout Tee.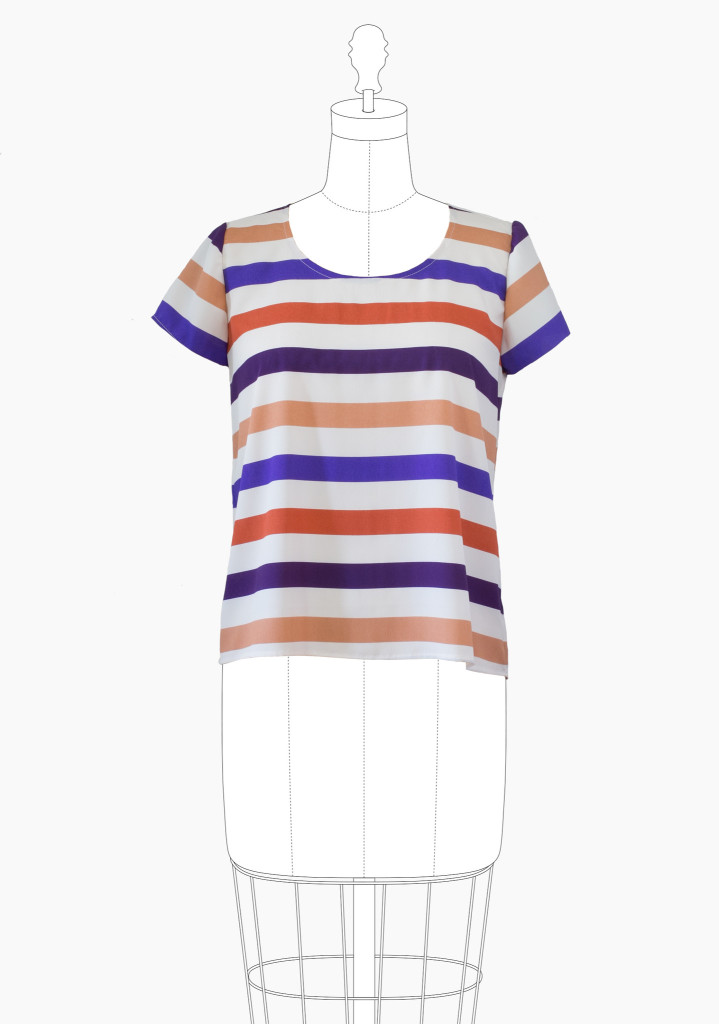 (Precious Scout Tee, too good for this world, too pure…)
"When in doubt, make a Scout" should be carved on my gravestone.
I made these two Scouts over a couple of days and it's nice to just have a simple project to get your sewjo back.

The Fabric: I can squeeze a Scout out of less than a yard of fabric which makes it a great candidate for stash busting. Both of these fabrics are leftovers from previous projects.
The gray top is a printed cotton jersey I bought from the Cloth Pocket sometime last year. This is my first knit scout and I used the same size I normally cut and it worked out fine. The only problem with this fabric is that the grainline is so janky and sideways I had difficulty figuring out how to lay the fabric straight.
The brown chevron version uses leftover rayon challis from this romper from last year. I had to drown this stuff in starch, it was so shifty, and I was forced to cut one of the sleeves out a second time because it was so oddly shaped.

The Changes: Nothing major. I tried a new technique on the knit top neckline. I sewed the binding so if folded over to the right side, stitched it down and left the raw edge free.
It rolls up on itself and I think it makes a cool effect. Oh, and did I mention that I totally sewed the binding on the wrong way the first attempt because I am why I can't have nice things?
I also tried a technique that my friend Susan recommended to first adhere some Stitch Witchery in the hems as a stabilizer and then sew over it with a twin needle. It helps prevent that ridge you sometimes get with twin needles and makes for a crisp hem without making it too stiff.
On the rayon top I cut the neckline about 3/4″ lower for some reason I don't remember.
The Results: Ugh, sometimes you just need something to work. Something familiar and safe. If there's comfort sewing like there's comfort food then the Scout is my buttery mashed potatoes.