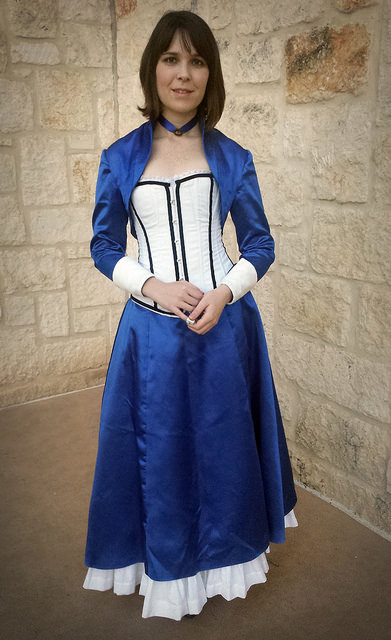 Cosplay Complete!
If you want to see a bit of Liz in action you can watch this trailer on youtube. However, it's definitely a violent game so keep that in mind before you click.
PAX was my first convention so I was nervous at first but once I saw plenty of other cosplayers running around I felt more confident about being dressed up in a silly costume. I only wore it for a few hours – my boots weren't very comfy and Justin tied my corset a little too tight, oops.
I got lots of compliments and quite a few photo requests. I usually went with my standard "fiddle with the pinky thimble" pose. This character doesn't have any weapons so there's not exactly a cool action pose I can do.
I only saw one other Elizabeth there which was surprising because I figured she'd be pretty popular.
I wrote about most of the pieces of my costume in my in-progress post but here are the finishing touches I made since then —
Necklace: a length of satin-y ribbon with clasps at the back (which I realize now should have been tighter). The bird brooch came from this etsy shop and I was surprised by how nice it looked considering how inexpensive it was. It's pinned to the ribbon but the weight drags it down.
Jacket: I added the collar and hemmed it… with stitch witchery. 'Cause lazy. Also, the shiny material shows stitches, even when trying to make a blind hem. The stitch witchery was just easier and gave it a clean finish.
Skirt: At the last minute I added a pocket in one of the side seams which helped out so much with carrying cards and phone and whatnot. Pockets FTW!
Petticoat: Actually, this is a huge petticoat that I originally made to go over a Civil War era hoop. The petticoat is probably too big for the skirt, to be honest. For the hem hem I attached a 1 foot wide box pleated strip of fabric which gives the hem a nice kick but took it FOREVER to press and sew.
It also got pretty dirty from walking around. 🙁 Oh, well. It's white which is easy to clean.
Shoes: Bought some "victorian-esque" style boots from Amazon. They have a zipper on the insides which is kind of cheating but that's ok. They did they job but certainly weren't that comfortable.
And my thimble is on the right finger! In the game Elizabeth is missing part of her pinky which she covers up with a thimble.
I'm actually really proud of myself. I'm not usually one to dress up at events like this and I tend to shy away from attention in general but I went out of my comfort zone and I think I did a pretty darn good job of recreating the character.