Cosplay Adventures in Progress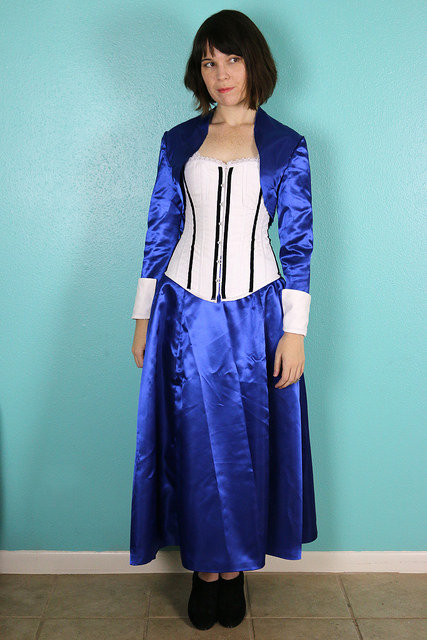 Well, this is interesting. Trying something new today – cosplay! If you've never heard the term cosplay it's basically dressing up like a character either from a book, movie, tv show, comic, video game, etc. It's like Halloween for geeks all year round.
I've been slowly making historical costumes on the side but this is something pretty different and I've never done it before. I thought to get started I ought to try something "easy" first. And bear in mind this is an in-progress costume. I still have more parts to complete.
This is Elizabeth from the 2013 game Bioshock Infinite. I don't mention it much but I'm a big gamer (been slacking on sewing lately because Dragon Age Inquisition was just released and that game is massive!).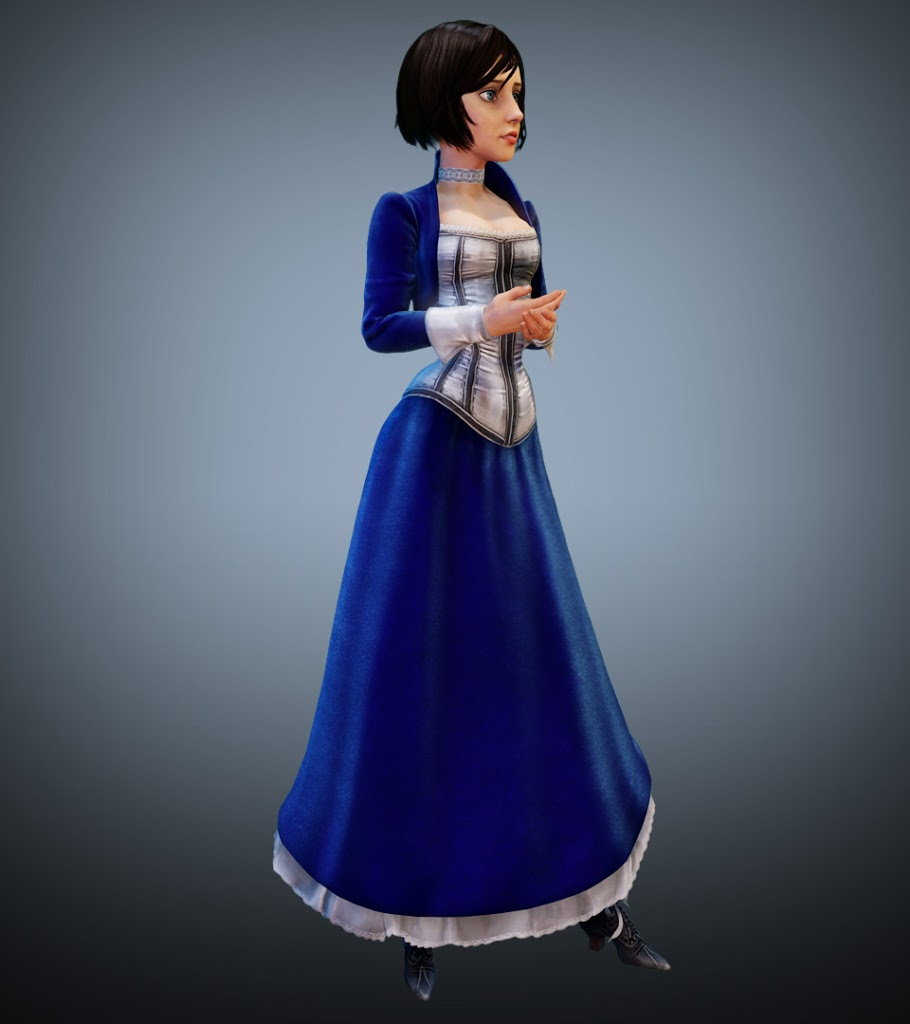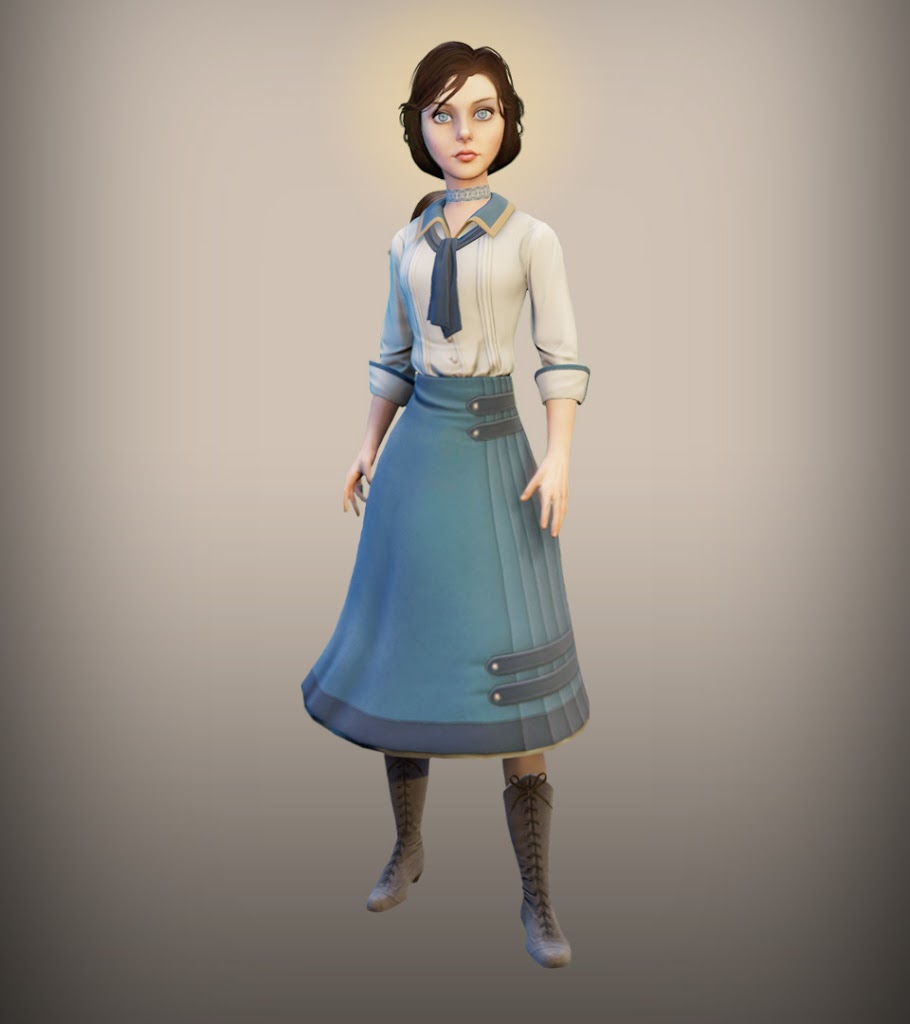 Elizabeth is arguably the protagonist of the game even though you don't control her. She lives in an alternate-1912 in a floating city in the sky called Columbia but she's been kept in isolation since infancy by her father and leader of Columbia because of her "powers." She has the ability to open up tears (not crying-tears, but ripping-apart-tears) in space time into other alternate, yet congruent, universes. Sometimes she brings pieces of other universes into her current one, other times she can move into a new universe.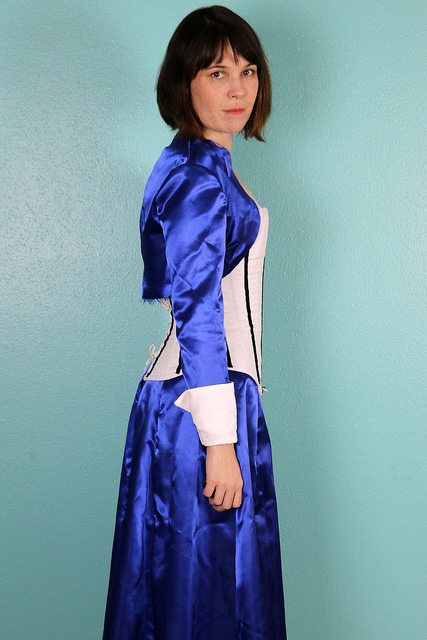 Elizabeth has two main outfits in the game. The first, when you meet her, is a cute school girl style outfit which represents her naiveté and isolation from the rest of the world. Then about mid way through the game, she changes into this outfit which symbolizes her maturity and the realization that Elizabeth isn't really who she thinks she is. She also chops off her long hair.
The jacket and skirt are actually her mother's, saved as a museum piece. You see plenty of references to her deceased mother throughout the game.
This is the part where my historical accuracy nit picking comes in as neither the jacket nor the skirt fit the style of 1893-95, the time in which Elizabeth's mother would have worn it, nor is it very 1912.
Also, there's been plenty said about the fact that she's wearing a corset for a shirt and over her skirt (which no one would ever do then), but uh, I'll let it slide just this once…
But I chose this outfit over the first for two reasons: I had already made a corset (more on that below) and I didn't want to buy a wig.
So let's talk about the parts of the costume. Elizabeth is a fairly easy costume and because of that you see a lot of people dressing as her. You don't really need any props. You're not carving armor out of craft foam. You're not building wings. It's mostly just sewing. I can do that, right?
Jacket: Most people think that her jacket and skirt would be made of velvet but for the life of me I couldn't find any royal blue velvet that wasn't stretch or that crushed panne type. I thought pure cotton velveteen would be too heavy but it didn't matter 'cause I couldn't even find the right color in that.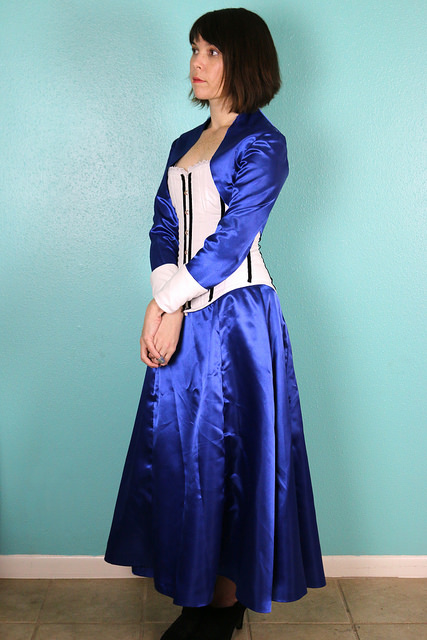 In the end I chose this poly satin from Hancock Fabrics. It's got a good weight and it's better quality and easier to sew with than some other polys I could have bought. Luckily it was also pretty easy to sew with.
It's very shiny, though, and it desperately needs a pressing. It's not that shiny in real life. I think my lighting kit I use to take indoor pictures just made the fabric look extra bright.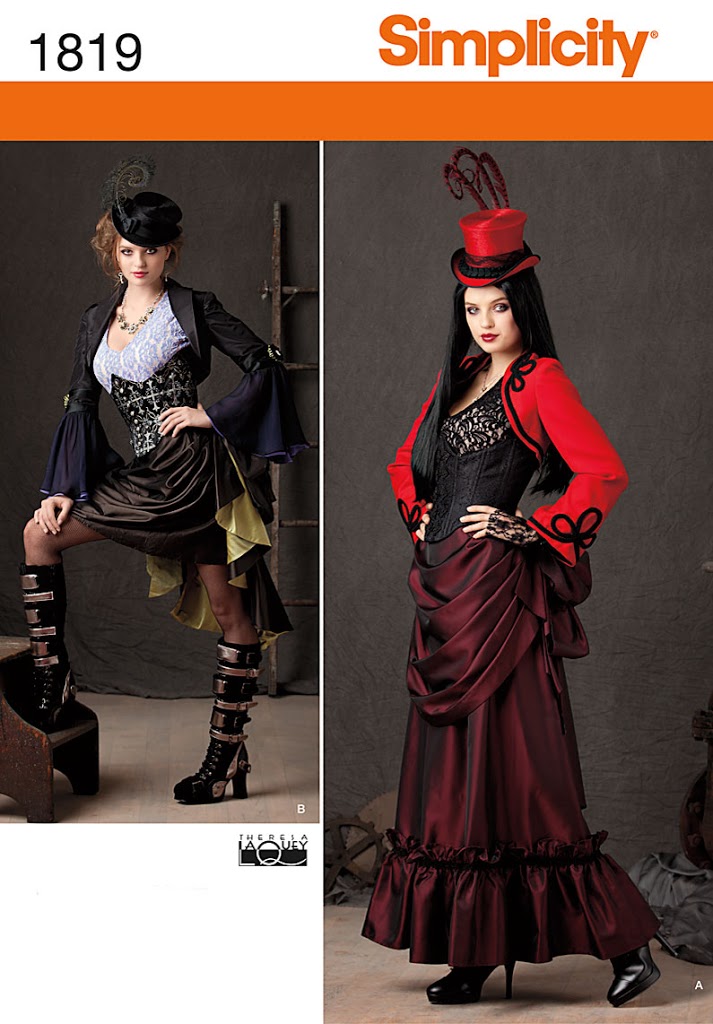 I modified the bolero from
this steampunk Simplicity pattern
. I narrowed the sleeves from the elbow down and added cuffs, each with a button (which you can't really see in any of the pics, sorry). I also sewed the back seam tighter so it wouldn't stick out so far away from my body.
I still need to add the collar (the original collar was a little big) and hem the jacket all the way around.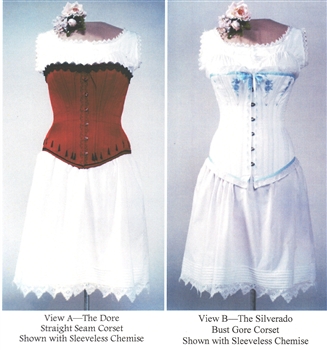 Corset: I made this corset to go with my Civil War costume and it's the first corset I ever made. It's plain white coutil and I used Laughing Moon #100, the Silverado corset with the bust gores. Only I feel the way you're supposed to chose the bust sizing is a little misleading and I as a result it was way too big in the bust so I had to make the gores smaller and in the end it doesn't give the best bust shape.
Also this pattern is supposed to end mid bust but maybe because of my sizing mistakes it fits much more like an over bust corset. Oh well, works for me.
Because I wanted to be able to take the trim off easily I hand basted the lace at the top and the black stripes which are velvet ribbon. I still need to sew the ribbon on the top and bottom edges of the corset but I can't seem to find my extra ribbon right now…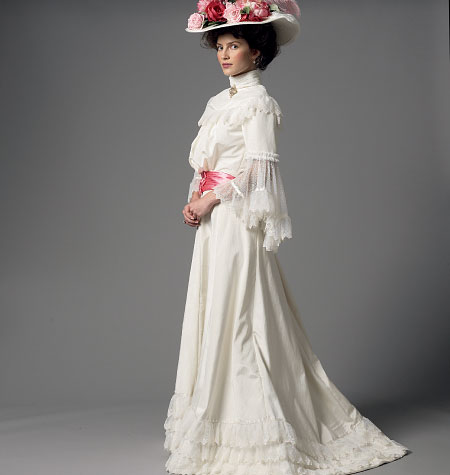 Skirt: I modified this historical pattern from Butterick. It's an Edwardian style dress with a skirt and bodice combo. I'm 90% sure it's based on an extant garment covered in the awesome book, Costume in Detail. I recognized the dress on the pattern envelop and had to have it.
I sewed up the skirt pattern as-is only I'm begining to realize big 4 patterns seem to have EVEN MORE EASE in their costume patterns. I sewed a 12 and it was way to loose so I just moved the hook further over to make it tighter at the waist.
But wow, that original skirt was gorgeous! I wish I had taken a picture. The shape was amazing even without a petticoat and the big pleat in the back covers up the opening and adds some nice volume. It was definitely long but very pretty. I really want to make up that whole pattern now.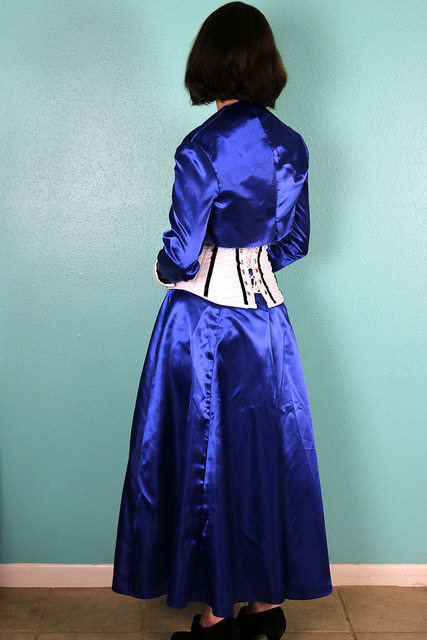 But for this costume I lopped off a huge chunk of the hem because Elizabeth's skirt has a white ruffle sticking out from under it.
Petticoat: I've seen this costume done two ways: with a ruffle stitched to the skirt hem and with a separate petticoat. My plan is to make a historically accurate Edwardian petticoat that can double as a petticoat for this costume which should work well since you only see the very bottom of it.
Accessories: In the game you Elizabeth is fascinated by two necklaces sold on a beach boardwalk (yes, they have a beach on a floating city, I don't get it either) and you, the player, get to choose which one she wears. It's a choker ribbon necklace with a glass cameo. I think I'm going to have to try to find one on Etsy or somehow make my own.
I also need to find some Victorian style lace up boots. I'll probably buy some cheap-ish ones online.
And lastly, when you first meet Elizabeth you notice that her right pinky finger is short and covered with a thimble so I stuck a metal thimble on my finger although now I realize that it's on the wrong hand in these pics. Oops.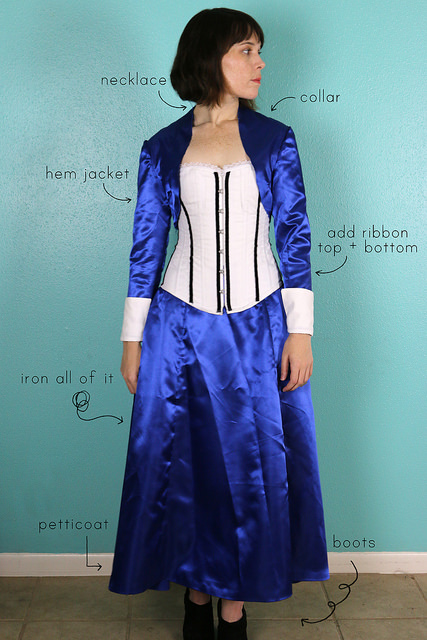 Here's my list of what I have left to do:
– Get a necklace
– Add the jacket collar
– Hem the jacket
– Finish adding the ribbon to the corset
– Make a petticoat
– Buy some boots
– Iron the heck out of the whole thing so it looks good
I'm hoping to get it all done by mid-January so I can wear it to a games conference. Anyone else done any cosplay or steampunk or fun costumes like that?