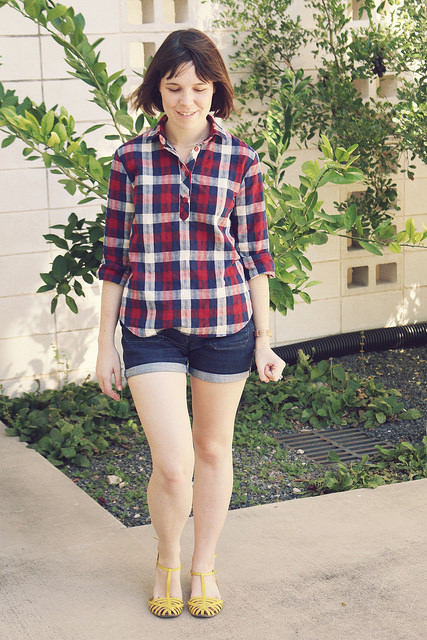 Grainline Archer #3 – Popover Edition!
Susan was nice enough to take pictures of this shirt yesterday on a little blogger meet-up/shopping trip. It was great to meet Jenny of Cashmerette and the lovely Mary of Idle Fancy along with getting to spend time with several of my Austin friends!


Super sewing blogger meet up!
By the end of the day I'd eaten a yummy tacos (and Jenny had her first bite of queso), bought several yards of delicious fabric, took a bunch of selfies, ate some cheesecake and generally had a great time all around. And seriously, you guys have to see Nicole's Cambie of Amazeovaries.

But, onward to the Archer!

The Goal: This being my third Archer shirt (#1, #2) I wanted to do something a little different.
The Pattern: You've seen it before, you'll see it again and you'll love it every time – the Grainline Archer button down shirt. This time with a twist!
The Fabric: This neat red/white/blue plaid shirting from Form and Fabric (ugh, that place is getting all my money!). This fabric is surprisingly great – lightweight but not transparent, yarn dyed so you don't have to worry about right and wrong sides. It's kind of lumberjack-like. Even Justin wanted a shirt made out of this stuff.
Trouble was I didn't have enough of it for the full shirt. Naturally when I bought the fabric I had a basic idea of what I wanted to make but underestimated my fabric needs (a common problem I have).
I managed to squeeze out enough (no fabric left for pockets) except for the inside of the cuffs which are just a plain off white cotton. But since I usually will wear this with sleeves rolled up you'll never see it.
The little red translucent buttons came from my stash.
The Changes: Popover!
I found this Melly Sews tutorial on making a placket, and a second tutorial via Meg's sweet chambray popover post.
I liked that tutorial because it used only one strip of fabric and you end up with that nice little point on the end. It won't work well with bulky fabric, however. Too thick to make a clean point.
For the placket piece I just turned the original front button thing pattern piece on the bias which makes the placket extend about halfway down the shirt. I used 3/8″ seams on the placket, to give you an idea of size.
Only other change: I made a second pleat about waist level in the center back, the same size as the pleat attached to the yoke, to cinch in the back fabric just a little bit. I just stitched it down horizontally.
Also, I might have again messed up the cuffs – I think I switched the button and buttonhole placements. Oops. I need to pay better attention.
The Results: Love it, but of course I would. It's an Archer, duh. This will be great for fall and so far I've worn it twice this week. If you wear a garment multiple times immediately after making then you know it's a keeper.