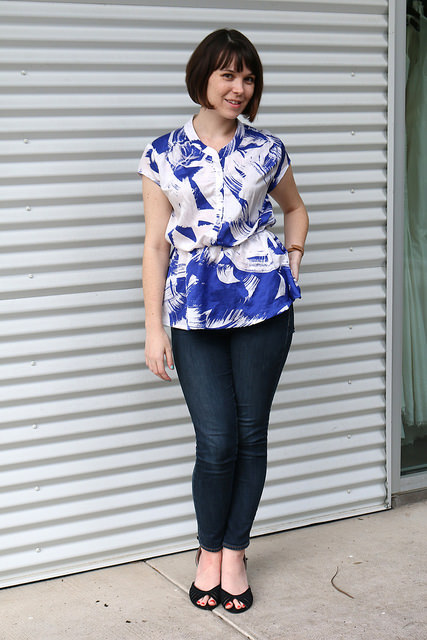 Pattern Anthology's 8 Days a Week Collection
Oooh, two garments in one post! I was lucky enough to participate in Pattern Anthology's last womens-wear collection blog tour earlier this year and now they're back with a new collection of mix and match garments that will become staples in your wardrobe.
In case you're unfamiliar with the Pattern Anthology concept here are the deets: 8 Days a Week Collection is a new collection of women's sewing patterns by Pattern Anthology. This collection includes:
The Neptune Tee: A casual tee with optional triangle cutouts at the front and back neckline as well as the sleeves.
The Marigold Dress: A button down dress with elastic waist, long or cap sleeve options and even a peplum option.
Go To Knit Pants: 3 styles of knit pants including leggings, straight leg pants and relaxed fit pants options.
McCartney Jacket: A zip up jacket with fun options and lots of style.
Pattern Anthology sells their collections for a limited time at a 40%+ discount. You can purchase this collection now through October 6th. Get more details HERE.
So, which designs did I make? Let's start with the Marigold Peplum Top from Blank Slate Patterns:
The Pattern: Melissa, the designer behind Blank Slate, is also from Austin so I got a sneak peek at an early version of this pattern at sewing meet up and was immediately like, "YES PLEASE." The Marigold is quite versatile. You can make a dress, skirt, or a straight or hi-low peplum shirt.
The Fabric: I used a silk/cotton blend from Form and Fabric in Austin. It has this pretty, abstract, brushstroke style print. I bought this fabric before I knew about this pattern so I didn't have enough yardage for a dress so I made the top with short sleeves.
The clear crystal-like buttons are from my stash.
The Changes: None, really. With no darts and a blouse-y shape fitting is easy peasy.
The Results: Loving it! I can definitely see this being a TNT pattern with all the variations available.
And next: The McCartney Jacket from Shwin Designs
The Pattern: A nice bomber-style jacket with rib knit cuffs and hem band (love rib knit details like that!).
And it's got sweet welt pockets, too!
The Fabric: Ok, so this pattern is drafted for wovens but I had this gray panda print sweatshirt knit from Girl Charlee I had bought ages ago and I really wanted to use it. It was very stable and hardly stretched at all so I felt safe using it.
The lining is a woven, however. It's a purple rayon lining fabric that I starched within an inch of its life because that stuff is slippery!
The Changes: The pattern calls for self and lining fabric for the collar but I wanted to use some more rib knit so, yeah… I used that instead. :p
The Results: As hard as I tried matching my panda-stripes they're a little off when I zip the jacket up (shhh… if you won't tell anyone I won't…). And I think I could have sewn one size smaller for a tighter fit but I don't mind the size.
Besides – PANDAS! Pandas win everything. This is going to be such a fun jacket later in the year when I can actually wear it, lol!
Now go check out what all these lovely ladies made from the collection then go and pick up the patterns for yourself at PatternAnthology.com