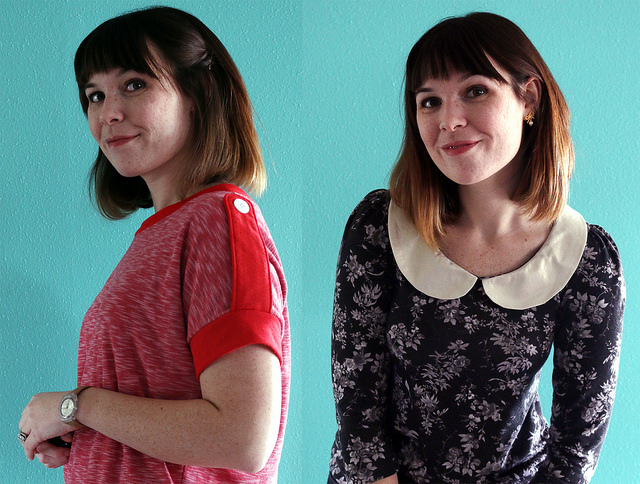 Pattern Anthology Parisian and Day Tripper tops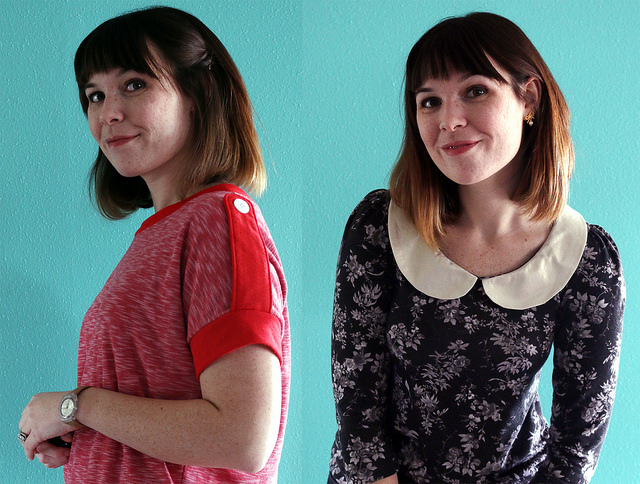 Oh, look, it's two makes in one post. It's like sewing bonus points!
Well, there's a reason for that. Both of these patterns come from the new Pattern Anthology "Just Add Jeans" collection. Pattern Anthology is a collaboration between four indie pattern designers (Kate, Melissa, Andrea and Shauna) who release seasonal PDF pattern collections available at a deep discount for only two weeks. I got asked to try out the new designs and how could I say no? If you've stopped by along the blog tour, welcome!
Their fourth and most recent collection, Just Add Jeans, consists of four knit tops that will become wardrobe staples. Each of the lovely ladies designed a pattern and every pattern file is slightly different. They all cover bust measurements at least 30″ to 44″ and all comes with detailed instructions and even tips and tricks for sewing with knits (making them easy for beginners).
Let's get down to business, shall we?
The Pattern: The Day Tripper Top by Shwin Designs comes in a long sleeve version or short sleeves with shoulder tabs (I love me some tabs…). It's got dolmon sleeves, a high low hem, a band at the hem and cuffs.
The Fabric: I saw this cool double sided red jersey from Girl Charlie (darn, I think they sold out of this one) and thought I could use the front and back sides as contrast. It's really two layers tacked together (like double gauze but it's a knit so I'm not sure what to call it, help?). The tacks are invisible on the front heathered side and barely there on the solid back. The tacks run in straight lines so that made it easy to get the grain straight (laziness wins again!). I bought two white plastic buttons from Joann for the tabs. I like the pop of white on the red.
The Changes: Really, nothing. I cut a size small, the shirt is a relaxed fit so I wasn't too worried about sizing. What's nice is the pattern offers three length options. I chose the middle, 26″ length and it hits right at the hips in front and longer, almost tunic length in back. I can pull the band up a little and it makes it blouse a bit or I can stretch it down for a smooth look.
The pattern also has the option for pockets (how cool is that!). I cut out the pieces but then realized with my double layered fabric I would have ended up with 6 layers where the pockets go, too bulky this time, maybe next time.
Here's a close up of the shoulder tabs and these cute and dainty little gold bow and pearl pearl earrings from Jacaranda Designs. You know that I love bows…
The Results: Overall, really comfy. I could see why she named it the Day Tripper top, it's the perfect travel shirt when you want to look cute in vacation pics but don't want to be uncomfortable on a long plane/train/automobile ride.
I serged the whole thing which made it super fast. I only needed a little interfacing for the tabs. Win!
and next…
The Pattern: I knew I wanted to sew the Parisian from Go To Patterns the minute I saw it because, duh, Peter Pan collar! This top has three quarter sleeves and cuffs and hem band.
The Fabric: I thought this black and white floral print (also from Girl Charlee) would make for a pretty classy knit top and I jazzed it up even more by adding this gold metallic linen for the collar (from the stash).
The Changes: I'm slightly pear shaped so I graded from a size small in the bust to medium in the hips and it worked out great.
As for the collar, the gold was kind of a last minute idea. This is where things got a little messy. I had already cut one collar piece out of the same knit before I realized I wanted a contrast fabric. I chose the linen which, although sparkly, was a woven. I interfaced that layer then for some reason thought I should just use the collar piece I had already cut out as the under collar, even though it was a knit. I clipped and trimmed my collar seams as instructed but then added understitching as an extra layer of protection to make sure the knit side didn't show.
In the end it turned out fine, I think, although the woven doesn't conform exactly to the knit (obviously, duh) but it still works and looks cute! So if you're going to do a woven collar, don't be like me and instead cut both collar pieces from the same fabric.
The Results: Another win! I could see myself making this up again, maybe even changing the collar to a pointed one. I liked that the narrow binding as facing meant I didn't need some bulky interfaced neckline facing. I serged this one up as well. I made this top second so I was already on a roll and finished it quite quickly. Love that!
I want to thank the Pattern Anthology ladies as well as Girl Charlee and Jacaranda Designs. I'm at the end of the blog tour so if this was your first stop then you're in luck, you get to see a bunch of other lovely makes from this collection without having to wait! However, that also means that the available time to get the discounted collection is running out. After March 24th the patterns will be sold individually but at full price so if you want to save some cash you should buy the whole collection while you can.
Want to see more versions of the four shirt patterns? Check out the blog tour:
Stef @ The Girl Inspired
Delia @ Delia Creates
Merrick @ Merrick's Art
Julia @ Julia Bobbin
Liz @ Cotton and Curls
Katy @ No Big Dill
Caroline @ Sew Caroline
Suzannah @ Adventures in Dressmaking
Jessica @ Craftiness is Not Optional