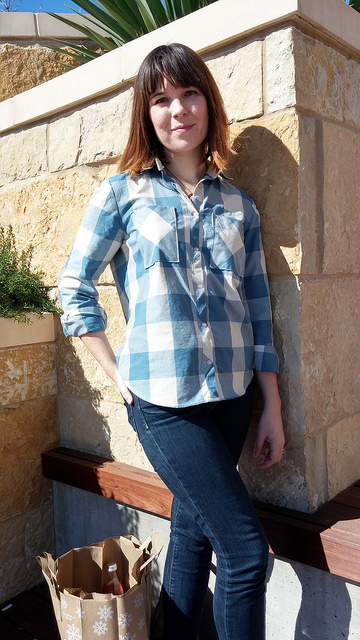 The best looking Pic-nic Blanket you've ever seen, aka, my Grainline Archer Shirt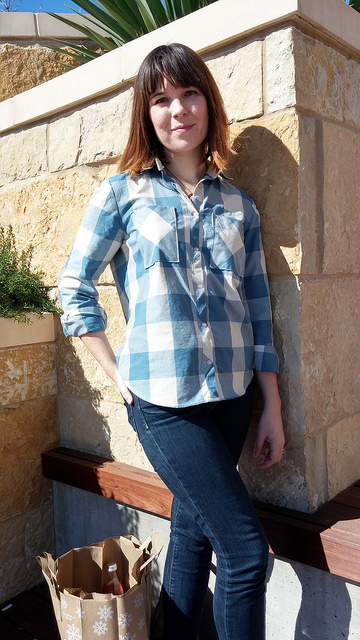 We took these pictures at the new Whole Foods near my house here in Austin. We went on the big Grand Opening Day event because, well, we're white and we had this coupon for a free package of ground beef if you spent over $25. So we bought some grapes and a baguette which was enough to get that meat.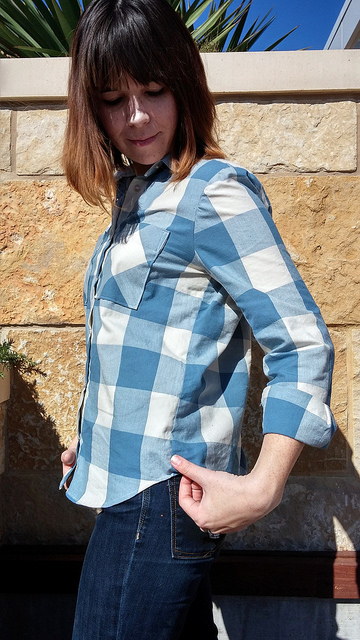 there's a side seam in there somewhere… 😉
Anyway, after that I made Justin take some pics of me with his phone because my regular camera is having issues and I've been unable to take photos.
I figure this is a good enough grocery-shopping-extravaganza shirt because as I was making it I realized this giant blue check pattern reminded me of a pic-nic blanket. I think adding the pockets on the bias helped alleviate that problem.
Well, let's get to the important bits, shall we?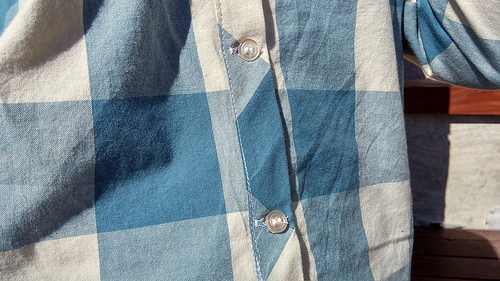 The Goal: I've had an Archer shirt cut out in pieces for several months but it's been sitting in a plastic bag of loneliness in my UFO drawer because that shirt's fabric was polyester. Even though I liked the colors and print, the thought of static-y, sweaty poly on my skin made me lose interest. So to jump start the Archer again I bought some new fabric and dared all my sewing club friends to make Archers with me and at next month's meeting we're gonna show off all our Archers together. Super Archer Challenge is on!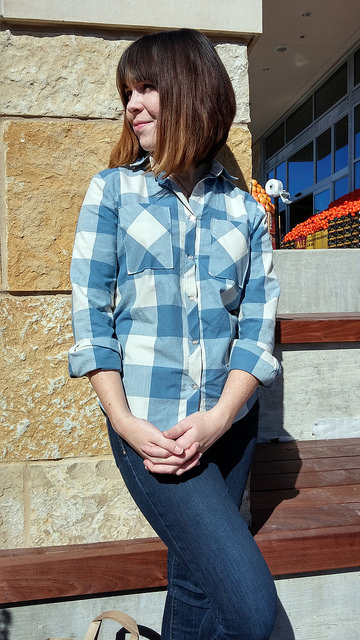 The Pattern: Grainline Studio's Archer. If you read sewing blogs you've seen this one a hundred times. I'm late to getting on the band wagon it seems. I think I cut a size 4 and it fit right out the box. Not that it need much fitting. If it fits in the shoulders you're pretty much good to go. And OMG a button down shirt with no darts! This is amazing! I am never using another button down shirt pattern again!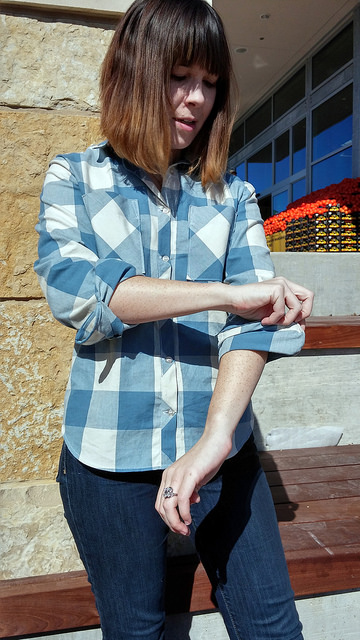 The Fabric: A very soft cotton check from The Common Thread. It's from Moda and was on a 45″ bolt like quilting cottons but it feels way too soft to be a quilting cotton but not crisp like a shirting. Hmm, mysterious.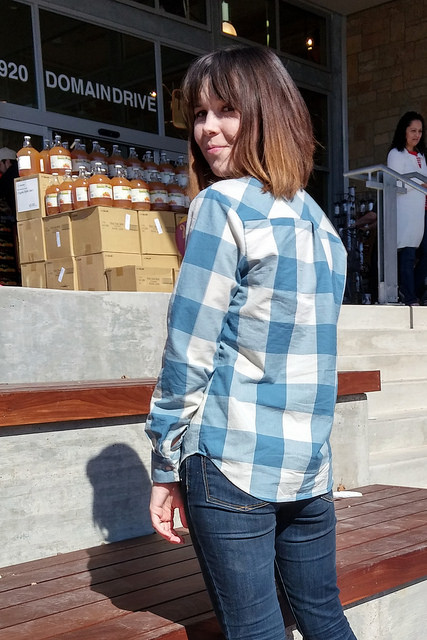 The Changes: Pockets, button placket and back yoke on the bias. I used Grainline's tip of cutting the interior back yoke piece on the straight grain to stabilize the biased piece.
The Results: I think I smell. I most likely do. I've worn this shirt more times this week than one ought to do without washing it. I would wash it, you see, but that would mean I'd have to take it off so…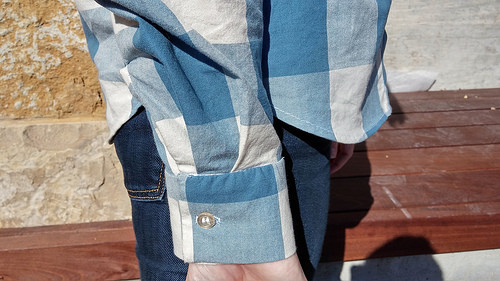 One minor detail I worried about was that on previous made versions I'd seen the shoulder line seems to be ever so slightly dropped. I wondered if that was intentional or if everyone just has narrow shoulders. I think it looks that way on me but I don't mind it at all. Just something to think about if you care, which I don't, I'm just going to go frolic in a meadow with my wonderful pic-nic shirt!
Seriously, though, this is another outstanding pattern from Grainline. That lady truely knows how to draft. The shirt came together quickly. Her instructions and illustrations on the sleeve cuff placket area were easy to follow even if you've never done that type of technique before. No trying to fit an enormous amount of sleeve cap ease into the armhole. No frustrating fiddly bits. Grading seam allowances in all the right places. To put it simply it's a great pattern, I'm already sewing a second version!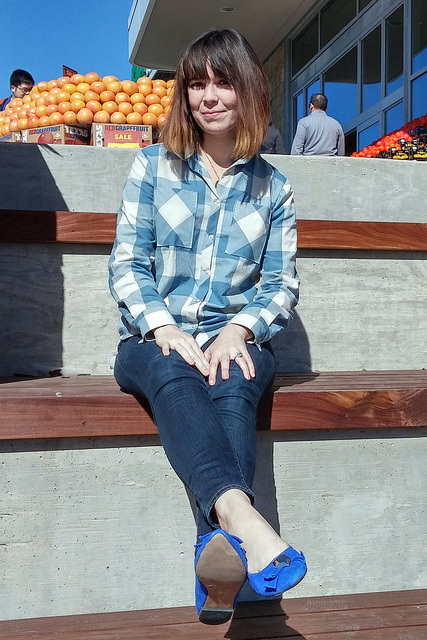 On a random note, as I was uploading my photos to Flicker Justin saw my screen and asked why it was called an Archer shirt. I told him it was because you wear it while Katnissing.
****Just wanted to say thank you all for the lovely comments on my wedding Macaron. I appreciate it all and I love this community so much. There's too many to reply individually but I wanted everyone to know how much it means to me. THANK YOU!