A Very Special Macaron Pt. 3
Well, the big day has come and gone. And it's taken me a really long time to do this post, seriously, the wedding was Nov 30. I've just been spending more time sewing than blogging lately.
Anywho, you've seen bits and pieces of this dress as I worked on it so I won't go into construction details here. Just pretty pictures for the most part.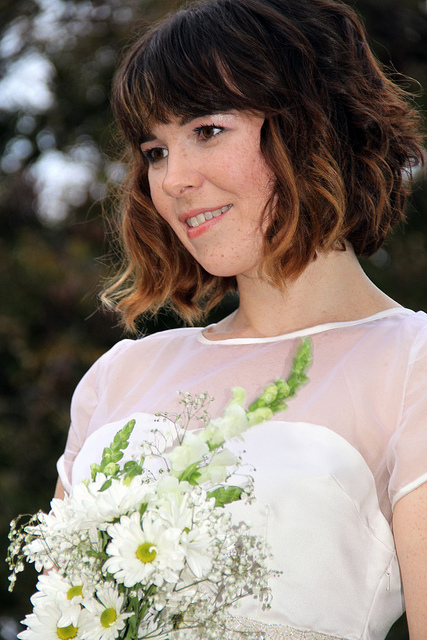 Justin and I had a really small wedding, only about 30 people and we got married under a tree on the grounds of the Texas State Capitol building so a simple short dress worked really well for that scenario (stiletto heels in grass, not so much).
I never did end up lining the dress. I just wore a half slip under it, no big deal.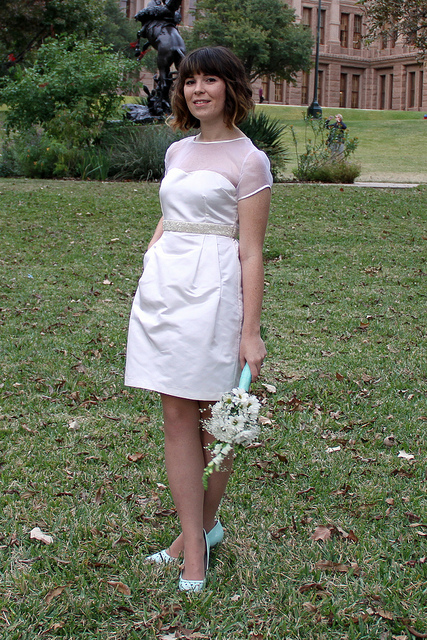 Having pockets in the dress was great 'cause I had to call family to figure out where everyone was and wrangle all the people into one non-predetermined spot. But then someone else held my phone for the actual ceremony. 😉
The only thing I might have done differently had I known was that the main dress fabric doesn't wrinkle per se but the sheen on it causes deep shadows whenever the fabric folds making it look more wrinkly than it is. Also the fabric was pretty darn stiff.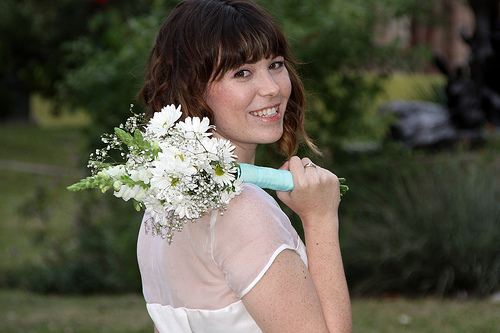 But the dress fit well (this is a TNT pattern for me so I wasn't worried) and the waist band was tight enough to serve as a waist stay so there wasn't a lot of stress on the organza yoke seams. All in all I'm very satisfied.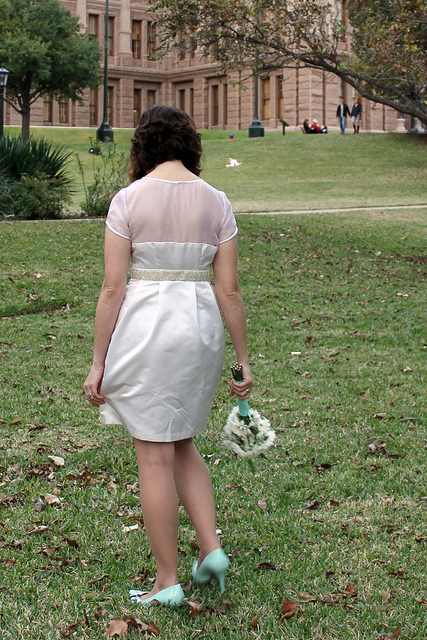 Now that it's over I'm really glad I made my own dress. The total for the dress came to about $150 and if I bought something similar it would easily have been $500 or more. I think many sewists underestimate their abilities and think they can't sew a wedding dress. Sure, my dress was short and uncomplicated but I could have done a floor length evening gown if I absolutely wanted to.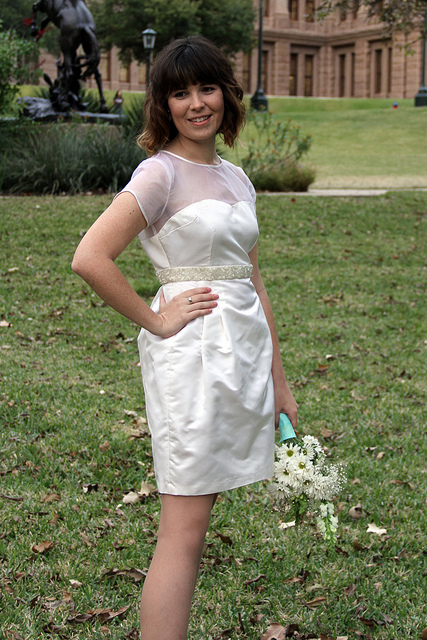 So here's some tips I'd give to those who are considering about sewing their own dress.
Start early. This is a "no duh" kind of tip but knowing that I finished my dress a month before the wedding was a relief. Plus I had time to make last minute changes if I needed to
Use a pattern you've made before and you know fits. Having made the Macaron a handful of times before made sewing this one a breeze. You don't need a whole dress pattern. If you have a bodice you really like you can pair it up with a skirt from another pattern or draft your own. Just having one part of the dress you know will fit helps save time and frustration.
Don't stress yourself out too much with other things. You don't have to make your dress and your bridesmaids dresses. Delegate those DIY centerpieces out to your mom. Focus on one main thing – the dress. If your design isn't too complicated you can spare time for the extras.
Set a realistic budget. My main fabric was a silk/rayon blend but if you go hardcore with the bridal duchess satin or beaded bridal lace be prepared to shell out the big bucks. Duchess can run $70+/yd. Nice lace can be well over $100/yd. Linings and organzas are cheaper but they add up. This is more about the experience of making your own gown, not necessarily about saving money.
Use couture techniques. Not only does it make the final result extra special but how often do you get to do it on your everyday sewing? This was probably the most fun part of making my dress.
Don't be afraid to go unconventional. It's your dress! Do what you want! Do you love the comfy feel of a knit dress but think it's not fancy enough? You know, silk jersey is a thing. Go short. It might save you money and sewing time.
Take your time so you don't get overwhelmed. Sew in chunks and work on it a little bit every day.
Know your limits. Maybe you don't have enough time or patience to hand bead the whole skirt. Perhaps making an entire interior corset isn't the best plan. This should be fun and memorable not nerve wracking when it doesn't need to be.
If you have a friend or family member who sews well that's great but if not, you can still totally do it on your own.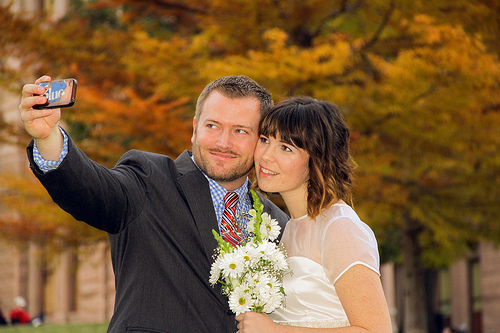 (portrait of a wedding selfie, this is actually one of my fave pictures)
I was never that excited about planning my wedding, for the most part I was stressed out and worried things wouldn't get done on time but making the dress was fun and it's totally unique to me. And it looks pretty good in pictures. 😉 Glad it's over and I can move on to more sewing projects!