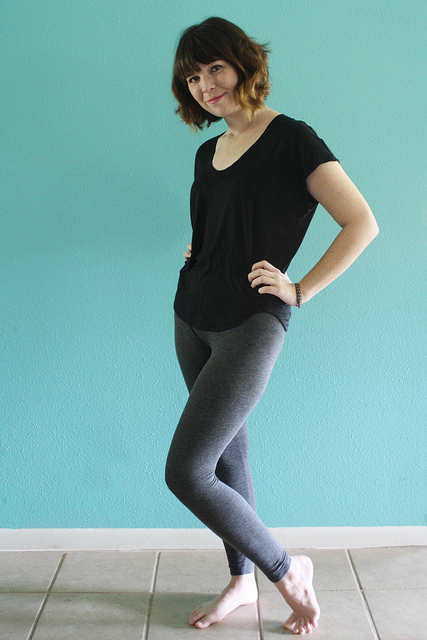 Cake Espresso Leggings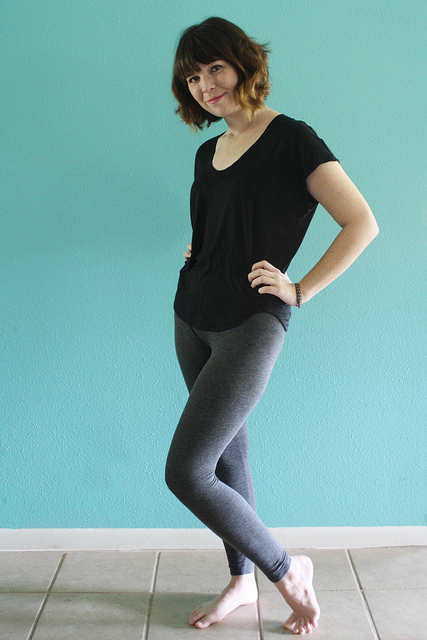 First of all, I fully realize that leggings are not pants so no, I don't intend to walk out on the street like this. But this is a sewing blog so I'm gonna wear 'em on here FOR SCIENCE!
Second of all, I have to admit my good friend Susan works for Cake and helped me pick out the perfect fabric and gave me tips and such. She's great, and now I have awesome leggings!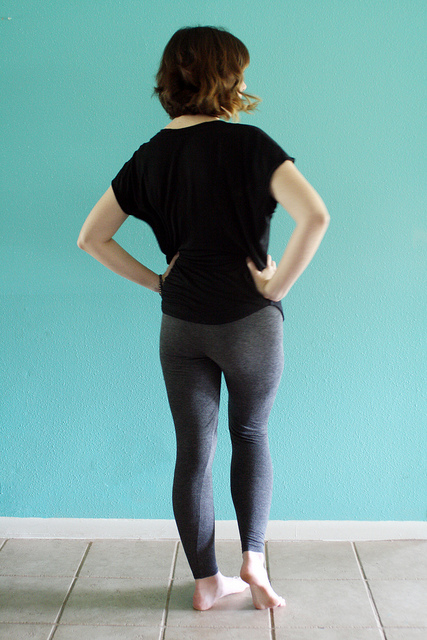 The Goal: I've only ever made one pair of leggings, a McCall's pattern which turned out to be a bust because they never fit right. I started out making a medium but by the time I had finished I re-cut and re-cut them down smaller than the smallest size in the envelope. Sill, they were baggy in the bum and the knees. Total bummer. Maybe part of my problem was the fabric but I think it was also McCall's fault. I was hopeful with this new pattern.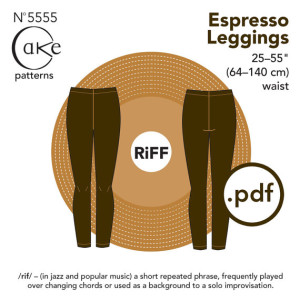 The Pattern: The Espresso Leggings by Cake. It's a cool pattern because it's a template based on your own measurements. You measure waist, thigh, knee, ankle, then crotch rise and leg lengths and basically connect the dots. It's cool because all the ease and stretch considerations are taken care of for you so it really is easier than drafting from scratch.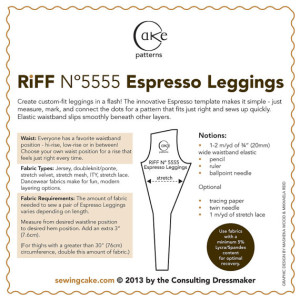 The example line drawing on the back of the envelope had me a little confused. There's no side seam so the one pattern piece wraps around your whole leg but those knees and ankles looked so tiny compared to the thigh. I guess it's ok 'cause everyone's pattern will end up looking different.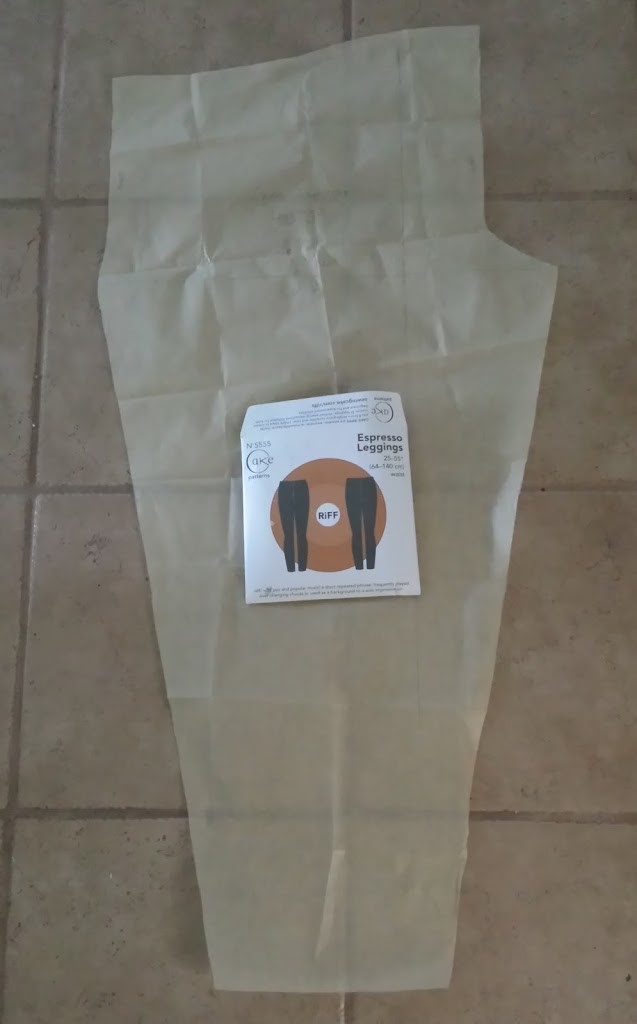 My finished, traced pattern piece looked like this. The back curve is on the right. The front curve is barely a curve at all.

The Fabric: This is a super soft rayon jersey with 5% spandex and no vertical stretch (perfect for this pattern, thanks Susan!). Got it at Austin Fabric Co-Op, a joint venture between Fabricker and Stitched Fabric Boutique (they moved in together, it's like the best fabric roommates ever!). Susan gave me a great tip to reduce the overall length of the leggings by 10% if your fabric has vertical stretch as well.
The Changes: None! Followed all the steps straight through. I like that Cake tells you to add a little ribbon tag to tell you which is the front and back of the leggings. I added my own personalized tag.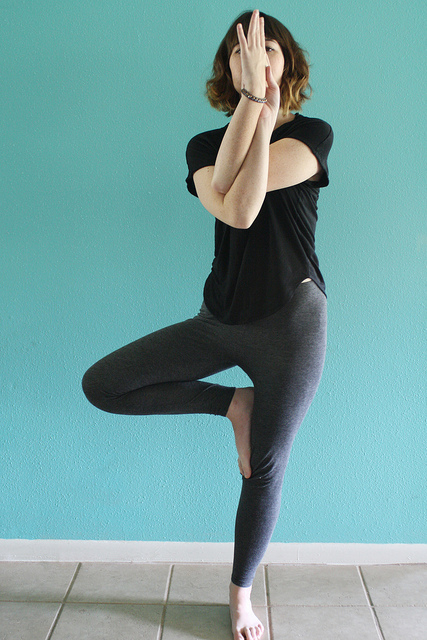 (I think this is Tree Pose or something…)
The Results: They fit REALLY WELL! No bagging anywhere, no wrinkles when I stand straight. And they're super comfy. I've barely taken them off since I made 'em.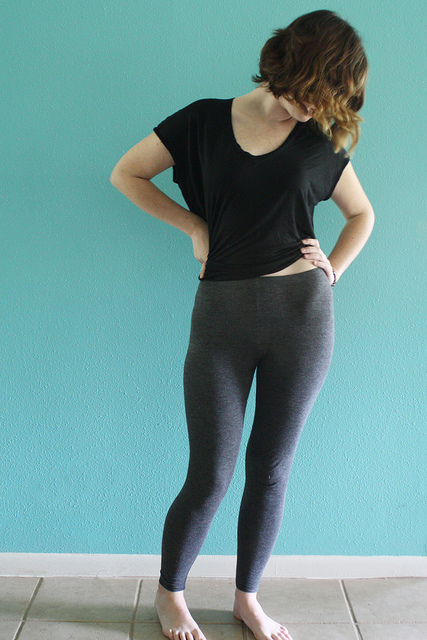 I liked the way the pattern has you measure your crotch rise in front and back by sitting in a chair. You can also have the rise come up more in the back than the front if you want. I attempted to do that with a slightly lower rise in the front, lower than my belly button. When I first tried them on they came up to the right place but after wearing them I think the fabric stretched and now the front hits at my belly button which is fine but next time if I use a similar fabric I'll adjust to make them lower. I don't really love high waist leggings. I could always just cut the waist down but why bother. 😉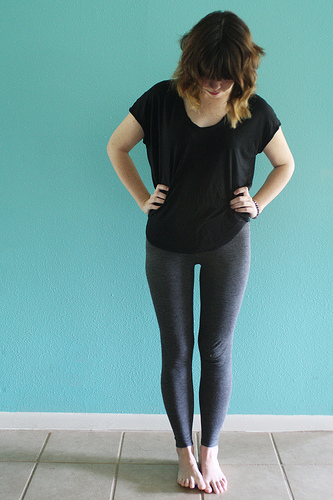 I sewed the whole shebang with a zig zag stitch and hemmed the ankles. I think these leggings are going to get a lot of wear this winter under skirts and dresses, yay!
For realz, tho, don't bother ever buying any other leggings pattern other than this one. None will ever fit you like these do and if you want to make some cool color blocked crazy leggings with style lines and cut outs, well, you can always just alter this one pattern piece to make it into whatever you want. I'm hooked. I'm officially a Cake convert.