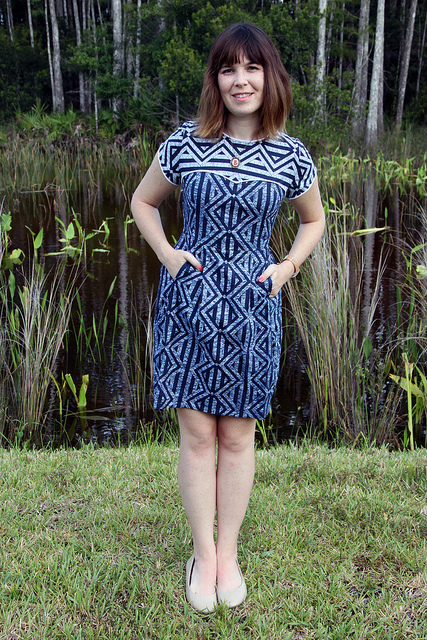 The Indigo Macaron
Long time no see, readers! I just got back from a little family vacay in Florida. These pics were taken in Justin's grandmother's back yard. There may or may not be alligators in that pond…
I finished this dress the night before we left on our two day drive from Texas to Florida.
The dress has a special story behind it – the lovely Erin from i heart fabric sent me this indigo fabric (which I love!).
She sent me some other sewing goodies, too, which I hope to utilize soon! Thanks so much Erin!!!
So on to the details:
The Goal: I've made this pattern twice before but I wanted to give it another go as a test version in a different size before I make it in some real expensive fabric.
The Pattern: Colette's Macaron dress. I loved my first one but when I lost some weight the dress was too big and because of the sheer yoke fabric I used it wouldn't be easy to alter. The second dress I made in a size 2 which fits well, and I love the dress and the fabric I used but I thought a size 4 would give me a little more wiggle room. I was right. This time I made a 4 and it's perfect.
The Fabric: This cool indigo and white print. The bottom portion is the right side of the fabric and the yoke and sleeves are the reverse. The yoke is on the cross grain, too, which I think makes a fun effect.
Also, check out that pattern matching! Well, at least on the front bodice and the front waistband. The bottom of the waistband and the skirt are slightly off but you can hardly tell there's a waistband at all at the top!
The Changes: None to the design other than adding piping to the sleeves, neckline, and yoke. Technically I tried out a new way to finish the seams on the pockets and pocket slit openings which I always end up forgetting to do until it's too late. I hate leaving important seams unfinished. 🙁
The Results: I love this dress. It's probably one of my favorite makes ever. It's super cute, fits great, the fabric is unique and I love the design, especially the sleeve detail. I think this dress deserves a happy jumping shot!
I had a great vacation but I'm glad to be home!