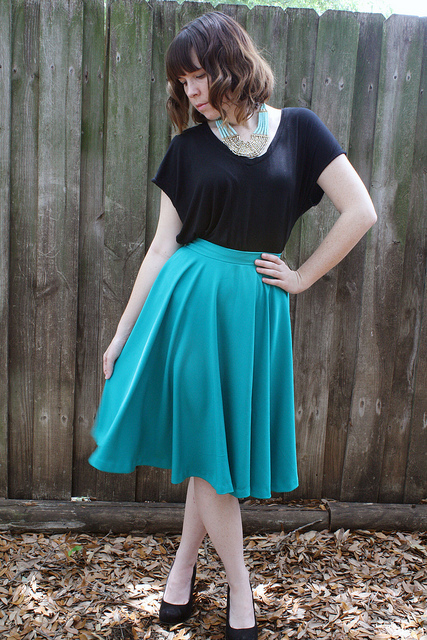 Circle Skirt
So in last years' sewing resolutions I decided not to make any more skirts because I had something like 16 but hardly wore any of them because I didn't have enough solid tops to go with all my printed skirts.
Then I started sewing more solid tops only to find that most of my skirts don't fit anymore. I did alter my beignet to fit but only one other skirt I already had is wearable. Back to square one, I guess.
So I'm revoking my self-enforced no-skirt-sewing rule on the basis that I make more solid color skirts rather than prints.
I already made my mustard mini and now I made this green/teal full circle skirt.
The fabric is a great find from Fabricker – a geogrous color rayon twill which makes for a lovely flowing effect.
I drafted it myself directly on to the fabric. Both By Hand London and Elegant Musings have great tutorials on how to draft your own.
I added a two inch wide waistband with a button on the back and a regular zip up the back seam. BTW, I know the hem looks wonky here but that's probably because of the way I'm standing and holding part of the skirt.
I hemmed the whole thing with some hem tape. My local store didn't have any color that even closely matched so I picked this beige color and hand hemmed with a blind stitch all the way around (ugh, that took forever!). I went with hem tape rather than horsehair braid because I wanted to keep the nice drape-y, swishy look of the rayon fabric.
I've never made a full circle skirt before but I'm digging the look. It's hard not to feel like a 50's bombshell twirling around in one of these. I'll definitely be making more of these skirts in the future.