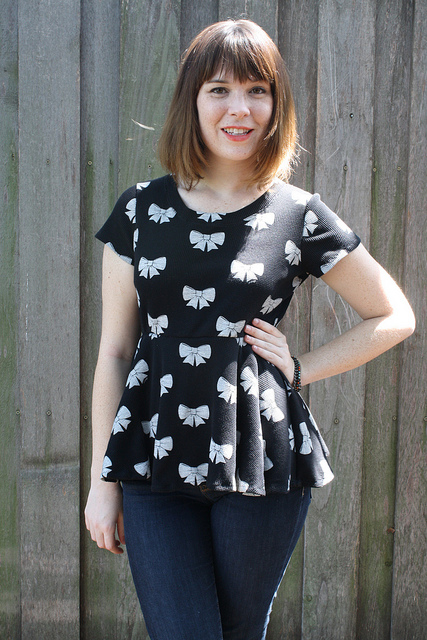 Ballet Dress Hack, sort of…
What do you do when you ought to be working on legit projects or things on a time deadline or stuff that needs to get done before your vacation next week? Naturally, you make a perfectly unnecessary top and put off the other important stuff 'til later.
I found this black, thermal knit fabric on Girl Charlee (damn you, Susan!) and immediately I knew I had to have it. I mean – BOWS! It has BOWS ON IT! BOOOOOOWWWWWWWSSSSSS!
I made this top by adapting my ballet dress pattern. I shortened the skirt and slashed and spread it to make nearly a full circle skirt and made it into a peplum. PEPLUMS AND BOWS, PEOPLE!!!
I also shortened the sleeves. Not as exciting as peplums or bows.
Then there was, um, accidental changes. For some reason  the front bodice piece from test print of another of my patterns got stuffed in my Ballet Dress envelope (ugh, I've got to be more organized!). It's based on the same block but not exactly the same. I realized I used the wrong piece when I found that my front neckline was a lot wider than the back…
Another problem – that bodice was designed with a waistband so it was a bit shorter than my normal Ballet Dress bodice piece. I managed to make it work at the side seams but uh, it's a little shorter in the front. Oops. I didn't have enough fabric to cut another piece so I just went with it. Bows make up for all mistakes.
And I made my neck collar a little wider than the ballet dress pattern because like in my last turn at making this pattern I was using a fabric that was only stretchy in the non-printed parts. I worried I'd have the same problem as last time where the collar would get distorted if it was too narrow.
Anyway, ignoring some minor mishaps I really love this top! I can already tell I'm gonna get a lot of wear out of it. BOWS B*TCHES!!!