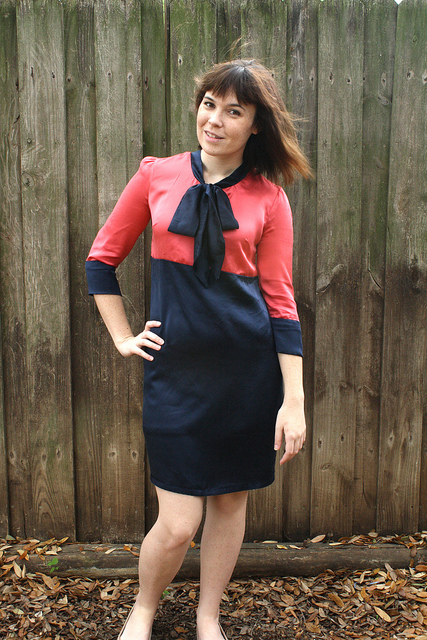 A Hazel for Easter
This dress took me longer to complete than other more recent makes. It wasn't a difficult pattern but I was just taking my sweet time and practicing the "sew 15 minutes a day" idea. I was working slippery charmuese and I was never totally in the mood for sewing it but working on it in small sections helped me not get frustrated and eventually it came together just in time for Easter (my Macaron is hanging up at Fabricker as a sample so I needed a new "church appropriate dress")!
The Goal: To sew something, anything, to slowly pull myself out of my sewing-funk – success!
The Pattern: Victory's Hazel which is a cute beginner level, kind of loose fitting dress with a bow tie and style lines that make a great canvas for color blocking. I cut a size 4 but the arms were too tight (not surprising, it's a usual adjustment for me with tight sleeves) which made me wonder if I should have gone up a size but then when I look at the dress it fits perfect everywhere else. Even the darts are perfectly pointed. I guess it's just an arm thing.
The Fabric: A pink/coral and navy silk charmeuse. You know, most of the time the clothes I sew wouldn't necesarrily be any cheaper than what I could buy in a store but because this is an all silk dress, I know I've saved money by making it! I didn't have enough coral to do the bow so I made that in Navy.
The Changes: Nothing other than making the arms slightly larger which was easy because the instructions have you attatch the sleeve cap before sewing the side seams so adjusting the arm width was easy, just sew a narrower seam allowance.
The Results: It's a really nice dress! I like the colors. I hand stitched the cuffs on the inside and I got to use my machine's blind hem stitch for the bottom of the dress. It's not perfect but it's a cleaner look than a regular hem.
I've already worn this dress twice and got lots of compliments – score! 😉