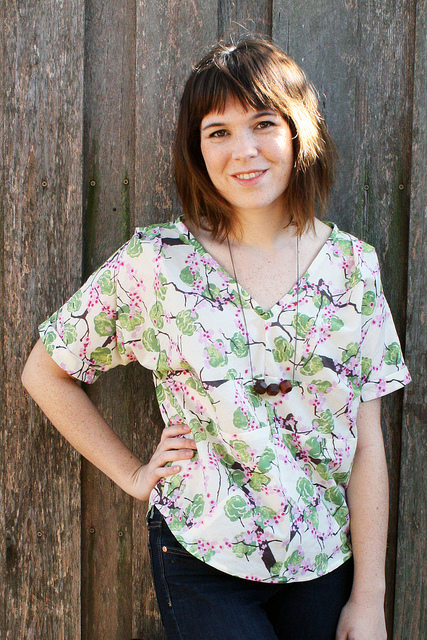 Vogue 1247 version 2.0
The Goal: This shirt was rather unintentional. It began as another top, a way too big top that wasn't working for me in both fit and drape so rather than set the project aside to become a UFO like I knew it would I decided to salvage it immediately into something else and avoid its otherwise sad fate.

The Pattern: I scrounged through my pattern collection to find something that would work with the already cut out pieces and this one (Vogue 1247) fit the bill. I made this shirt over a year ago in a size 10. It was still pretty big then and only got bigger as I lost a little more weight. The thing barely stays on my shoulders now. 🙁 For this version I cut a size 6, the smallest in the package. I normally cut a 12 in Vogue so that shows how large this pattern design is.
The Fabric: It's a cotton voile from Amy Butler's new line of apparel fabrics that I bought locally at Remnants. This stuff is super soft and the print is so nice that I had a hard time figuring out which side was the right or wrong side. So hard in fact that I accidentally sewed the back of the shirt the wrong side out so my pleats go in different directions at the shoulders.
The Changes: Since I had to squeeze out this shirt out of and existing half-finished top I had to sew the side seams narrower than on the pattern, which turned out fine because this top is already really oversized.
I also cut almost three inches off the end of the sleeves. They're originally really long. And now I'm just realizing I cut the back on the fold instead of in two pieces, which I guess doesn't matter because the center back seam is straight…
I serged all the seams instead of doing French seams like the pattern says 'cause I'm too lazy to mess with that. And I didn't bother following the directions for the neckline either so, whatevs…
The smaller size makes the v-neck a little less deep but the neckline is still pretty wide so I added my fave feature – bra strap holders!! Those things are the beeeeesssssstttttt!
The Result: For a shirt that two days ago I hadn't even planned on making I'm pretty satisfied. The narrower sides give a slightly sleeker fit and I like the shorter sleeves better and I love this fabric.
And best of all I saved a sewing-fail from the death heap! Dixie FTW!