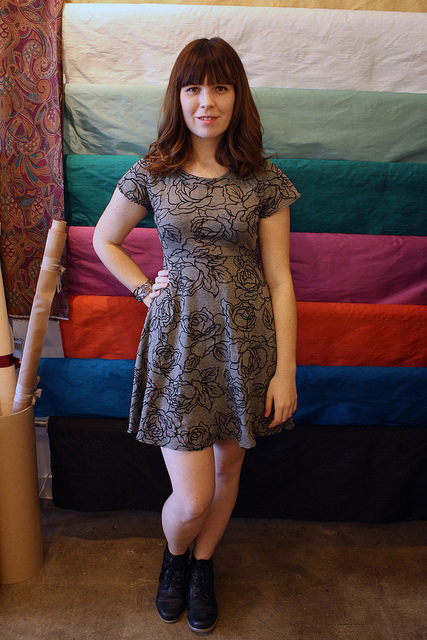 Velvet Rose Ballet Dress
I feel like I've been neglecting you, poor blog. I've been working (somewhat) diligently on new patterns but pattern development takes so long for me that I lose steam without having a tangible finished project in my hands. Sometimes you need that quick sewing fix, ya know what I mean?
So this is it – a short sleeved version of my own Ballet Dress pattern. I lost weight since I originally made this pattern so I re-printed the whole thing and started from scratch one size smaller (it fits!).
The pattern was pretty easy since I've made it before, of course, and I decided to go with shorter sleeves, less to cut out, and it's a simple design which makes for quick sewing. Just what I needed!
My only issues were with this fabric. It's super cool looking – a heather gray jersey with velvet rose outlines all over. I bought it at a new Austin store called Stitched Fabric Boutique that specializes in knits (a store full of knits, be still my heart!).
The problem is that while the velvet is a little stretchy it isn't nearly as stretchy as the jersey. I had to cut a thicker collar because trying to stretch the original collar to fit the neck would distort the fabric, meaning the velvet kept the jersey from stretching evenly. I didn't cut my collar any longer but just wider to compensate for the distortion.
Also the velvet seemed to exacerbate the tunneling with my twin needle and trying to run the textured lumpy fabric through my machine stretched out the hem on the sleeves (and probably the bottom of the dress, too, but it's not as noticeable).
It's annoying but I'm going to run it through the wash and iron those sleeves and they'll probably shrink back up. My answer to every problem is ironing!
Believe it or not my twin needling was even worse on my test scraps so I tried some of Susan's tips from her recent post on twin needles. I used some stitch witchery on the hems to stabilize it a bit (those areas didn't need to stretch much) but I think I should have used thicker witchery because I can tell where my stitches must not have gone over the stabilizer.
Also the variation in thickness between velvet and jersey made it difficult to get the needle tension just right.
My serger had no problem with this fabric, just my regular machine. Maybe next time I'll add bands at the sleeves and bottom rather than just hemming to avoid using my twin needle.
I still love this fabric and I have some left. Next time I'll take what I've learned and approach working with it differently.
Also, I'm feeling kinda "meh" on my picture posing lately. I need some new posing inspiration. There's only so much "one hand on the hip, the other fluffing my hair" pictures I can do. I need to channel Rachel Pinheiro or something, get creative. Do you know of any bloggers with fun photo poses??