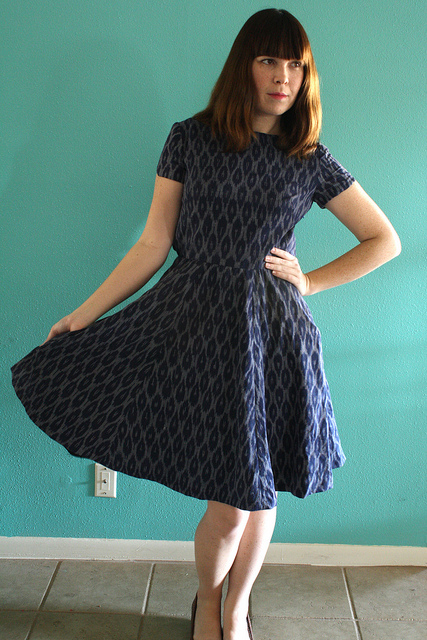 Self Drafted Cut-out dress
I feel like I've been slacking a bit with this blog the past couple weeks. Sorry peeps! But I've been busy with other stuff – painting my house, building nightstands, cleaning up post Christmas and sewing!
This is my first draft of a dress that you may have seen my sketch for. It needs some tweaks but other than that it's not so bad for a first try.
Let's talk features! This dress has:
a boat neck
angled side parts
short sleeves with a notch on the side
a side invisible zip
a 6 panel gored skirt that basically makes a half-circle skirt
a cut-out in the back with a button placket (non functional) holding the two back sides together
grosgrain ribbon to stabilize the back waist
bra-strap holders at the shoulders
and it's fully lined!
Overall it fits great but the back needs adjusting, which I'm not surprised with, it's the most detailed part of the dress. I was making the back cut out to be just high enough that I can wear a regular bra under it. As it is right now the highest part of the cutout comes right below the back of my bra so I'll need to adjust by making that part lower and making the button placket a little longer.
Also since there are no darts in the back the lower back at the sides gaped so I adjusted by shaving off a bit from the sides of the back pieces. I'll transfer that adjustment back to my pattern, too.
All in all I'm going to make the back cutout smaller. It's one of those things where you can't tell if you like it until you try it, ya know? In this case I think less is more but you get the idea of how it will look in later versions.
I think I'll also make the neckline a little less wide.
Sorry about the kind of crappy pics. It's cold-ish outside so I settled for indoor pics and I realized I should have ironed the dress a little bit. I even noticed one thing I hadn't seen before taking pics – this is a yarn dyed ikat so it natually has some variation in it. It seems that I cut out my bodice pieces with a darker area running horizontally right across my bust and mid back. Hmm, kind of annoying. Oh well, it's just a trial dress anyway!
So what do you think? Should I add any more changes other than the adjustments I'm already going to make? I already bought the fabric I'm going to use for the 2nd draft!