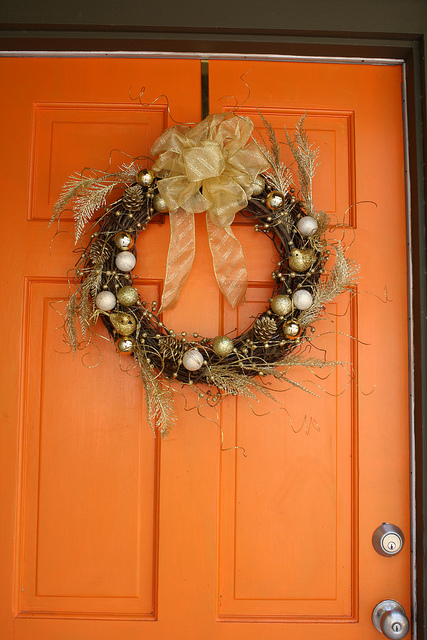 Christmas Wreath and Giving Thanks
I have been sewing this past couple weeks but it's always those elusive pictures that give me trouble, especially since the sky gets darker earlier – less time for natural light photography. In the mean time I'm posting a project of a different kind and taking a moment to give thanks. For those of you outside of the US you may not know but this Thursday is our big national holiday, Thanksgiving. It's a time when we gorge ourselves on turkey and pumpkin pie and watch parades and football on TV. But really we're supposed to spend time with friends and family and think about everything we are grateful for.
So this is my sewing/blogging/creative related thank yous. I'm grateful for all of you! Thanks to the people I've met in real life and have become great friends, those who I know only from blogs and email. Thank you to everyone who reads the blog (and whose blogs I read). Whether or not you comment I still appreciate your presence (I know it's hard to keep up with so many blogs and comment on each). Thanks to all those who have bought/used my patterns. Thanks to those who share them. Thanks to those who design their own patterns and alterations. You inspire me!

Thanks for allowing me to waste hours at a time catching up on reading blog posts. Thanks for always giving me more cool techniques or details to apply to my next project. Thanks for making me want to knit or try something hard like tailoring or sewing pants. Thanks for keeping my sewing-to-do-list longer than the United States Tax Code. Thanks for making me swoon over the most beautiful printed dresses as well as the otherwise plain, but exceptionally well constructed black pants. Thanks for giving me Pinterest overload. Thanks for making me smile when I see your happy faces in pictures of your newest creation. It all makes me feel very connected to this community in a way I cannot fully explain. Thanks for challenging and supporting me.
Ok, enough sappy stuff. Here's a wreath I made while celebrating and early Thanksgiving with my boyfriend's fam. When it comes to holidays I'm surprisingly traditional. I like classic colors and motifs. Unfortunately my orange door doesn't lend itself well to Christmas green and red so I made a gold themed wreath.
Here's my supplies:
One grapevine wreath (they're the best for sticking picks into).
Two bunches of sparkly balls attached to stems. I cut each individual stem off and wrapped it around the wreath. I probably got about 16 individual stems.
A package of about 20 wooden sticks, covered in glitter and curled on the end.
One bunch of plastic-y, glitter-y leaves that I cut apart into individual stems.
Four glitter pine cones on picks.
Two glitter birds on picks
A package of gold plastic ball ornaments (don't use glass, that's a mess waiting to happen!). I used five of each style.
Gold wire ribbon for the big bow.
Hot glue gun to keep the ball ornaments in place.
I bought everything at Hobby Lobby except for the leaves, bird and pine cone picks which I got for cheap at Joann. I think it's festive for the winter holidays but doesn't clash with the orange.
One good thing about making a new wreath – I finally got off my lazy bum and cleaned my door – it was covered in spiderwebs, dirt, leaves and dead bugs, ew.
Ok, I'm off for the next couple days to spend time with my family for Thanksgiving – funny story, last year at Thanksgiving I was jumping on a trampoline with my little cousins (about 5 of them under the age of 12) and my jeans ripped! Like, an un-fixable crotch rip. I'm not surprised, they were old and most jeans get worn out in that spot. The bad part was I hadn't brought any other pants. I spend the rest of the day in pajama pants. Yeah – no trampoline for me this year…