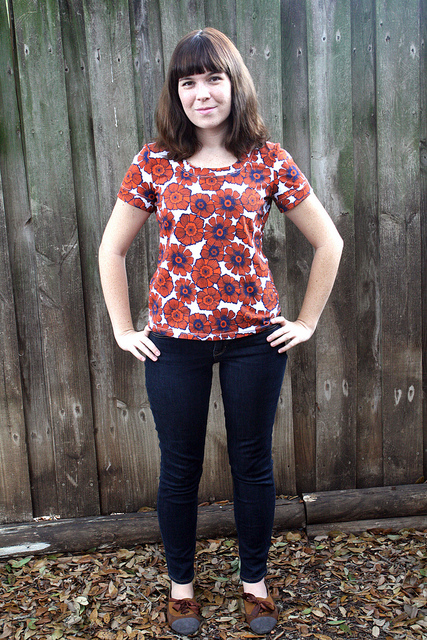 A Highly Modified Renfrew
The Goal: After making my last Sewaholic Renfrew I had some concerns. It's not that I didn't like the shirt or the design or anything but I felt the fit could be better. See, I'm not used to wearing close fitting knits much anymore. As you can see from some past knit tops I've made, I like 'em loose and flowy. This is great for fit because there isn't much you need to pay attention to but the Renfrew is different.
Here's a little diagram illustrating changes I wanted to make:
– First, it's a little long for my taste. That doesn't mean it'll be too long on others, I just like my shirts to sit higher and with the band it makes all this extra fabric bunch up at my middle.
– Second, I think I might need a minor FBA? I know the easy way would be to just go up a size in the top but I think it fits well in the shoulders.
– Also, I think the sleeve cap top point needs to be moved forward ever so slightly.
– Lastly, I need a sway back adjustment like crazy!
The Pattern: Sewaholic Renfrew. Like last time I cut a 6 at the bust and a 4 at the waist but this time I made changes from the base pattern.
The Fabric: My friend Susan has been sewing up a few Renfrews of her own. She so kindly donated me the rest of this fabric after she made her own version (twinsies!!). It's a cotton knit possibly from Girl Charlee.
The Changes: So here's what I did. I made several copies of the front and back pieces, did a sway back adjustment ala this tutorial, made a small (like 1/2″ wide increase per side) FBA, and scooted the sleeve cap point over.
I've never done an FBA before on a garment for myself. I've done them in theory, like drawing how to do one. I get the concept but I've never put in in practice. I realize I could have gotten away without one by cutting a larger size but I thought this would be a fun opportunity to try it out and see the results first hand. I think it helped the fit a lot!
For the bottom I thought I could either cut the bottom of the shirt shorter and attach the band or just be lazy and hem the shirt sans-band and it would already be the length I wanted. Laziness won out.
This time I top stitched the neckline and sleeve bands with a twin needle.
The Results: As you can see it's much better. Not that the original shirt was that bad to begin with but you can tell that there's no more pulling around the bust, the back isn't perfect but it is much improved, and it's a better length for me. Success! I'm now going to use these new and improved pieces if I decide to do this pattern again. Sometimes it's worth going back and taking the time to do it right, ya know?