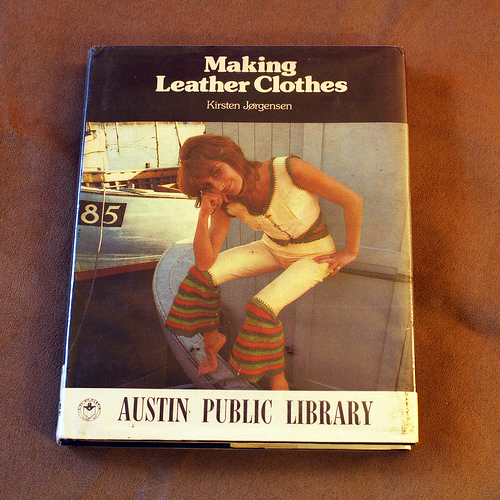 Library Love: Sewing books
I don't often buy books because it just creates more clutter in my house. However, I do abuse my library priviledges when it comes to sewing books.
My most recent trip I got a few gems, including two from the 70s which are amazing (in both a useful and a hilarious manner).
I got two lingerie sewing books, a draping book and a pattern alteration book but the real fun items were these two: The Undies Book (1976) by Nanette Rothacker, with 25 patterns (and over 10 that I'd actually use!) and Making Leather Clothes (1972) by Kirsten Jorgensen with styling straight out of my mom's old photo albums. That leather pants with crochet bell bottoms and matching crop top ensemble on the cover, yeah, my mom would have totally worn that!
There's some questionable Beiber hair going on in this book but some of the women's looks are surprisingly hip.
High waist leather shorts with boots and a boat neck top with leather loop fringe? Count me in!
Leather jacket with knitted sleeves and collar. Totally could wear that today!
Patchwork midi-length a-line skirt? I want to go to there!
Button up shorts with lace-up sides? Yes please!
Fur-trimmed zip up leather boots? Inuit chic!
Fox fur trimmed leather snuggie? Uh, wait… nevermind. Hey, I didn't say they were all winners!
The patterns are all only in one size which is lame. They're printed to scale so you're supposed to blow them up to size yourself on gridded paper. Both books are like this.
The Undies Book (can I just say thanks to the 1970s lady who used Undies rather than Panties) is even more awesome, without all those weird fringed vests. What I like most about it (besides the fact that patterns come in three sizes, the bras come in even more sizes) is that most of the designs are so modern you'd think this book was printed yesterday. Sure, some of the info on finding fabrics is out of date and the book doesn't even mention sergers at all, but the book has lots of illustrations and information.
There's some pettiepants and pants liner patterns that I'd probably never use (I've never even heard of a slip for pants, hmm… must be a 70s thing).
Then we get to the good stuff – a great non-wired, contour bra in several sizes, a basic triangle cup bra, a convertible bandeau bra and a lounge bra that looks super cool and fun to make!
There's a couple shapewear style patterns and a bodysuit that could be easily made into a swimsuit.
Then we get into useful slips including half-slips in different lengths.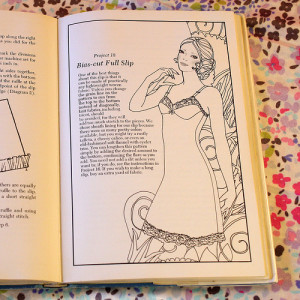 A bias-cut full slip, a straight chemise slip and similar camisoles. There's another bodysuit, a little petticoat and a weird peasant style cami.
In the end you can crochet your own undies or knits a set of long underwear for skiing. You know, if you're into that sort of thing…
Anyway, most of these undies patterns look awesome and since they're so small they won't be hard to blow up to the correct size. I have a feeling this book is going to be extra useful. If you're interested in lingerie sewing you can find this book for the cheap on Amazon and eBay (Maddie, I'm lookin' at you!). If you want to check out some more pics go to my flickr page or click on the images for bigger versions.

Have you ever found cool old sewing books at the library??