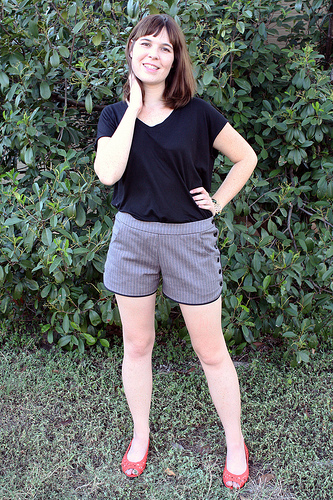 Announcing the "Movies in the Park" Shorts Pattern!
Big news on the blog-front, readers! I'm very pleased to announce what has been a long time in the making – my newest downloadable pattern for sale – The "Movies in the Park" Shorts.
You've seen a previous version of these shorts before, back in May for my Shorts and Shirts Summer Wardrobe (which I'm still working on, hey, it's still summer!).
This new version is practically identical to the other shorts. I made these in a stretch cotton bottomweight (medium weight fabrics like denim, twill, poplin, corduroy, etc would be best for these shorts) with some good, old fashion plastic buttons and plain, black bias tape for the binding.
As usual the pattern comes in five sizes ranging from hip measurements 35-42″. Like my last pattern this one comes with lots of illustrations and instructions, even detailed steps on how to attach bias binding, stitch-in-the-ditch style if you've never done it before.
This time I included metric in addition to imperial numbers for body and finished measurements and yardage/meter-age.
I'd recommend the pattern for advanced beginners and up. You'll need to know how to attach interfacing; do basic stitching, basting and understitching; finish seams using whatever method you like; sew buttons and buttonholes; and attach bias binding (although I have full instructions on that if you don't already know how).
I'll probably do a little shorts fitting post pretty soon to cover some common crotch issues but what is nice about these shorts is that you can easily adjust the fit at the sides by moving the overlapping leg pieces and stitching down your buttons in the place that feels more comfortable (an idea I got after losing weight and I was annoyed by the idea of having to do major alterations).
The shorts have back darts, deep front pockets, an interfaced waistband and bias trim edging. There are six buttons on each leg but only the top three are functional. I found that keeping the bottom buttons non-functioning helps to prevent the fabric from pulling on the open buttonholes.
I've been living in these shorts the past few weeks. They are so comfortable for summer weather and being outside. I call them the "Movies in the Park" shorts because they'd be great to lounge around in on a warm summer night having a picnic in the park watching a free movie (or play or musical) put on by the city (does your town do this? mine does).
Having recently done that I am reminded of this super funny sketch from the show Portlandia on IFC. I find that Portland and Austin are culturally very similar.
The new pattern is now available in store for $4 and if you purchase you'll get an email with a download link almost immediately after you pay. Yay for instant gratification!
All instructions and pattern pieces are in one 16 page PDF. Remember to print without scaling but there is a test square to double check.
Thanks to all of you who buy my patterns and read the blog. I appreciate all the support and comments. Now that this pattern is finished I can get back to normal life like sewing for fun and catching up on my blog reader (I'm seriously backed up, sorry blog friends!). But who am I kidding, I've already got another pattern in the works (a dress). It never ends, does it!?