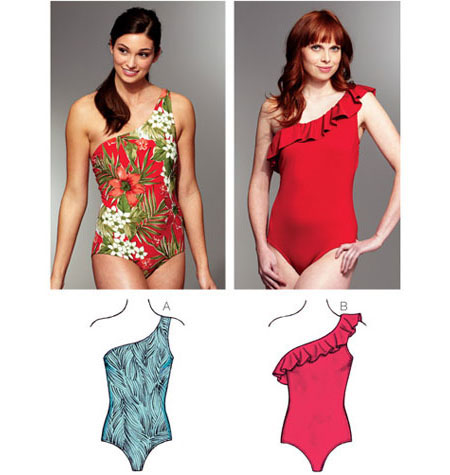 The Week of Swim Suits Grand Finale: Kwik Sew 3780
Due to my computer problems I'm posting totally unphotoshopped (and with wet hair and no makeup) pics of me in a swim suit (gulp). At least it is a one-piece and my last suit.
I noticed that very few ladies were rocking the one piece on my Dominican vacation. Come on, one-pieces are cool, too!
This is a modified version of Kwik Sew 3780. I'll show you what I did to change it later but first some basic details. I made a size small which is what I did for my last KS suit but for some reason this suit is too tight. It's not terrible, just a little hard to squeeze into and you can see my black serger stitches on the side.
This makes me wonder because for my black monokini I made a S and the bottoms to that same pattern I also made S and they fit well. If I made a size M like on my purple suit I know this one-piece would have been too big. Next time I'll go halfway between a S and M for this pattern. It's weird because I thought KW swimwear sizing was pretty consistent. I already know that if I make a size S that I should lengthen the pattern pieces slightly but it was the width, not the length that was the bigger problem.
The fabric is from Fabricker here in Austin, one of the only local places that sell some swim fabric.
Again, I added my fave swim cups from Sew Sassy. I seriously love those things!
Ok, so, modifications – I added gathers on one side that creates a cool ruching effect. And it's easy to replicate and you can do the same on any one-piece swim pattern.
First I traced my front pattern piece and drew my horizontal slash lines.
Then I cut those lines and spread out the pattern piece.
To make sure I gathered the right amount I copied the notch marks from the original pattern piece.
Then I filled in the open places with scratch tracing paper that I wanted to use up but you can retrace the piece for a nice clean finished version.
The finished look makes ruching like this. You could even spread both sides of the pattern piece and have even ruching down the whole front of your suit.
Well, that's it for the Week of Swimsuits! Tomorrow I'll post suit pattern options for voting for the Swim suit sew-along so this is your last chance for suggestions!