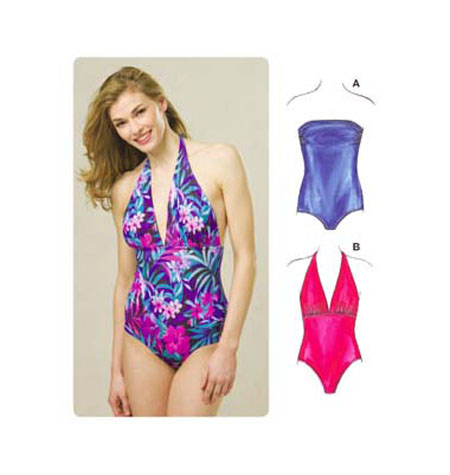 DixieDIY's Swimsuit Sew-along Pt 1: Picking a Pattern
Alright, here's how this is going down – I'm posting a list of patterns I think we can use as a first swimsuit to make for the sew-along. I'm leaving out designs that are too difficult to find or might be too complicated for a beginner to sew. Vote in the comment section for which suit you'd like to make (or see me make). Voting will go until July 10th and then I'll announce the winner and allow a couple more days for you to get the pattern for yourselves. In the mean time I'll also post about supplies you might need and where to find them.
Kwik Sew 3503 A: And a bandeau option. Both of these would be easy for first-timers and you could use a fun print.
Kwik Sew 3503 B: Here's a simple but cute halter style.
Kwik Sew 3779 A: Gathered bandeau: These would be more difficult for beginners with all the gathering but they look cute! For version A you'll need a solid color as the underside will show on the center ruffles.
Kwik Sew 3779 B: Gathered Halter
Kwik Sew 3780 A or B One Shoulder: This is nice if you want a little more bust coverage than a halter it but still has more support and lift than a strapless bandeau.
Jalie 2447 Tankinis: I think one-pieces would be better for a first time suit than bikinis but here's a tankini option which can teach you how to make bikini bottoms.
I thought about including BurdaStyle's Alison malliot PDF pattern but after looking at reviews it seems too complex for a first suit and I'd also have to change some of the instructions for better construction and fit. So as cute as the suit is I'm going to have to make it a no-go for this sew-along.
***Ok, peeps! It's voting time! I'll also make a little promo button if you want to add it to your blog to show your participation.