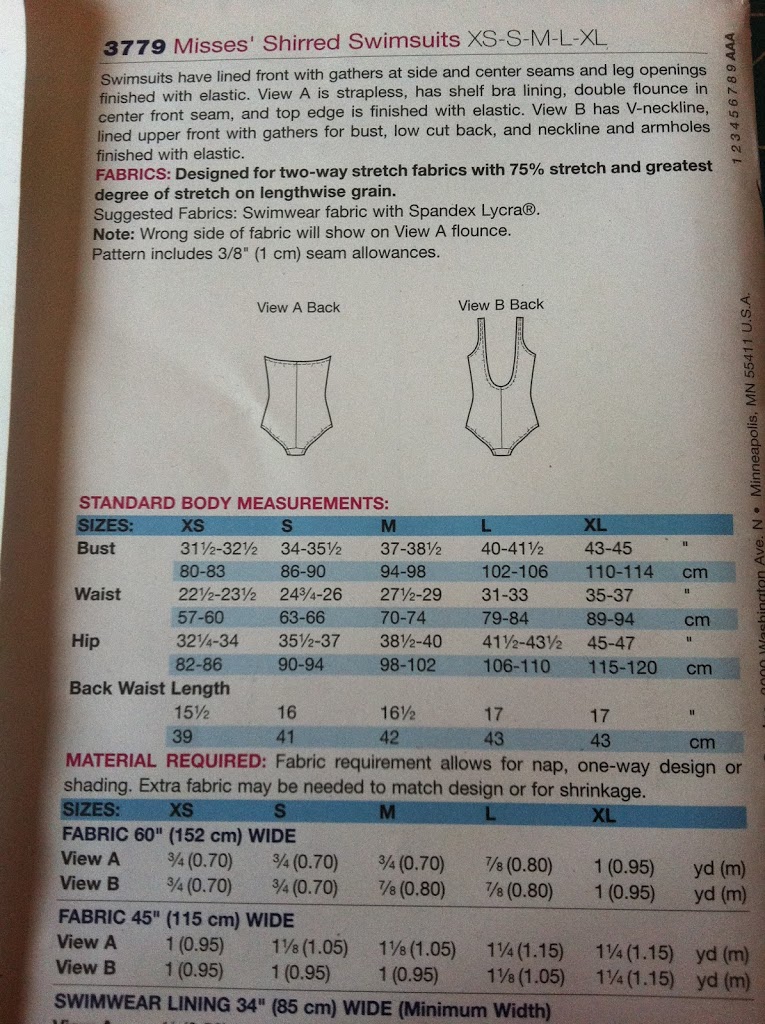 DixieDIY's Summer Swimsuit Sew-along Pt 3: Cutting
Wow guys, my bad. I realize it's Saturday and not Friday so I'm a day late on the next sew-along post. Oh, well, I just gave you an extra day in case you were waiting for fabric in the mail or something like that…
Anyway – onward!
Picking a Size
Swimwear and activewear patterns have this strange phenomenon called "negative ease" which is a fancy way of saying your body has to fill out the garment rather than hanging loosely on your body like, say, a t-shirt. So the final measurements of the swimsuit will be slightly smaller than your body measurements.
The pattern comes in five sizes, XS-XL and in my experience Kwik Sew sizing is pretty accurate. I'd say pick the size closest to your measurements. If you are smack dab right in the middle of two sizes you can cut in between those sizes on the pattern pieces. That might be easier to deal with than having a slightly too big or two small suit later if you go up or down a size.
One change I'll make this time – I'll need to lengthen the body of the suit by about 1/2″. The pattern gives you lengthen and shorten lines on almost all the pieces. Compare your shoulder to waist measurement to what's listed on the envelope if you think you might need to do this adjustment. I'm adding 1/4″ to both the higher line and lower line.
If you need to do an FBA, you can! Snug Bug's tutorial is great because the bust piece is a similar design to the front bodice piece in our swimsuit. Just bear in mind that because of that "negative ease" thing, you won't need to add as much to your FBA as you normally would. Try adding 1/2″ less in the length and width. They idea is the same (yet opposite) for SBAs. Here's another tutorial from Lazy Stitching for a gathered, under the bust, empire style pattern piece which is similar to our swimsuit piece. You'll end up with more fabric to gather at the bottom seam.
Cutting the Fabric
I don't pre-wash my fabric because it tends to curl at the edges and becomes unruly. Since your fabric doesn't have natural fibers it won't shrink much, anyway. If you have to iron use a low setting and a press cloth.
The pattern pieces usually have two lines drawn labeled "Grain of Fabric" and "Greatest Degree of Stretch."
The GDoS is usually on the cross grain for most knits. The fabric rquirements state that you need a 2-way stretch fabric with 75% stretch. (There's a guide on the back envelope flap to use). My fabric is four way stretch (common for swim fabrics) which is totally fine for this pattern
Remember that for knits the front side has predominately vertical ridges and the back has horizontal. The selvedges may curl towards the back.
If you remember from the Never Fear Knits sew-along it's best to use pattern weights and a rotary cutter and mat to cut out pieces to prevent the fabric from stretching with shears. If it helps you can trace a full size piece for the front lining rather than placing it on the fold.
Now I've cut out my pieces and I'm ready for stitching!
In the next installment we'll work on piecing together the lower, gathered part of the suit.