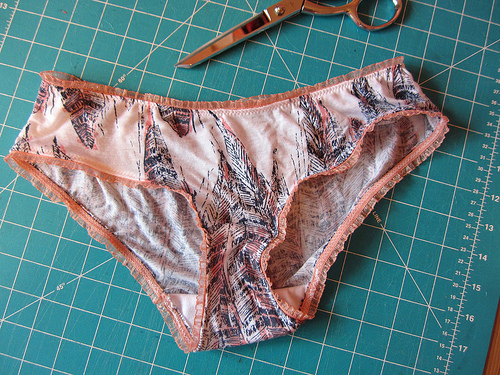 Using scraps: One Yard Wonders Cheeky Panties
I have a relatively small stash, much to the shock of my sewing friends who seem to have entire guest bedrooms filled with fabric. Most of my stash consists of leftovers from already made projects. I hate those small cut up pieces which is why I love using scraps. It's such a satisfying feeling!
And making your own undies from leftover jersey is the perfect way to use up scraps. Why on earth haven't I done this earlier? Undies are so fast to sew!
I used the panty pattern from the Fabric by Fabric: One Yard Wonders Cheeky Panty and Cami set. I don't really need a cami so I scratched that.
On a side note – people always photograph unmentionables on a clothing line outside. Maybe I ought to string up a line in my backyard?? Nah… too much work…
All you needed was a little bit of fabric – I used extra rayon jersey from this shirt and a tiny bit of white jersey, and some elastic. I used pink elastic with cute little ruffles.
With my experience sewing bras I didn't need to follow the directions and the size M fits well. You could even easily use this pattern as to make swim suit bottoms, too.
I think I'm really getting my money's worth out of this book!
Later in the next couple weeks I'm going to have a giveaway and I'm including a couple yards of the same ruffle elastic that I used only in black. You can sew your own undies, too!
Have you ever made your own underwear? It's something I always thought would be a fun to try but never got around to doing it until now.