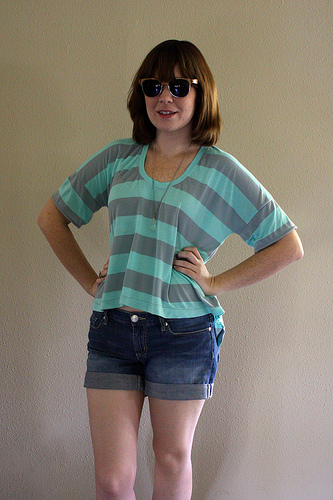 The "Summer Concert Tee" Downloadable Pattern
Yep, that's right, I'm launching another pattern download It's launched! You've seen the variations of the shirt to get to this point and now I'm almost ready to release the pattern.
I'm calling it The Summer Concert Tee because it is something I'd totally wear to a music festival in the hot summer sun while jamming out to my favorite bands (in between complaining about $5 water bottles and telling the jerk in front of me to close his umbrella, uh, yeah…).
The shirt is fitted at the shoulders but loose at waist and hip, cropped in front and longer in back (great with high waist shorts!), scoop neck (my fave style), dolman sleeves with longer sleeve cuffs that make for a fun look in a stripe.
I'll be releasing it for purchase next week for $8. It willl be in five sizes as usual and be available as a PDF download with instructions and pattern in one document.
Ok, readers, here's the thing. This shirt, in essence, is a lot like another pattern I made previously. I know you all love free patterns but I've decided to take the old one down. It's not just because I want to make money. I have other reasons:
I made that pattern over a year ago and since then I've learned much more about pattern making as well as the program I use to turn my patterns into PDFs.
This new pattern has better fit and construction with details like wider arm openings and a different way to attach the collar. The front piece is slightly wider than the back (because ladies are more curved in the front than the back).
The new pattern also has more accurate sizing(!!) because of tips and tricks I've learned on my software.
Better instructions, illustrations, and pre-sewing info. Having made more patterns I know what's important to include – like properly labeling each pattern piece with all the info (duh, Dixie!). This one will have helpful graphics for some of the steps.
Better printable format and visual design.
While the design is similar I redrafted this entire pattern from scratch.
This new shirt pattern is just a better product all around and I'm almost embarrassed by my old patterns. That doesn't mean I won't ever release any new free patterns in the future. They'll most likely be simple, easy to sew designs for clothes and accessories. I have a clutch design that I'm working on and I intend to make a free pattern for it.
I'm leaving up my old shirt pattern up for one week so go download it now while you still can if you haven't already! Once I launch the Summer Concert Tee I'll discontinue that old pattern for good (even on BurdaStyle).
Alright – back to the current t-shirt!
The Goal: This top is part of my Shorts and Shirts Summer Wardrobe (my orange short were my first pair of shorts). The mix of orange and mint will be pretty daring but I'm not afraid of crazy color combos this season.
The Fabric: A gray and mint stripe from The Common Thread.
The Pattern: Version 4.0 and my final version of the upcoming Summer Concert Tee. You can see the second most recent version here.
The Changes: Version 3.0 was almost identical to this version only the back of that one was shorter because I ran out of fabric, oops. This new version doesn't have the crochet back piece but you can easily add one to the design.
The Results: Thumbs up! I love the colors. The collar sits nicely. And I'm proud of myself for not being lazy and changing the thread color on my serger so the inside stitches are gray instead of bright white. I'm giving myself a pat on the back for that one.
***And stay tuned, ladies and gents, I just finished my shorts that I'm working on for my next pattern. Yep, you heard right! I'm veering away from knits (which I love) and making a pattern for a pair of woven shorts! Will the excitement never end!?!?!