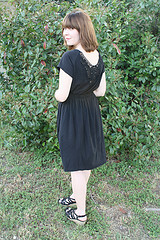 Sewing Resolutions Recap, or, how well have I kept my promises?
In January I made a list of sewing related New Years Resolutions and since it's nearly May I thought I'd take a look and see how well I've been keeping them.
The main goal was to create a closet catalogue to figure out what I wear most and what garments I need to make more or less of – basically sewing guidelines.
This isn't to say that I am restricted to sewing within my self-imposed rules but I made them for a reason – to get the most out of my sewing and my wardrobe!
These guidelines include – sewing garments with sleeves (because I rarely wear sleeveless anything), with long sleeves (because I lacked them), solid color tops, tops that were nicer than plain t-shirts, casual dresses, "Church appropriate dresses" (because sometimes I need to look fancy but not like a skank), pants, blazers and coats. I also needed to stay away from sewing skirts (I have way too many) and sewing clothes that required other clothes (like tank tops underneath a see-through shirt).
There were some other things I was going for, too, like sewing things I can wear in summer, finding my personal style and trying new shapes and silhouettes.
Well now I'm going to assess my progress and analyze each project to see how well I've done.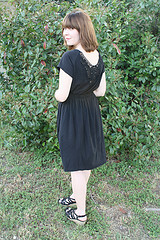 Little Black Knit Dress
Date: April 26
Guidelines followed: It's a casual dress with sleeves! Not too short that I need to wear tights with it and it's a plain color. Check!