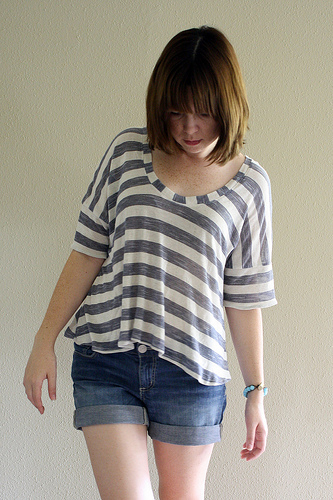 OWOP Home Stretch!
I'm sorry guys. I know I'm super late with this last one. I swear I finished it on time but didn't take photos on time and them I didn't post on time, either… I know. Bad Dixie.
Anyway, here is my third and last shirt for the One Week, One Pattern challenge. Check out my first and second versions.
This top was self drafted, again with my favorite loose fit for summertime (It's going to be 88 degrees today! UGH!).
This time I widened the sleeves so they are less fitted. But I had an oops. In attempting different sleeve styles I wound up not having enough fabric left for two sleeve cuffs so I had to cut off the lower part of the back to make another cuff. Bad Dixie! So this shirt doesn't have the "mullet" look of short in the front, long in the back that I liked in the other tops.
I bought this fabric from Fabric.com. I doubt it is still available on the site but if it is, don't buy it. It's cheap for a reason. It is a rayon knit that is so easily snagged I think this top may only last one season. The hem even snags on the rivets and belt loops of my shorts for crying out loud!
But that's ok because I like the stripes and the fun alternating direction.
And the coolest part of this shirt isn't even in the front!
I bought this crochet applique thing locally but you can find similar ones and even fancier designs just as cheap or cheaper on Etsy. I like this shop because they have a variety of colors and if you want beaded styles this other shop has plenty although they are more expensive than the yarn appliques.
These appliques are so fun and you can add them to an existing shirt or as you make a shirt from scratch. I'll do a tutorial sometime soon to show you how I attached it but it's really easy.
One problem that arose with the scoop neck in front and the wide applique in back is that the shirt kept slipping off my shoulders. I remedied this by adding bra strap holders but since I couldn't find my tiny metal snaps I used hook-and-eyes which kind of works but I'm going to replace them with snaps once I locate them. I refuse to buy supplies that I know I already have. Is anyone else that way??
I plan on making one more version of this shirt with a better fabric, hopefully in another stripe, and then finish the pattern for it.
I also bought two different dye colors to dye the first shirt I made for OWOP so if that goes well I'll show you that, too!