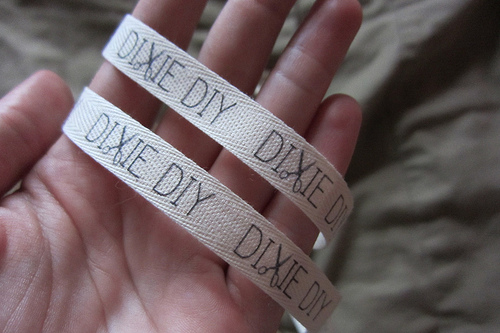 Clothing Labels, or, now I know which is the back side on this t-shirt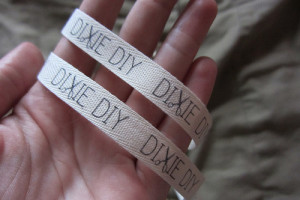 I found twilltape.com from some random craft blog I was perusing. The blogger had a logo printed on a yard of this twill tape and then cut them up and used them as clothing labels. Genius!
I chose a simple black logo of Dixie DIY with scissors for the X printed on 1/2″ wide tape in "natural." There's about a half inch in between each logo.
What I liked about this idea vs. other printed or woven label companies was that most places require large minimums for orders (really? 500 labels???), or, if they don't they're located in Hong Kong and I'm a little wary of giving my money to some stranger so far away.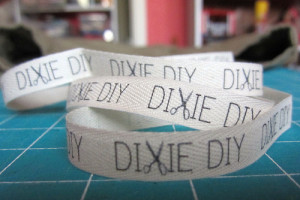 John at twilltape.com was quick in returning my emails and sending him graphics was easy. And best of all he printed my yard of tape right away, sent me a proof photo and then shipped the tape the same day. Sure, there are cheaper ways to buy/make labels. I only got about 20 logos on my yard of tape but if you order several yards you can get a discount. But for my first label experience I'm pretty pleased!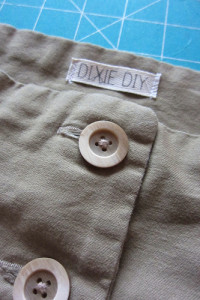 I tested my first label out on my beignet skirt (because it was the first thing I could find in my laundry pile). I like that I can attach these labels horizontally (stitched at both ends) or vertically (stitched just on one end, I'll have to add fray check to the other end).
But best of all I can attach these to the backs of t-shirts and skirts that always confuse me as to which side is the front or the back! Sometimes it's hard to tell, ya know?
We'll see how well the print holds up over time but they look pretty sturdy for now. Have you had your own labels made? If so, from where?