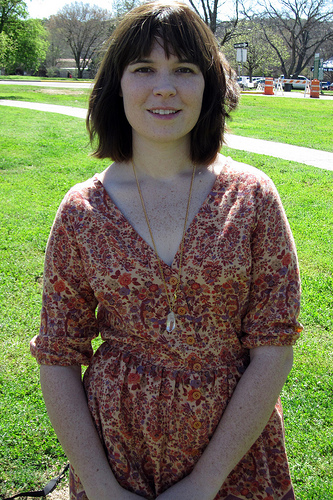 Megan Nielsen Darling Ranges Dress #1, or, the kite day fiasco
Let me just first start out saying that although I have gone to Austin's annual Kite Festival (held last Sunday) for the past four years I had never once brought a kite! This year I chose to build my own using the pattern and instructions in Fabric by Fabric: One Yard Wonders. It was a big fat fail but that deserves it's own post. What wasn't a fail was this dress!
(BTW, sorry for the quality of these pics – it was high noon on kite day with no shade whatsoever. Not exactly good for picture taking. I had to do a lot of editing to make the dress clear and well exposed which in turn makes the grass look weird. Click on photos for better views of details!)
The Goal: I heart Megan Nielsen. Not only does she sew a ton of her own clothes, but she also makes maternity patterns, misses patterns, owns a clothing line and is now venturing into kids designing patterns. I'm not sure how I found out about her but I know it was before she released sewing patterns from her fashion line. When she announced the pattern for her Darling Ranges dress, a simple but adorable v-neck, button down style, I was excited to try it out!
The Pattern: If you've never sewn a MN pattern you'll be impressed by the packaging. The pattern comes in a cool envelope with a small velcro closure.
The instructions are in a booklet and nearly every step is on its own page with big, clear illustrations.
At the end she has a page of inspiring ways to alter the pattern and also includes a convenient "notes" section and a pattern log where you can write down info each time you make the pattern like what changes you made. It even has a space for a fabric swatch. Because I made several changes the notes pages were very helpful. No more leaving a slip of paper jumbled around in the pattern envelope listing necessary changes, it's right in the book!
The pattern paper is sturdy but semi-transparent which is nice for tracing.
The Fabric: I bought this printed cotton from The Common Thread here in Austin. It's a fairly loose weave can be slightly see-though and while I thought the upper half would be ok I went ahead and lined the skirt for extra precaution. The lining was a white cotton batiste and the trim was an off white crocheted lace both of which were dyed orange with iDye (I wrote a review of my experience with iDye a few weeks ago).
I tried to take advantage of the border print on this fabric and made the skirt a little longer to accommodate the very edge. I also tried to line up the zig zag. I managed to do so in the front and on one side but on the other side it was no use. At least the front looks good, that's what's important!
The Changes: I made a size Medium with no real fit problems. However, after reading a couple other reviews that said the bodice is a little short I added two inches to the length which works but I think the weight of the skirt pulled the bodice down even further.
I also used more buttons in front than the pattern called just 'cause.
I've actually already made a second version of this dress and implemented some changes I wish I had made in this version like raising neckline by an inch or two. Women with larger busts might find the pattern too low in front.
One thing I should have to do but didn't – stay stitching the neckline. The neckline uses bias tape as a facing but the pattern doesn't call for stay-stitching so I didn't think to do it. You REALLY need to. I had to re-do this neckline like three times because it was all gaping and wavy looking. My second version of this dress did not have that problem because I stay-stitched!
The Results: While I love the design, easy fit and great pattern instructions I think in the end I just didn't like this fabric on me as much as I liked it on the bolt. I loved the folksy prairie floral print and the orange tones but I'm not in love with it on my body. Just one of those things, you know? However I love love love my second version which I will hopefully share with you soon!
So many kites! Too bad none of them were mine. It's ok, we still had fun and ate sno cones and avoided being attacked by falling kites (seriously! you have to watch out!).