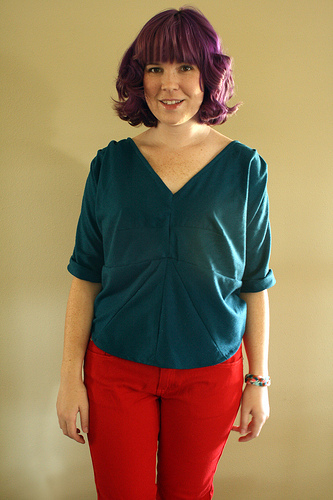 Vogue 1247 Shirt, or, Extreme Color Blocking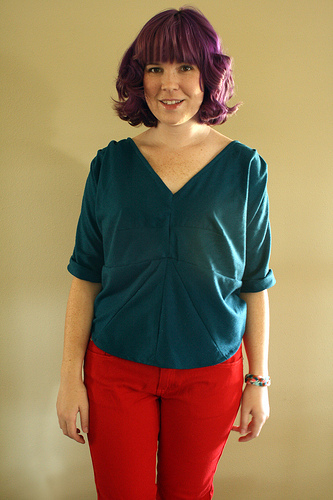 Yay! Back to sewing! I'll show off my newly painted sewing room later, you know, after I clean it up. So that probably means sometime this summer…
This is the top from Vogue 1247 (I love the skirt, too, but I already have too many skirts).
Since it is loose fitting it was quick to put together. No fiddling with darts or fighting set in sleeves! I made a size 10, one size smaller than I usually make and two sizes smaller than the pattern measurements recommend, and I'm glad because any bigger and the top wouldn't stay on my shoulders!
The whole thing required French seams which for a sheer fabric would have been great. For this fabric I think serging instead would have removed some bulk. It does make the inside look pretty, though.
Next time I might raise the neckline by a couple inches. With such a loose fit if I bend over you get a pretty wide view if you know what I mean. Ahem…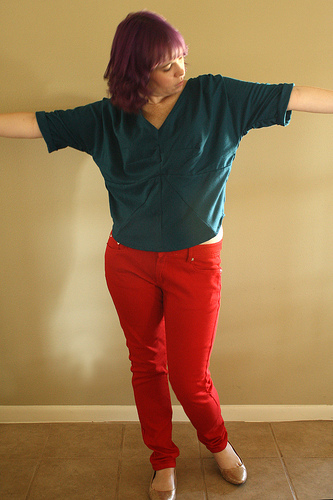 (batwings make for easy movement!)
I love the cool style lines on this top, very geometric. And yes, I realize my center front points aren't matching exactly but I don't care enough to fix them.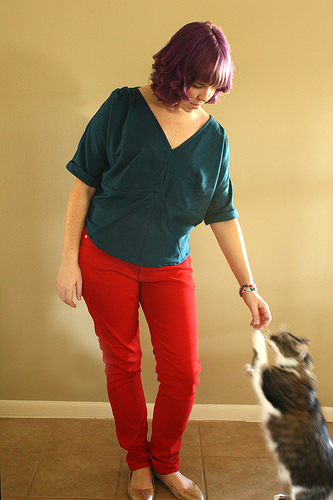 Talk about crazy color blocking – purple hair, teal shirt, red pants. From the neck down I've got a Christmas theme and from the waist up I'm channeling Mardi Gras or the Joker, not sure which.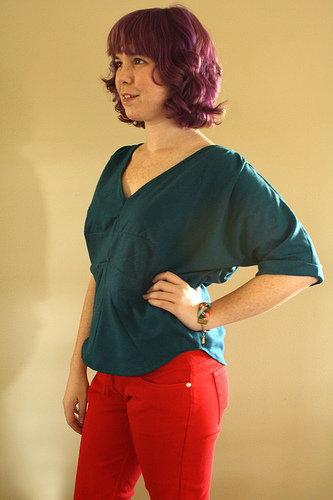 The fabric is a lovely "Ocean Teal" raw silk noil. I've never worked with noil before but it's got a lovely drape and the texture reminds me of a linen but with lots of little nubs all over. I debated for so long about what fabric to use with this pattern. I love this white version but I'm a tired of sewing pretty white fabric that turns out to be see-through. Teal is a much safer bet.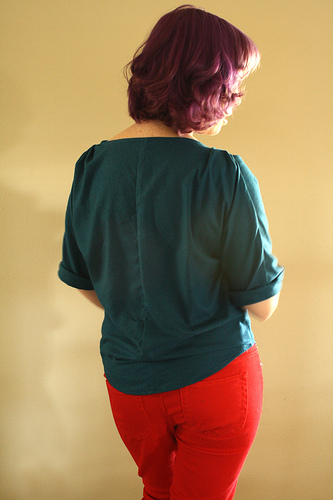 If you read my sewing resolutions and what I learned from my closet catalogue you'll remember that solid color tops were high on my "needs" list. Check!
Also, these jeans are new, however they are not handmade and that makes me a little guilty. Going into the ethics of fast fashion vs. taking the time to make my own clothes requires a post of its own but I'm low on pants and I don't plan on sewing some Clovers for a few weeks.