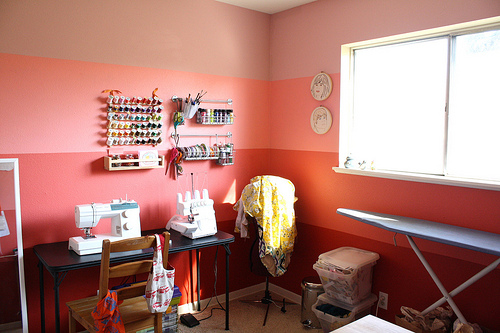 The Big Reveal, or, now I remember why I hate painting so much
You've seen my craft room before. I did a big post on how I organize everything a few months ago. You also saw my sneak peak. But now you get to see it WITH STRIPES!!!! (insert maniacal laugh here because this paint job drove me insane)
Forgive me, the room has been finished for a few weeks but it wasn't clean enough for photos until recently.
What do you do when you want to paint your room but can't decide on a color? You use all of the colors!
I like the stripe effect because I get a little bit of every shade. The dark is on the bottom so it doesn't overwhelm this small room and I think the lighter shades leading upward make the room seem taller. Well, that's my personal non-interior designer impression of it.
Someone noticed last time that the paint colors match the blog design and she's right and I can't believe I didn't make the connection when I picked these colors. I must really really like coral. The bottom three colors were taken straight off a color card and the top pink was an oops paint at the store as a discount and it just so happened to be the color (or close enough) to what I needed.
I've painted a lot of apartments in my life (and painted them back to white when I left) but over time I've grown less and less inclined to spend a few days buying supplies, taping, painting layers, cleaning rollers and waking up with a stiff shoulder.
I think this is the pinnacle of my disdain for painting. I did two walls at a time and shoved everying up against the other walls so space to paint was limited. I used two rolls of tape and because of the lines I could only paint two stripes of wall at a time like the top stripe and the third. Then let those dry then re-tape and paint the second and last stripe. Because I had to wait for stripes to dry the process took far longer than a I had enthusiasm for.
Now I remember why I didn't buy a fixer-upper house – because I hate painting! If Justin wants to paint any other room in this place he can do it himself.
But the result is pretty cool so I guess I'm glad I stuck it out and finished!